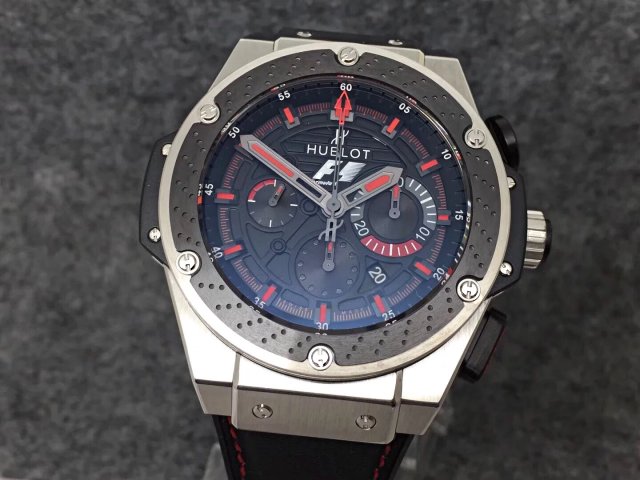 I do not know if Hublot still maintains a cooperation with Formula 1, but this Hublot King Power F1 replica watch is really amazing, it is the best I have ever seen. Too many Hublot watches I have seen in recent days, they all have similar color and dial layout, I have been tired, so I walked in the street to look something fresh, and this big guy attracted me. My watch supplier did not tell me this watch before, the store owner I met in this morning told me that V6 just published this replica Hublot watch, I was simply attracted by its eye-catching red color on the dial. You know, V6 factory's full name is HBB V6, at the beginning of its foundation, this factory is famous for making good quality replica Hublot Big Bang watches, this King Power F1 replica perfectly inherits the high quality features of HBB V6, which still makes the best Big Bang. Actually Hublot is a popular sports Swiss watch brand that has a big amount of need all over the world, but among their Big Bang collection, I seldom saw the King Power F1 model, now the appearance of this F1 watch, I think a lot of racing lovers will buy this watch.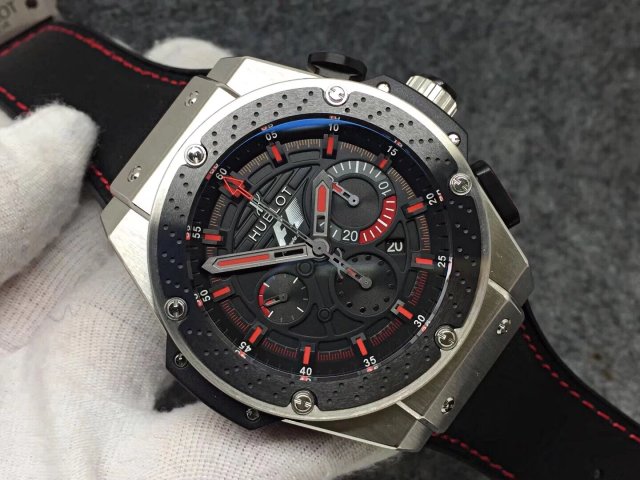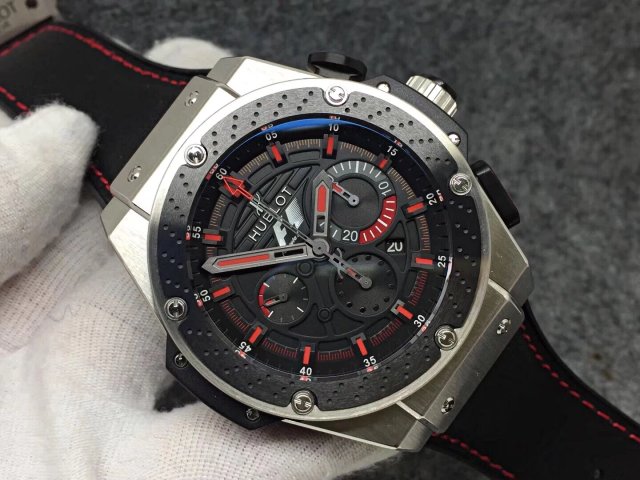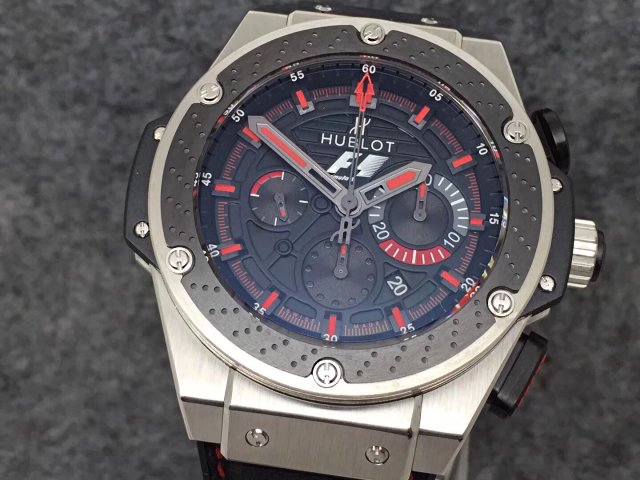 The case looks a little bigger than common 44mm Big Bang, this King Power F1 is 48mm in case diameter, it is also very thick, which has been up to 17.5mm. So, you will feel heavy when wearing the watch on wrist. However, it is the right watch for some tough guys who love large-size watches, for example, Sylvester Stallone loves Panerai. Now we back to this King Power F1, its case is fully made of solid 316L stainless steel, which is brushed, both case and bezel have screws to fix. The bezel is made of black ceramic and has six silver screws. Black ceramic bezel also has a lot of holes, I know it imitates the part design on F1 racing car. On the right side of the case, there are two buttons for you to operate chronograph function. The round button at 2:00 has a black "START" word in red background, while the RESET button has red word in black background. Like you see, the case has used three different materials at least, they are stainless steel, ceramic and rubber.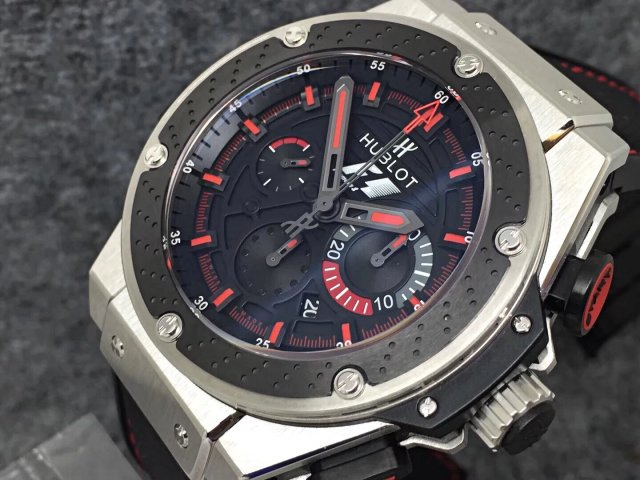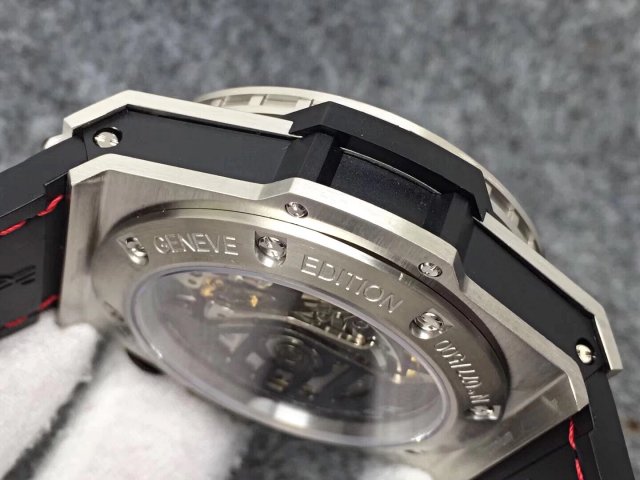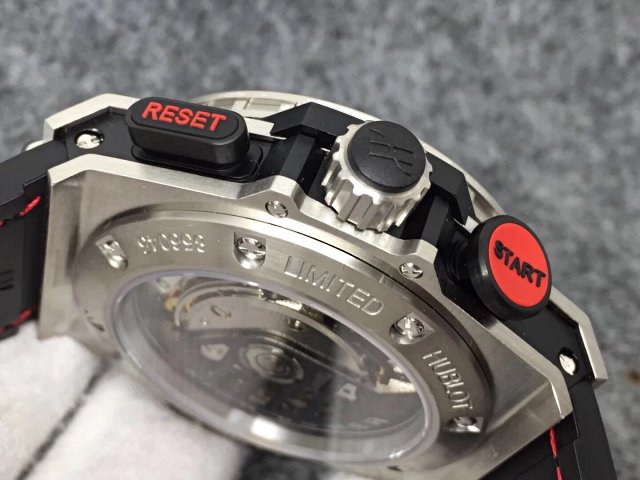 The dial is very classic. Like genuine watch, the replica has a black dial but uses F1's iconice red color on the dial. Black perfectly matches red, it is one classic group of colors. Not only in layered, the usage of red color is the biggest highlight of the whole dial. I know the dial gets its design inspiration from the dashboard of F1 car. Three subdials work the same way as genuine. Small seconds hand runs on subdial at 9 o'clock, the bigger subdial at 3 o'clock is 30-minute chronograph counter, while the all-black small dial at 6 o'clock is displaying 12-hour chronograph. All hands are not in white stainless steel, but in Tungsten steel color. The long second-chronograph hand in the center has a striking red tip, I like the dial design, maybe this will become my most favorite sports watch, I have gotten one from V6.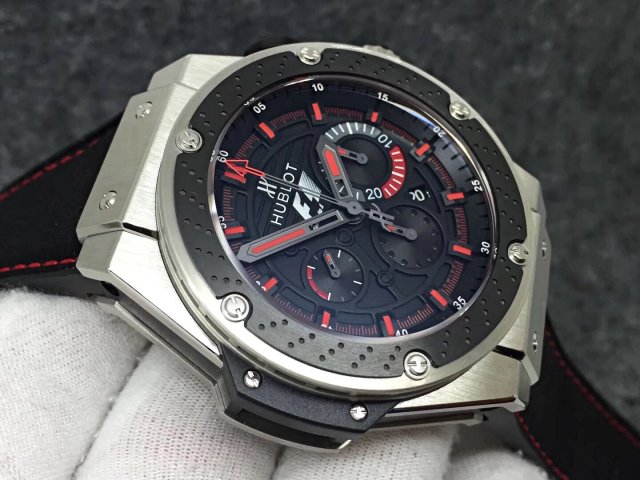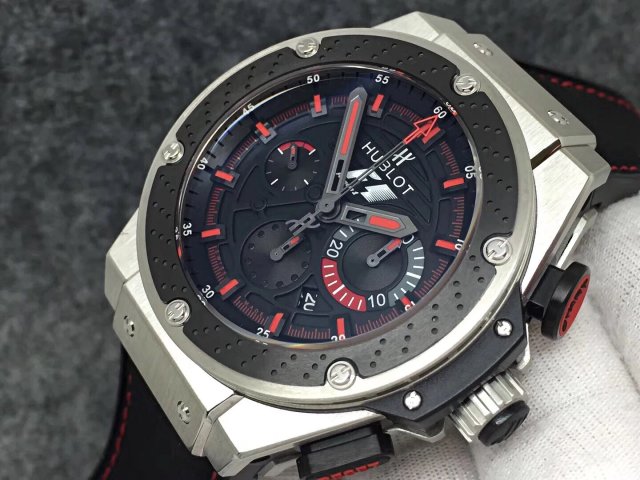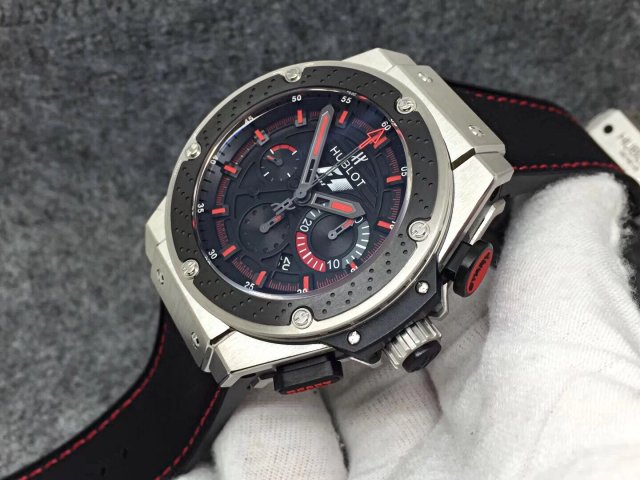 The movement is an Asia clone HUB4100, which is modified on basis of Shanghai Chronograph movement. The black skeletonized auto rotor has white words "KING POWER" being engraved, the top movement plate is engraved with Hublot logo and "HUB4100". Whatever, the movement has a very close look to genuine Hublot HUB4100, its stability is also very high.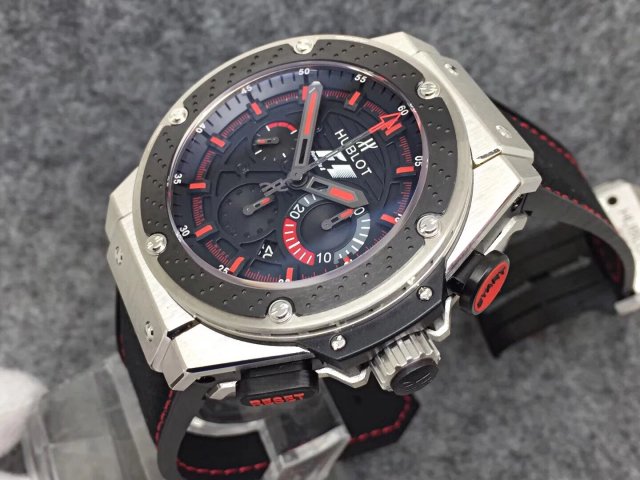 Like the dial, the band of the replica watch is also a big highlight. It uses black nylon material on outside, while the back side that will touch your skin is black rubber, which feels very soft. The outside nylon is in black with red hand stitching, it looks very cool. The buckle has correct engravings that are filled with black.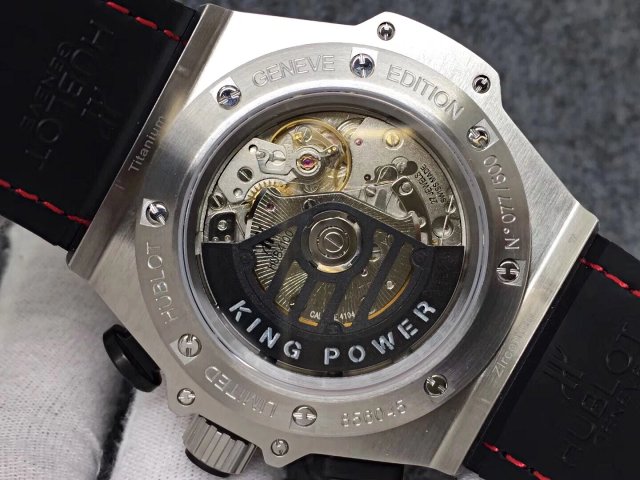 The watch is the best Hublot F1 replica that has been published in recent years, you will need such a cool watch when driving a sports car with your friends, are you going to be a fan of F1 now?