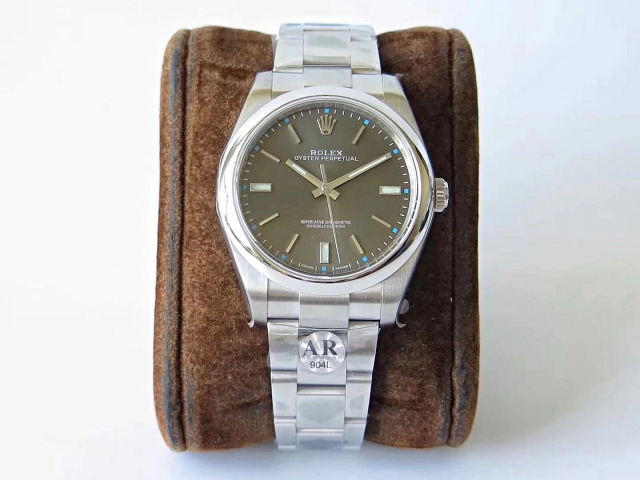 Oyster Perpetual 39mm is another entry-level series for men Rolex published, together with Air King, they are the most affordable Rolex watches. With basic hours, minutes and seconds functions, Oyster Perpetual can work very stably and accurately, it will also have a very low repairing rate, even none. Today, I will show you five different Oyster Perpetual 39mm watches, their reference number is 114300, each features a different dial color, which includes white, blue, purple, grey and black. In our market, J12 started to make the replicas of Oyster Perpetual 114300 in 2016, the replicas are made of 316L stainless steel, at the end of 2017, J12 opened another sub-branch named AR, this new factory specilized in manufacturing super quality replica Rolex watches that are made of 904L stainless steel, so AR factory and Noob form a strong competitive relationship in replicating Rolex field. Just at the beginning of December, AR published five models of replica Rolex Oyster Perpetual 114300, please read the detailed review and appreciate their photos in the following.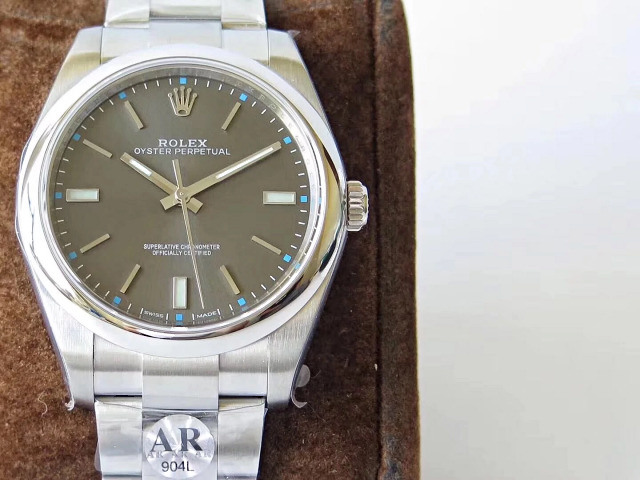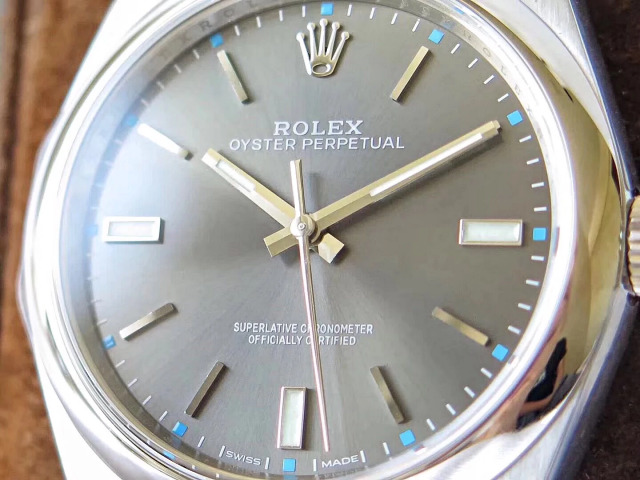 Among these five models, the most popular belongs to the grey watch. So, let's take it for example. The replica watch is made 1:1 with a genuine Rolex 114300 as reference, the case is not only made of real 904L stainless steel, it also inherits the quality workmanship which J12 has been persisting for several years. The bezel is round and feels very smooth, the polishing on the bezel makes it look like a mirror.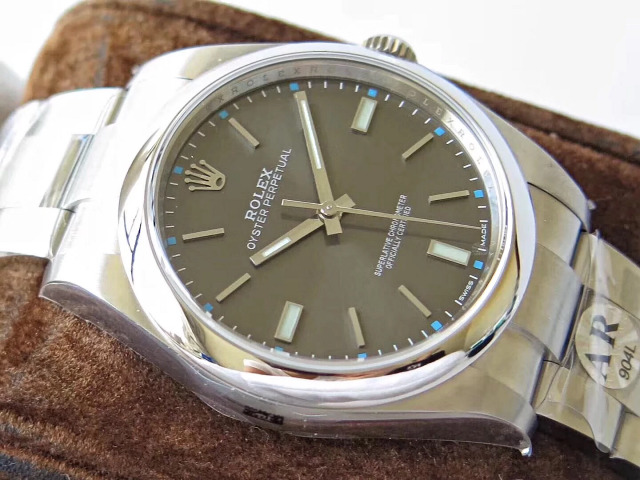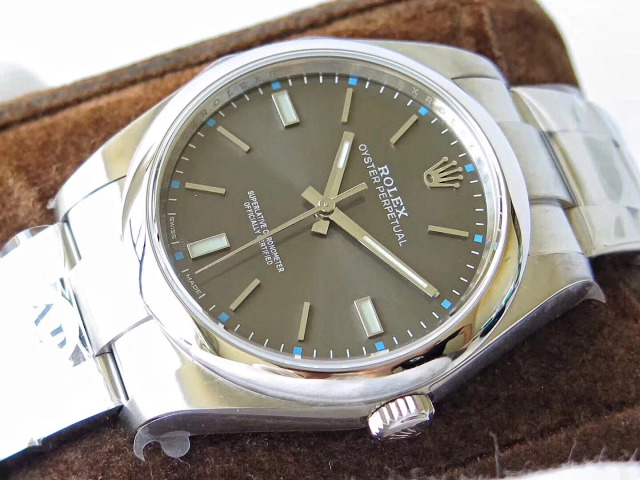 The dial is in grey color and has radioactive textures like sun-ray patterns. The dial has a very simple design, there are only hour markers and three hands, but I can find one distinctive feature that only belongs to this Oyster Perpetual 114300, that's the blue square markers in every five minute. This symbol highlights the whole grey dial. Besides, the stick hour markers at 3, 6 and 9 are much wider than other hour markers, this is also the difference between it and Air King. The 3, 6 and 9 hour markers are filled with lume material in the center.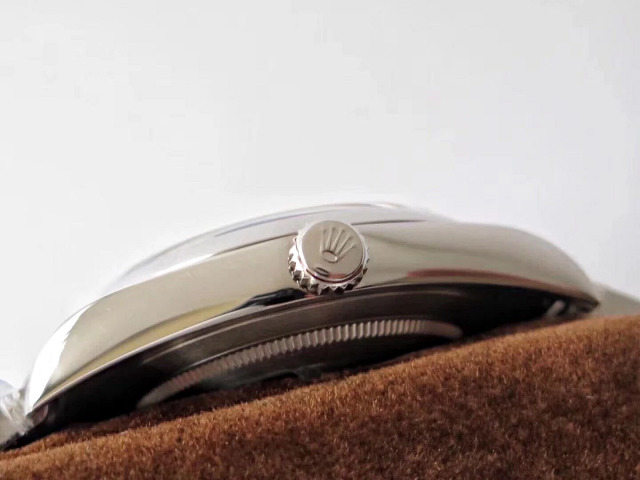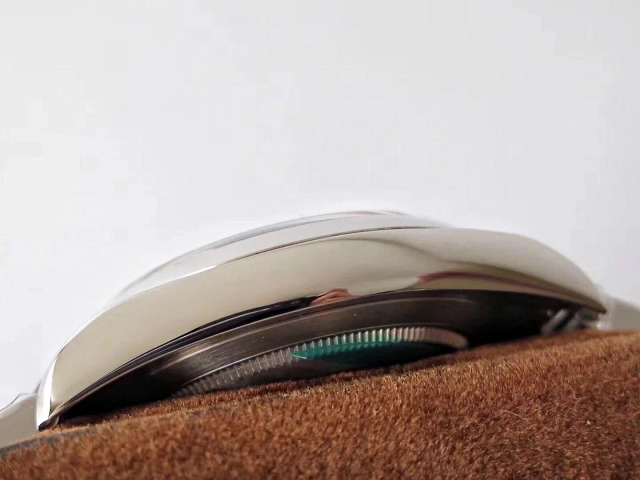 The Rolex Oyster Perpetual 114300 replica is equipped with a super clone 3132, which is modified from a Chinese automatic movement. The movement plates and auto rotor are platinum plated and decorated to look of genuine Rolex Cal. 3132. Actually the 3132 has already been installed in some Rolex models by J12 since 2016, so after two years of improvement, the accuracy and stability of this clone movement have reached a very high level.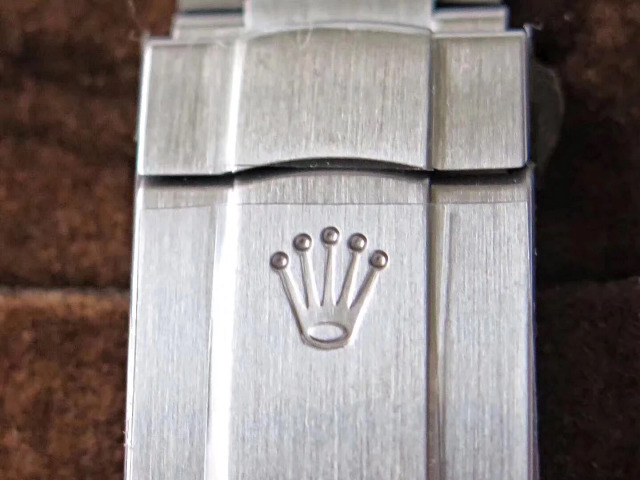 The Oyster-style bracelet is made of 904L stainless steel, it is fully brushed. Oyster Perpetual 39mm 114300 has a Rolex Crown Logo that is deeply engraved on the buckle, the engravings on clasp is blackened. Overall, the replica has a perfectly made bracelet with the same construction as genuine Rolex 114300. By the way, the replica is water resistant to 50 meters.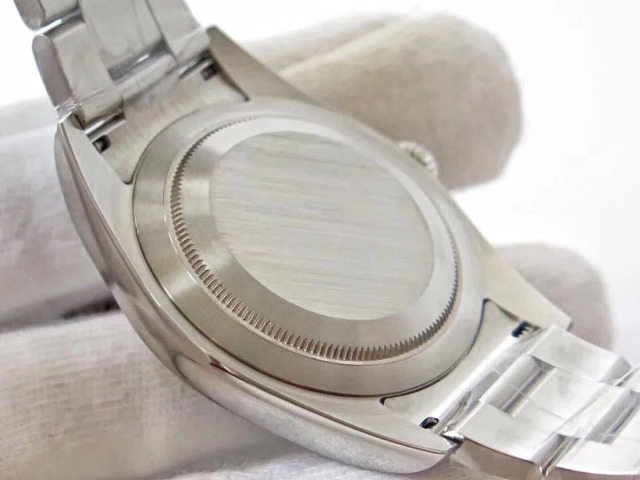 Maybe Oyster Perpetual 114300 is not your best choice when choosing your first Rolex watch, most people will consider to purchase a Submariner, however, every man should own more than one watch, so, as an entry-level model, Oyster Perpetual 114300 is a good choice to wear as a dress watch in any formal occasions.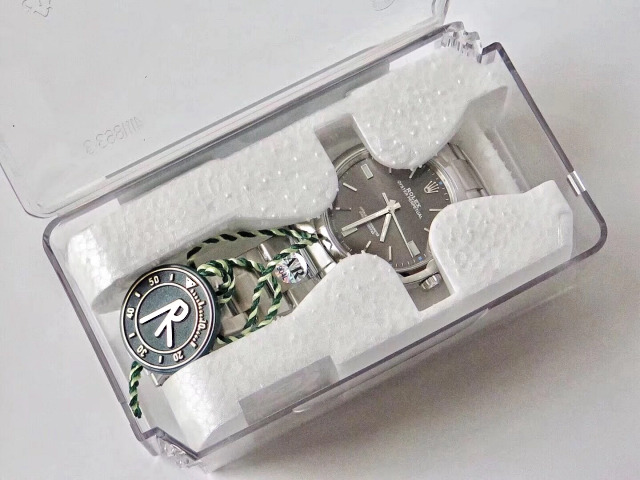 In the following, I posted photos of other four 114300 models, if you are interested in any one of these five Rolex, please contact me, the stocks last.