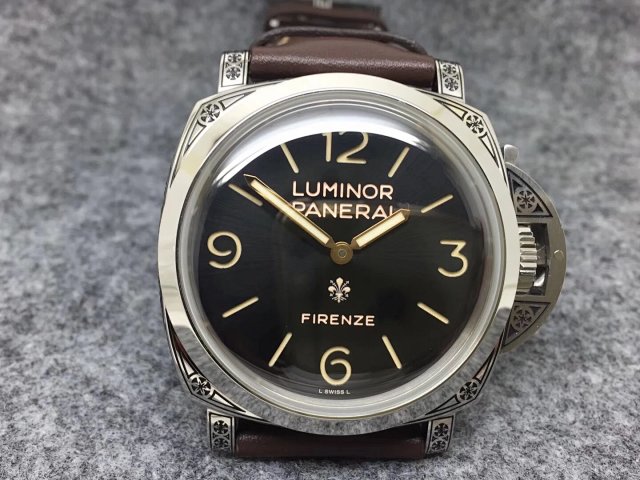 Today, I am about to introduce one Panerai replica watch that is engraved with Florentine motifs. Yes, it is the latest Luminor 1950 Firenze 3 Days, with a reference PAM 972. This is not the first PAM which Panerai published with Florentine motifs on case and movement. We know that PAM 604 and PAM 672 also have these special engravings, but these two PAMs are Radiomir limited editions. For PAM 972, it is absolutely the first Luminor watch with Florentine motifs. Now, in Panerai watch family, PAM 972 is also the only one Panerai Luminor watch with such unique engravings. Based on the traditional PAM 372, Panerai made this engraved version PAM 972. The replica PAM 972 Firenze here is made by V9, which is a new factory. It is said that this V9 factory now makes the best Rolex Submariner replica watches, but I do not think so. However, this Panerai Luminor Firenze PAM 972 replica made by V9 has a good quality.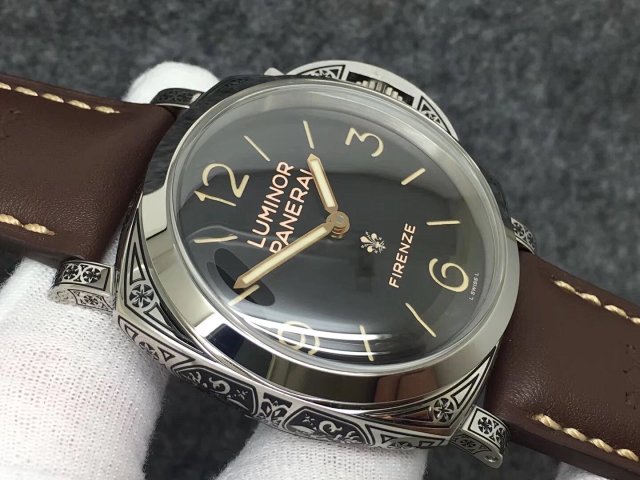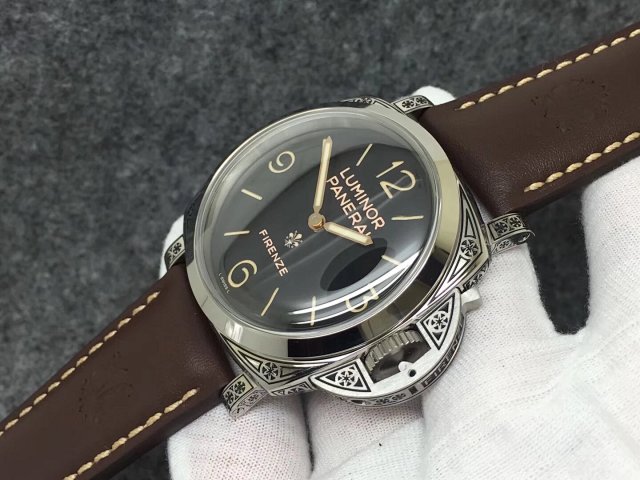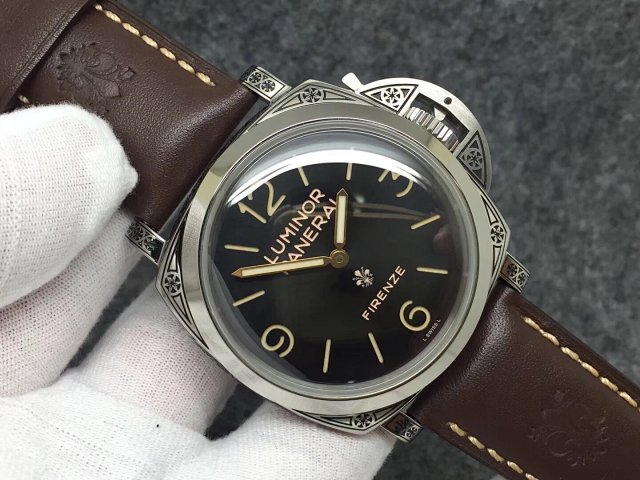 I do not know why Panerai makes these special engraved PAMs, whatever, the main purpose I think is to show respect to Firenze, which is the design inspiration of early Panerai watches. Actually the design concept of many modern Panerai models is also coming from this old Italy city. Look at the Luminor case that is crafted from solid 316L stainless steel, it has engravings on the front, lugs and crown guard bridge. Round bezel is smoothly polished. The case is engraved by hand, then is filled with black lacquer by V9 watch master.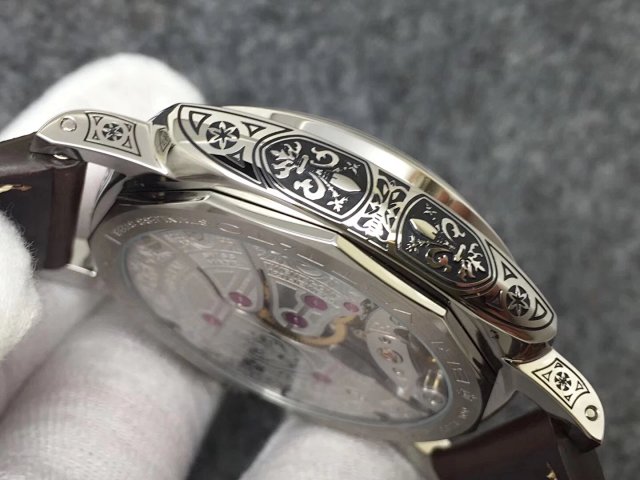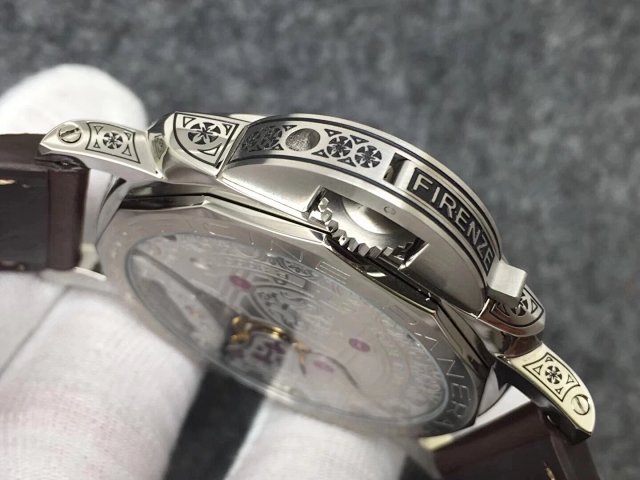 The dial is in metallic dark grey, it is finished with radial brushing. The Florentine lily is printed at 6 o'clock on the dial, with "FIRENZE" below. Like genuine watch, the replica has a sandwiched construction, there are big cutout hour markers, with the Super-Luminova painted on the disc below.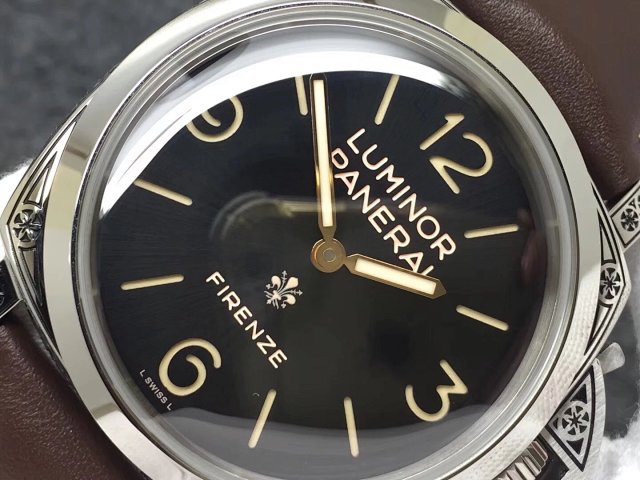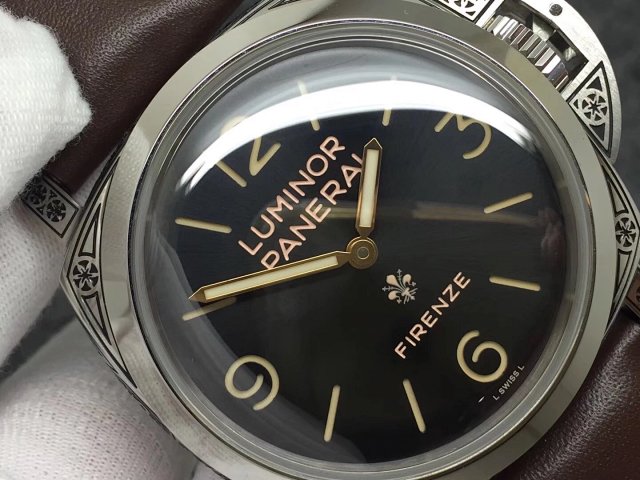 Through crystal case back, you can see the movement clearly, it is a super clone P.3000, which is custom made and engraved with Florentine motifs and Florentine lily. These engravings on the movement plates are completed by laser machine, the movement is hand-winding and has double barrels, so like genuine watch, the replica also has 72 hour power reserve.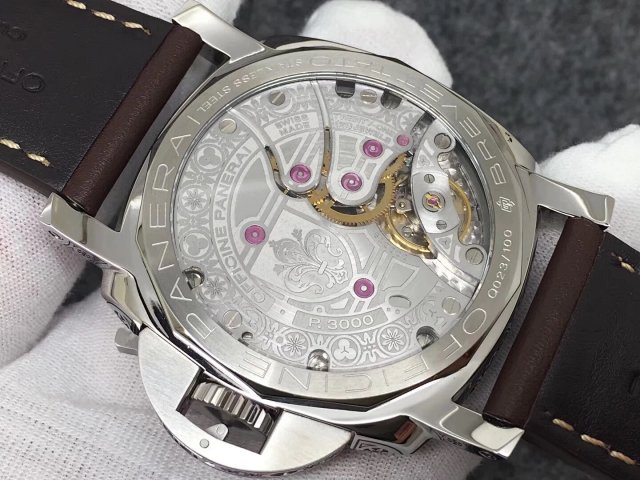 By the way, the replica is fitted with a brown leather band with Florentine lily mark. The watch has been tested to be 50m water resistant by V9 factory.