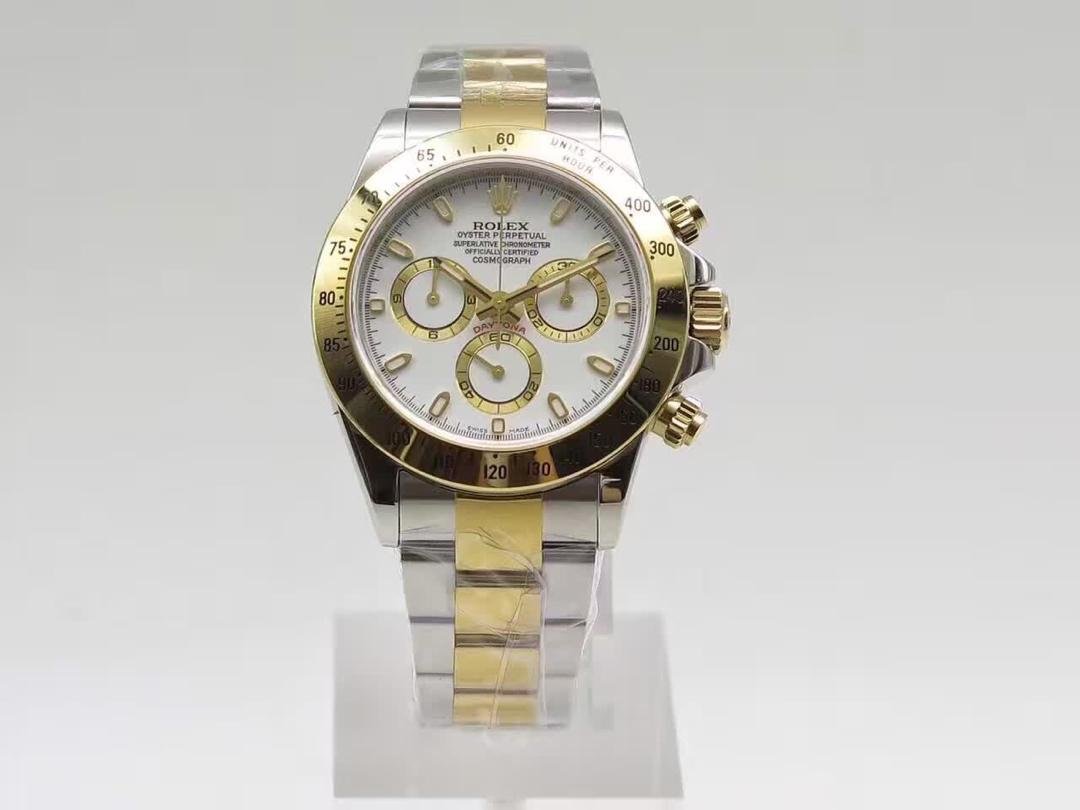 In recent days, AR factory published a lot of Rolex Daytona replica watches that are made of genuine 904L stainless steel, these Daytona replica watches are best of the best in our market, however, these Daytonas have one fatal flaw, that is the non-working minute and hour chronograph. So, although ARF Daytona replica watches are made of the best material, they are still not perfect for watch fans who require full functional chronograph. Today, the Daytona replica watch that is going to be discussed in this article is an old model published last year, by J12 factory. Although the watch is made with 316L stainless steel and equipped with an Asian Valjoux 7750 movement, it works accurate, you know, high stability is very important for a chronograph watch. Nowadays, replica watches from big factories like Noob, J12, BP and ZF could be made 99% the same as genuines in outlook, only the movement is the biggest flaw, so to make the fake movement look closer to genuine caliber, these factories are spending a lot of time and effort in modifying the basic movement to make it look real, everyone knows too much modification on movement will affect its stability, so, in my opinion, these new Super Copy 3135 used on Submariner and clone 4130 on latest ARF Daytona are not as good as you think. However, this yellow gold Daytona uses the old Asian Valjoux 7750 movement, whose accuracy and stability have been tested for years by a lot of chronograph replica watches, so, this Daytona I am about to post is very rare and really good, you will never regret after purchase.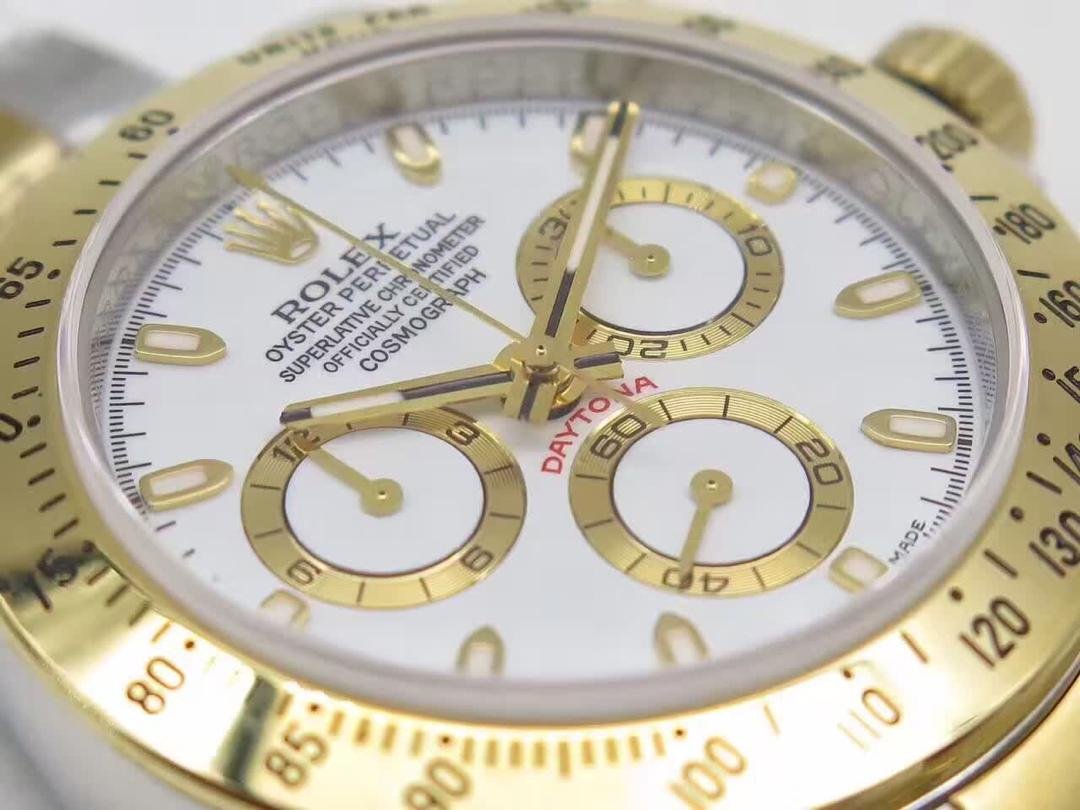 Made by J12 factory, the case polishing work looks much superior to Daytonas of other factories. Case is 40mm in diameter and 15mm thick, case corners and edge are smoothly polished, so you will get a comfortable wearing feeling from this replica watch. Bezel is in yellow gold tone and fixed, three buttons on the right are also in yellow gold and have the same construction as genuine Rolex Daytona. When not in use, the two chronograph buttons could be locked tightly by screws to make sure the watch is water resistant. If you want to start the chronograph, just loose the screw on button at 2:00 and then push it.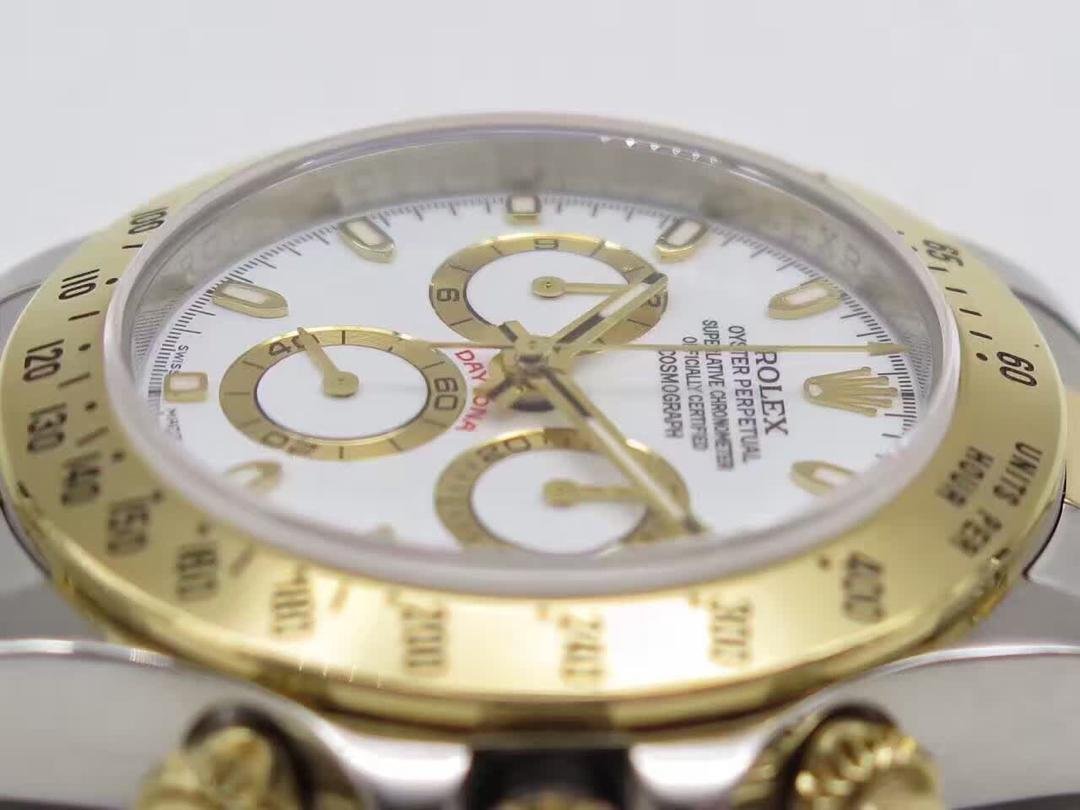 White dial has three working subdials, the small dial at 6 o'clock is for small seconds display, the subdial at 3 o'clock is 30-minute chronograph counter and subdial at 9 o'clock is 12-hour chronograph counter. Fortunately, all could work like genuine Rolex Daytona. Secs@6 Valjoux 7750 chronograph movement is very reliable.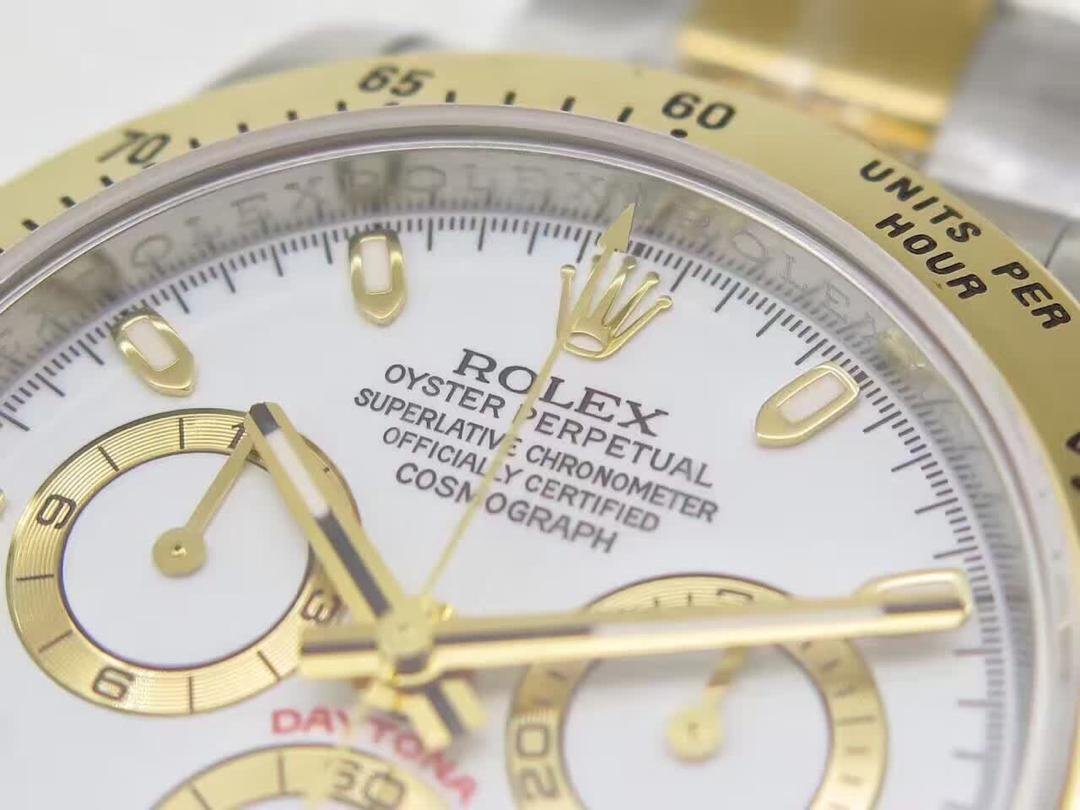 The bracelet is made of 316L stainless steel and has a thick yellow gold coating on the central links, the yellow gold tone never fade. The last reason why you choose this replica Daytona other than the ones from AR factory is it is sold at a much cheaper price.