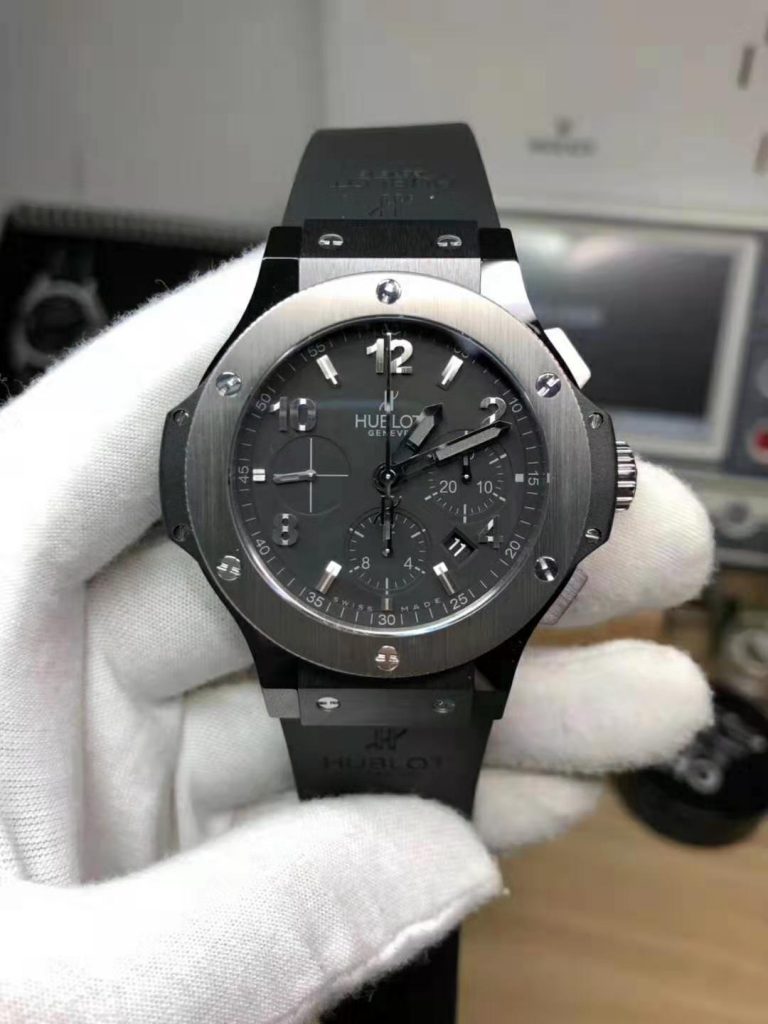 Till today, I have written a lot of watches reviews that almost cover each Swiss brand, among them, I liked Panerai most in the past, but after reviewing these watches, it seems like I have been tired of seeing their round case, and in recent weeks, I found Hublot is more interesting, its porthole-shaped case attracted me deeply in recent days, with rubber band, although Hublot Big Bang has a big 44mm case, it can still fit my thin wrist perfectly.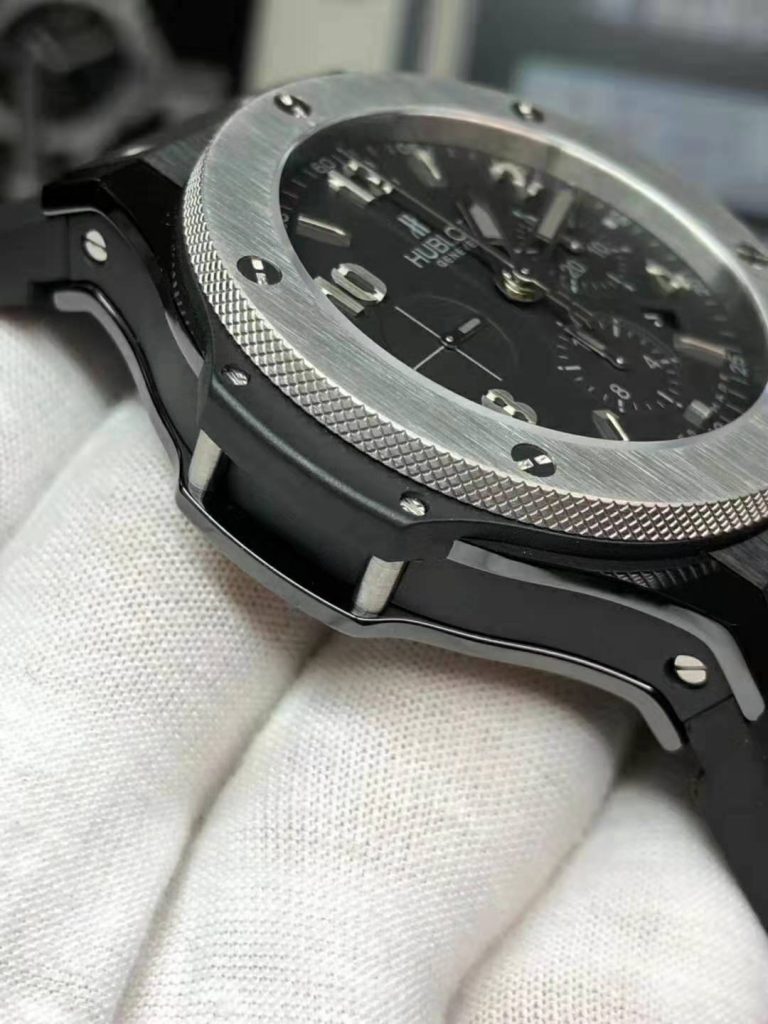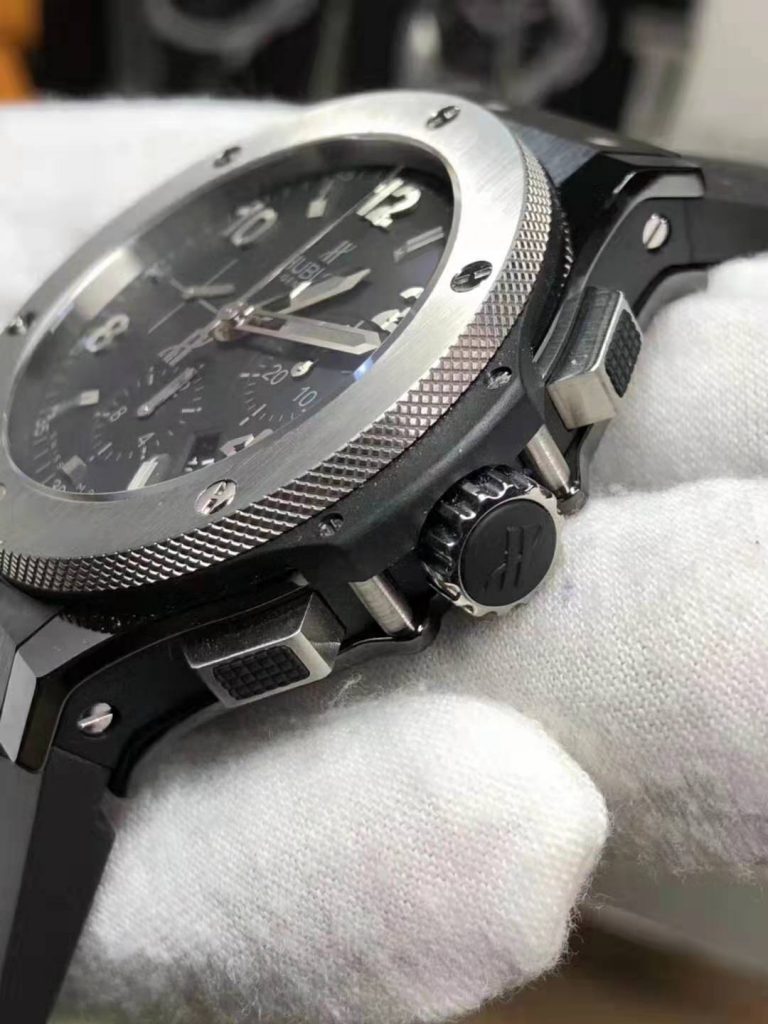 The Hublot replica watch is made by V6 factory, it is a full black Big Bang from Hublot, an old model, I did not introduce this Hublot before, but I found it is still attractive, maybe some people are interested in such full black Hublot watch, which looks very cool. This Big Bang is the most classic model that can show the fusion watch-making concept of Hublot, because the watch is made of three different materials at least.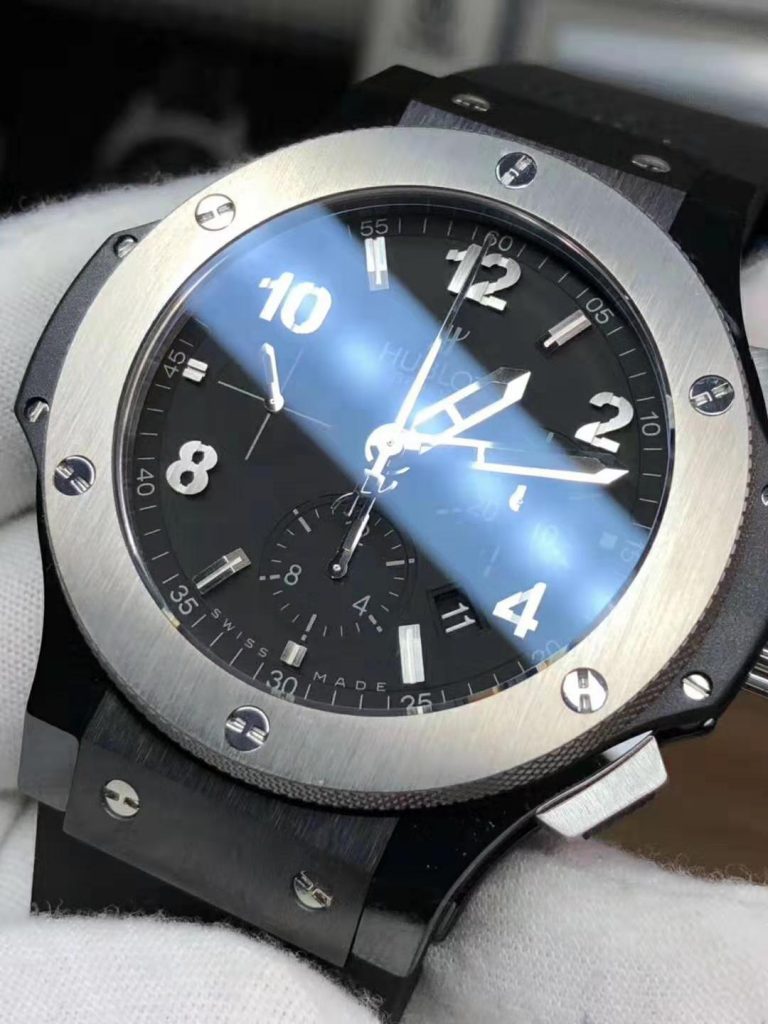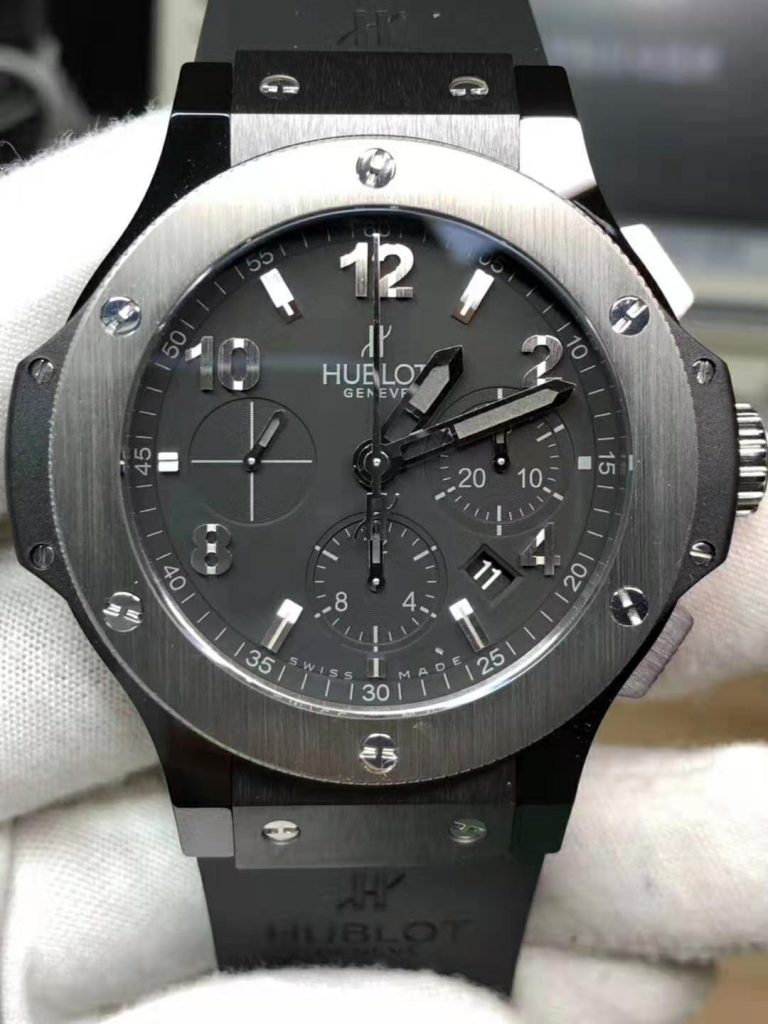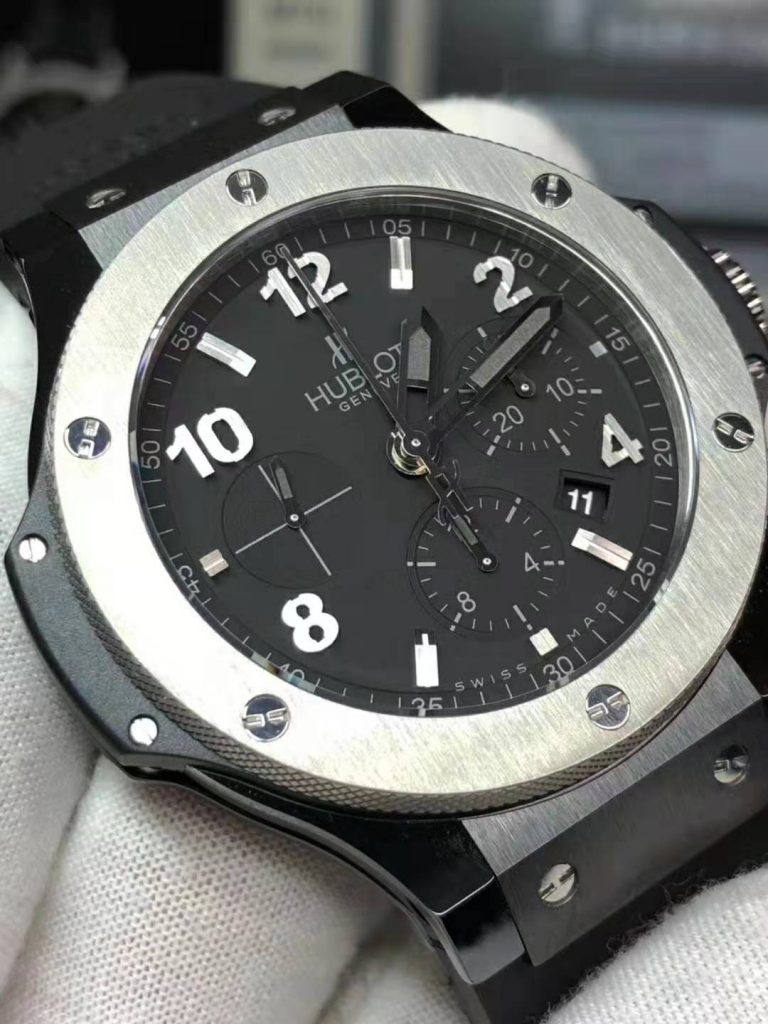 First, the 44mm case uses black ceramic, actually only the four lugs are made with black ceramic that is polished, while the middle part of the case is brushed stainless steel. The bezel is full Titanium made, stainless steel scews on the bezel with polished face. Please check the back, you can see engravings of "Ceramic", "Titanium" and Hublot Logo on the connector of case and band.
The dial is well done and shows good hierarchy that you can only see on a good replica watch. The black dial base plate meets the black color of ceramic case and rubber strap, while these three-dimensional hour markers in stainless steel tone exactly echo with the Titanium color tone of bezel. Every small dial is not only finished delicately, but also can work like originals of Hublot Big Bang. The date window is opened at 4:30, it has correct construction and font thickness, white font color also increases the visibility of the whole black dial.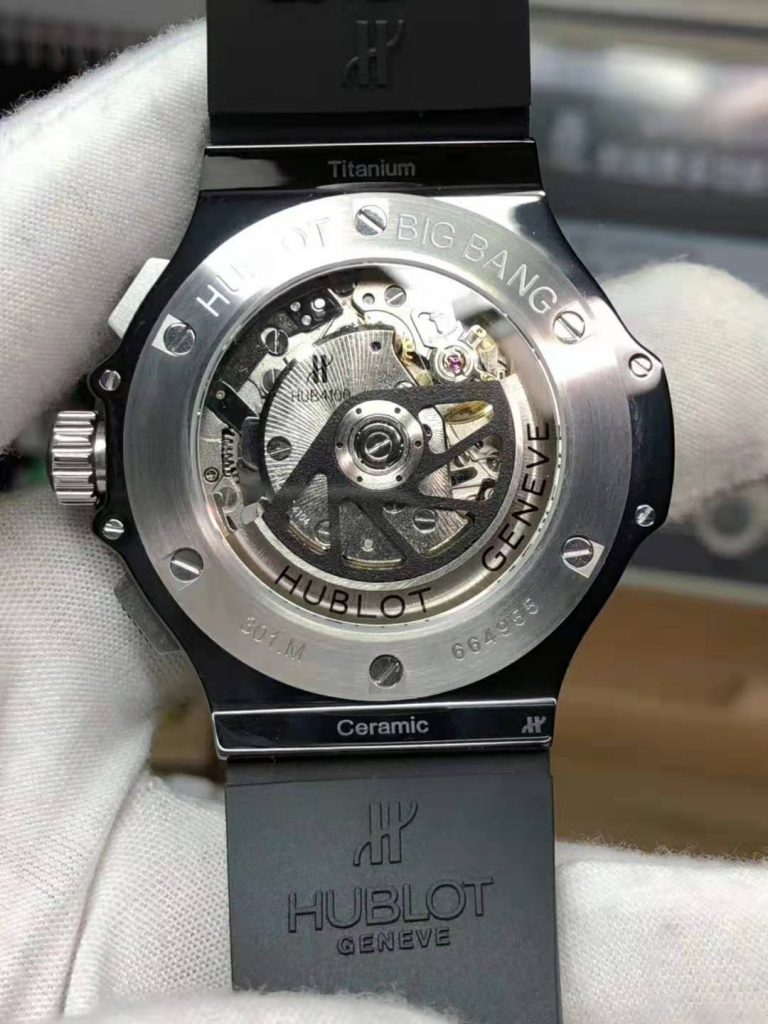 At last, the replica Hublot is installed with an Asia Valjoux 7750 movement, it is actually a common Chinese chronograph movement that has been widely used in replica watches industry, however, the movement has a considerable stability, besides, V6 factory makes correct decoration on movement plates and auto rotor. We call such decorated movement clone HUB4100. Actually such type of clone movement is greatly different from the the P.9000 developed by VS factory. The former is just added with correct decoration of genuine HUB4100, while the clone P.9000 is independently developed by VS factory according to Panerai P.9000 Calibre, while due to technical limitation, it is impossible for a watch manufacturer to develop a super clone HUB4100, so the factory can only achieve this level by adding some decorated plates.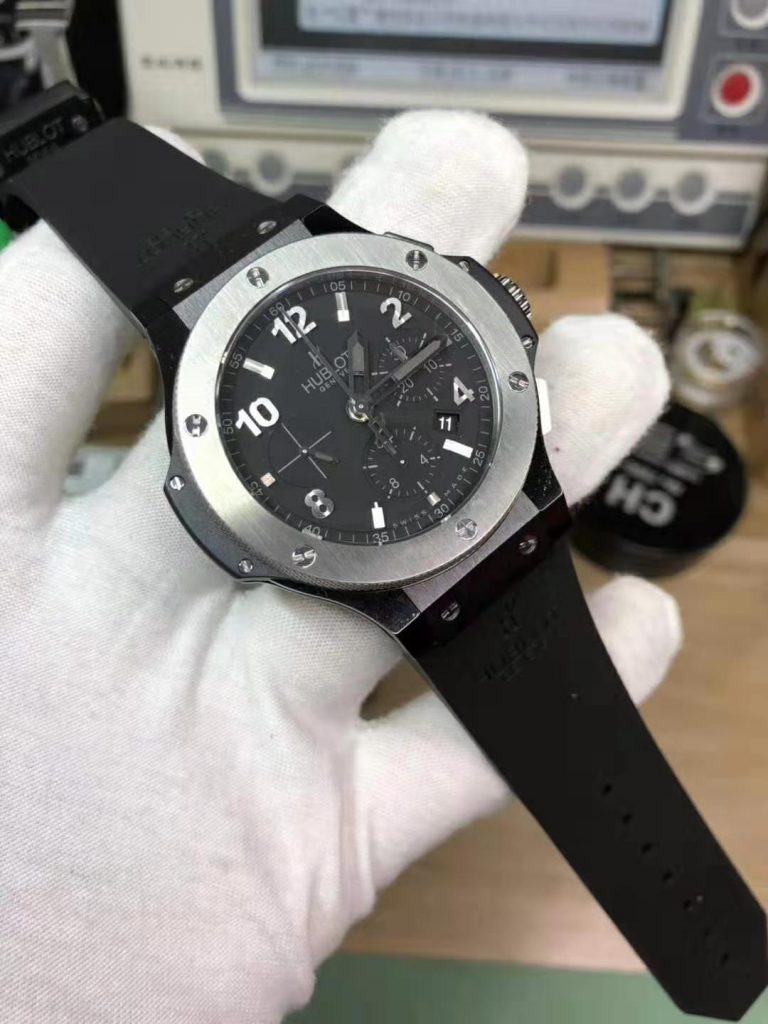 About this Hublot replica watch, it has a good quality, maybe very close to the Classic Fusion made by WWF and F16. For chronograph models, Hublot Big Bang is also one of the watches I recommend.