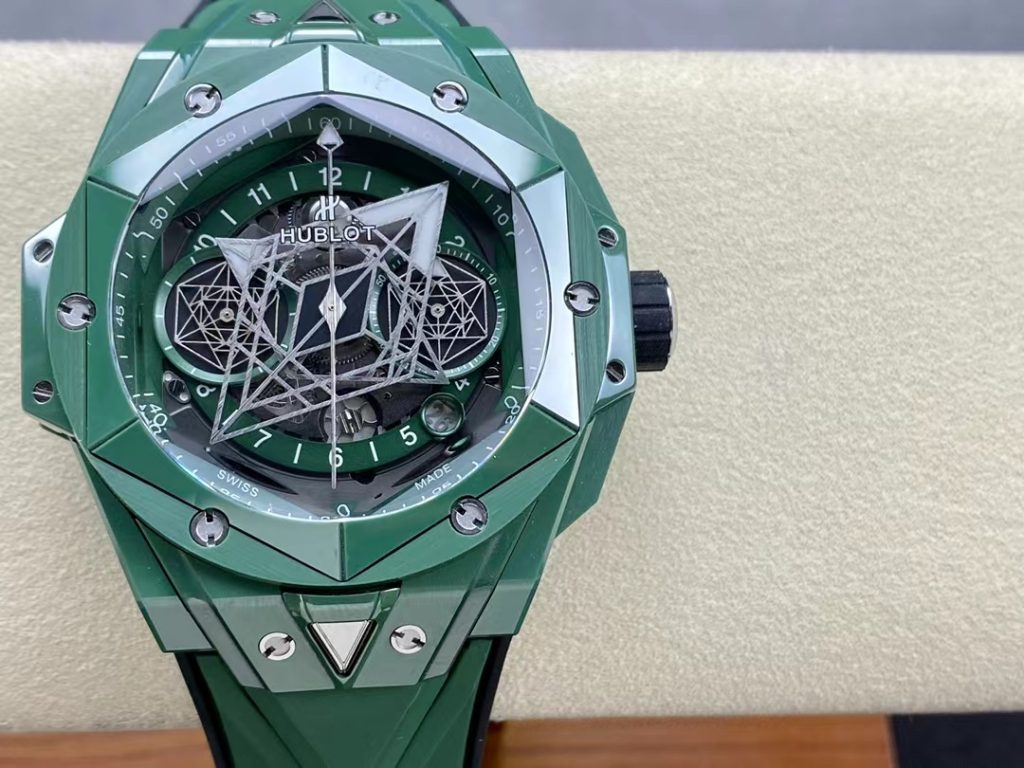 It looks very advanced and high-tech. The Big Bang Sang Bleu II is a watch which Hublot brings a big surprise to their fans and gives them a shocking visual enjoyment. The watch is up to 45mm in case diameter, not many people can hold it. Today, I want to share a review on the green ceramic Sang Bleu II replica watch that was just published by BB factory. About the replica Hublot Big Bang Sang Bleu, three watch factories made it before, they are HB, WF and BB. Among these three factories, WF has the longest watch-making history, HB mainly produces middle quality Hublot replica watches, BB is a new name we just heard in this industry, some people said that BB factory, which is also called BBF, is a branch of ZF, I am not sure about this, ZF already has another name PPF in Nautilus field, now if BBF is also a name which ZF uses in Hublot field, then things become very interesting. Why does a factory use different name under the different brand replicas they make? Maybe to avoid the risk of being caught, maybe some person has a cooperation with this factory. For example, a small workshop in the market makes this Hublot Sang Bleu II replica watch, to increase sales, they found ZF and told they want to sell their watches under factory name "ZF", ZF agreed, so in the marketing of this replica watch, the audience was being told the replica watch is produced by ZF, and BBF is another name of ZF, actually BBF is just another small team.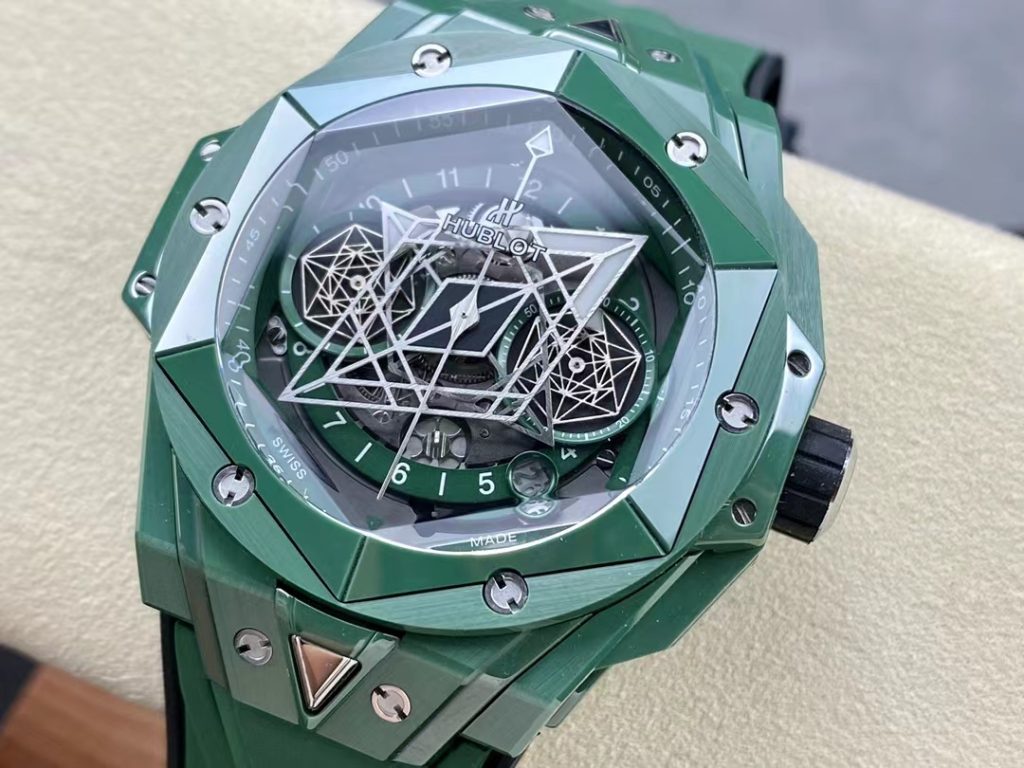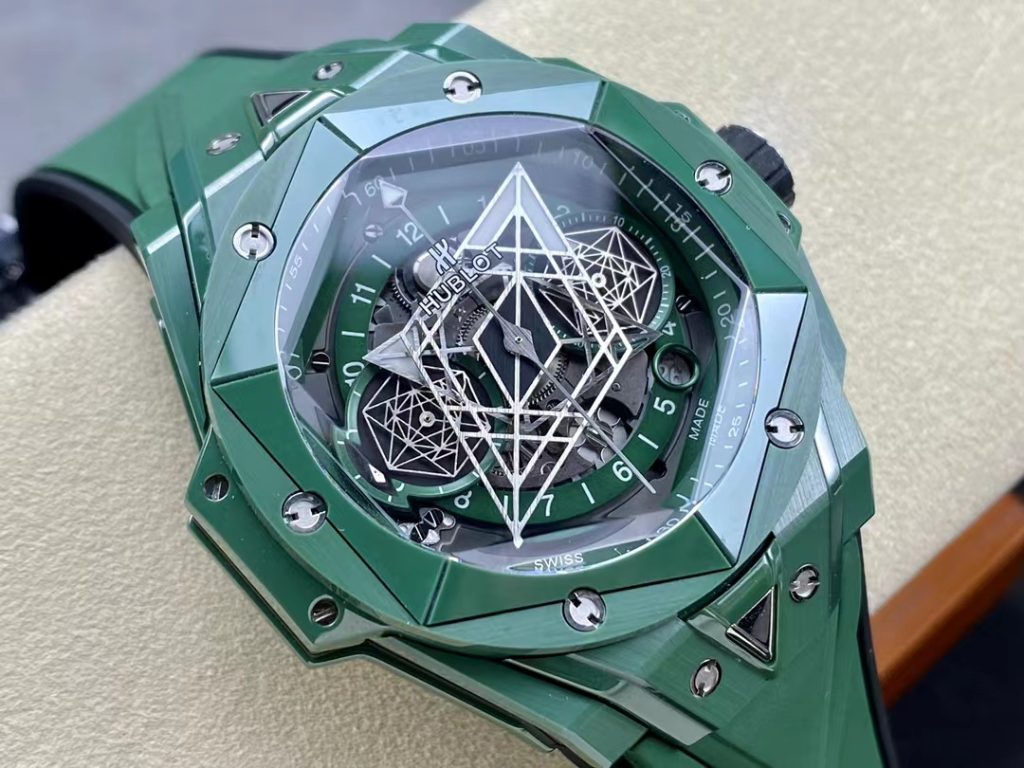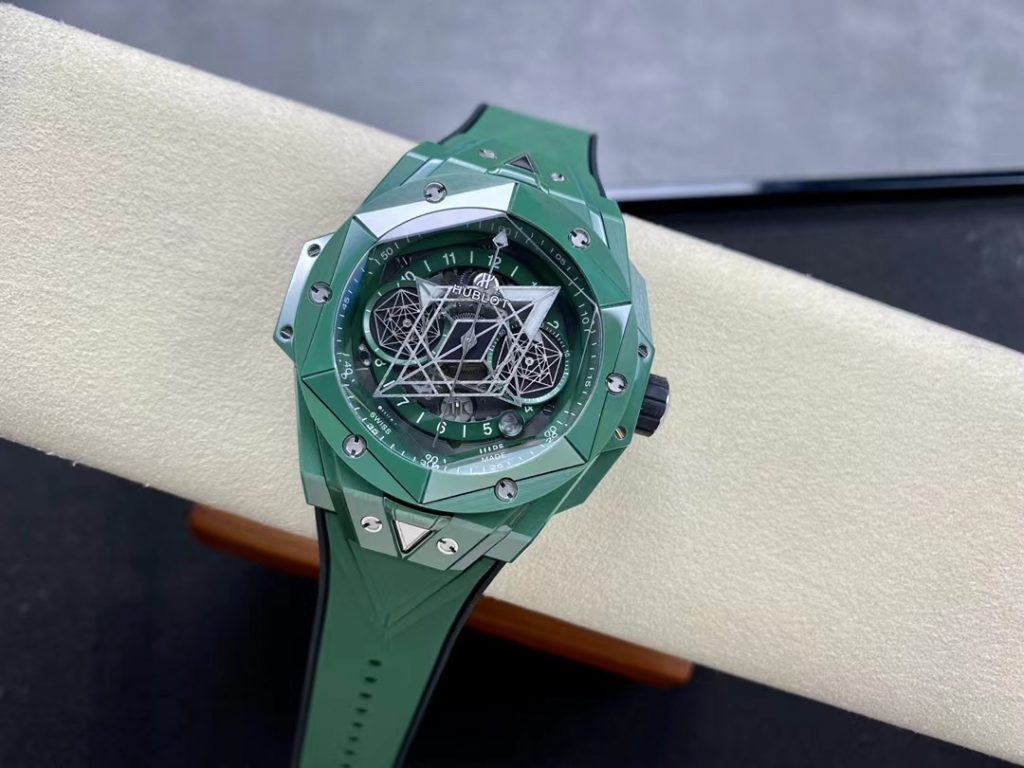 The Sang Bleu II replica watch, more people like the white cermice watch made by BB factory. This green ceramic version is a new model they just published. The watch is fully made with real green ceramic, it is very thick, about 16.7mm. The case has a very unique design, there are different geometric figures, this is a replica watch with chronograph function, but it may be not easy for you to find the chrono buttons because they have been seamlessly integrated with the case, also made with green ceramic. The dial uses a special way to show the time, you need to keep a certain focus to get an accurate timing from the dial, two small dials at 3 and 9 are for small seconds and 60-minute chronograph display separately. For such an unique dial design, the factory must have spent a lot of time and money to research and produce this replica watch, which looks very close to genuine watch but can not be checked carefully, you know such complicated dial must have a lot of differences. The movement is not a super clone, on the basis of a Chinese 7750 chronograph movement, BB factory just modified the auto rotor to make it look like the one on the genuine movement.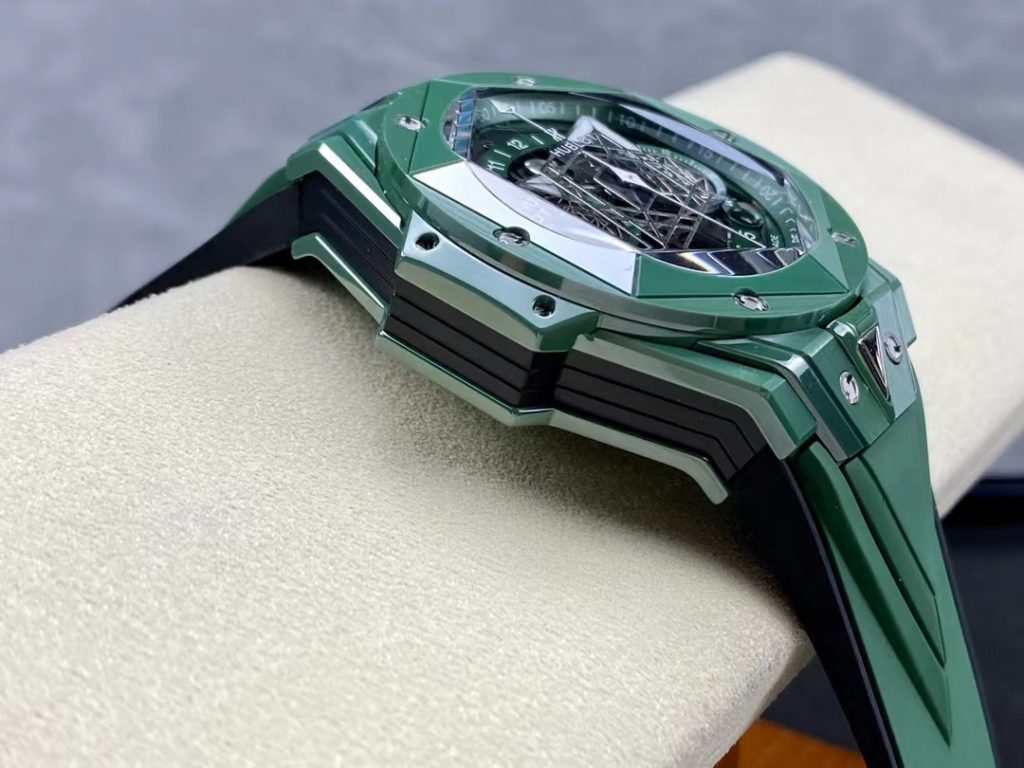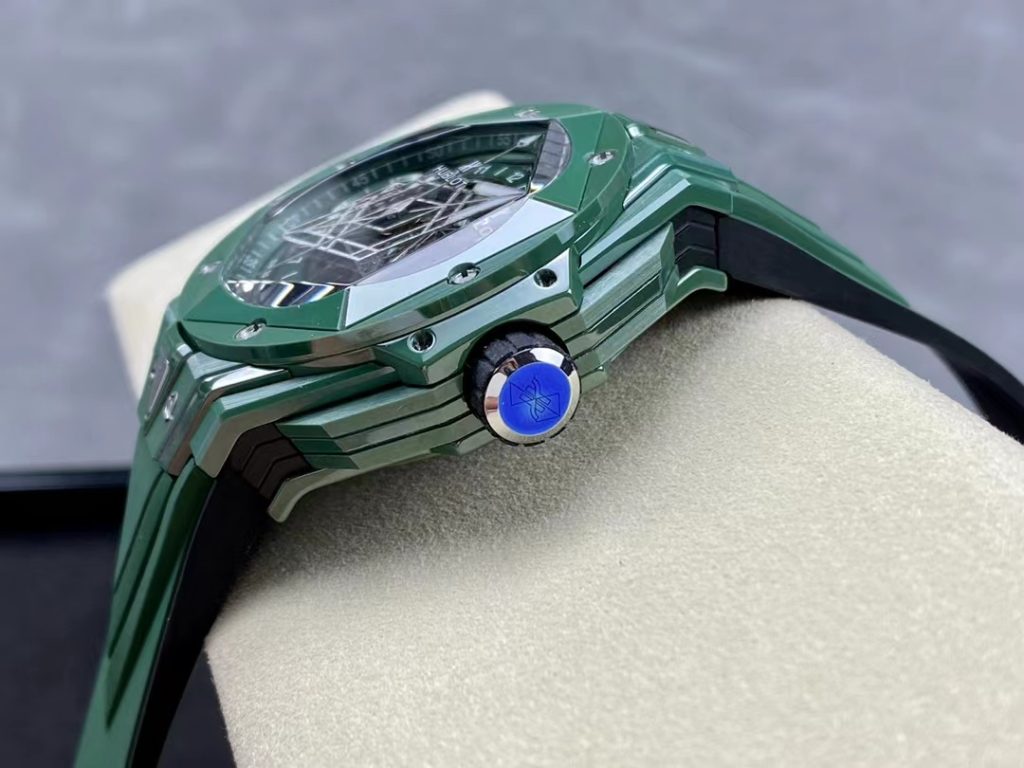 Hublot replica watches were very popular in our market in the past, but they almost have disappeared in recent years since the closure of V6 factory. Now most Hublot Big Bang replica watches are produced by HB factory, but their quality can not be compared with that of V6. On some dealers' websites, I see they still use "V6F" on the title of some Hublot watches products, I am not sure if this is the same V6 factory as the one before. Now I also heard that the quality of some Omega Seamaster replica watches from VS factory is not as good as the ones they made before.