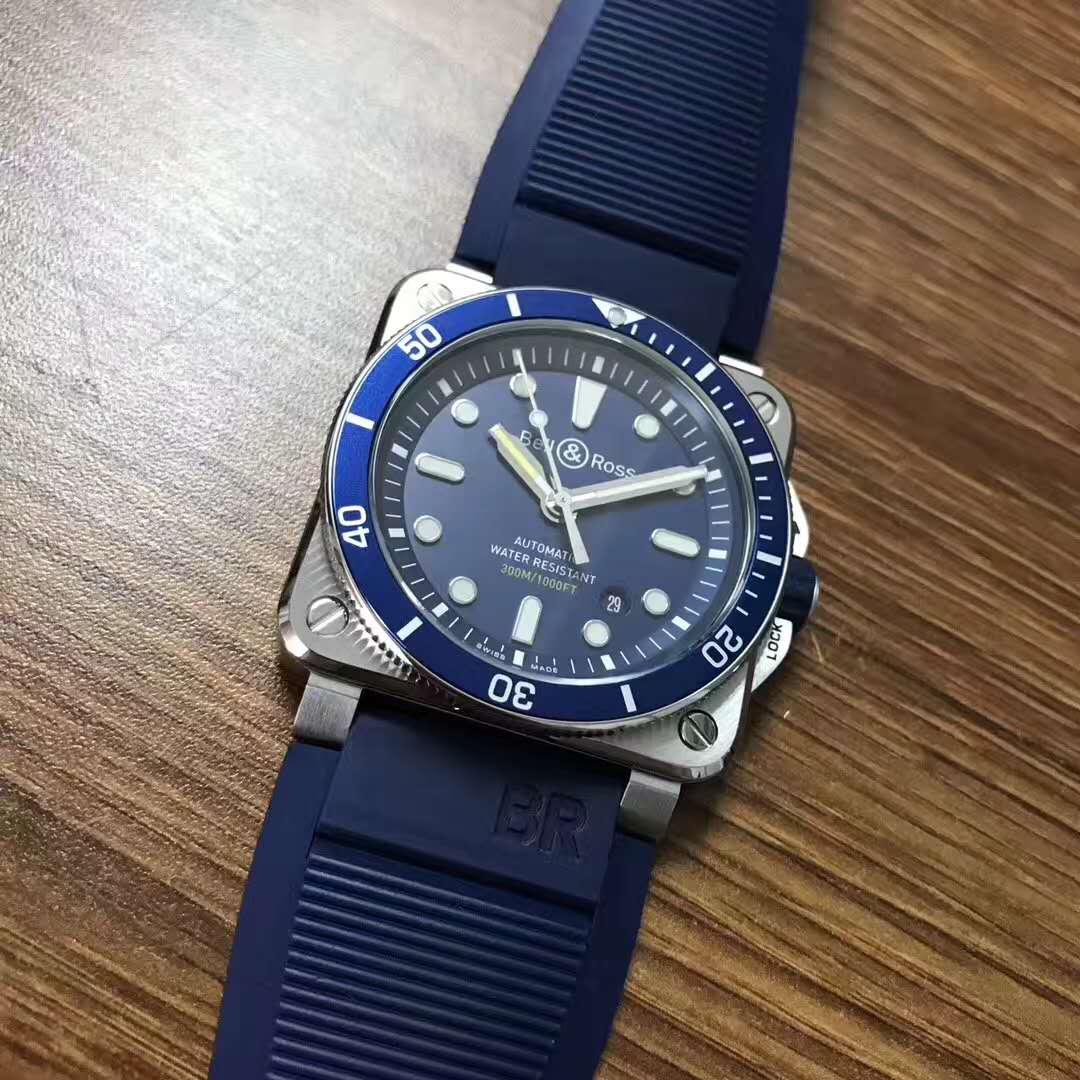 Bell Ross is a famous military watch brand but it does not sell well, especially in replica watch field, every person wants to get the best Rolex or Panerai replica, and they have forgotten Bell Ross. I think the main reason why people do not choose Bell Ross is because of its square case, most guys like round case of their watches, the next is tonneau-shaped case. In their opinion, square case will have waterproofing problem. While I do not think so, if you have a replica watch, whatever it is a Rolex or Panerai, I suggest you take it off before swimming even the factory claimed they are 30m waterproof, it is a replica and costed you several hundred dollars, you do not want your money wasted if the water leaked into your watch by accident. So, if you really love Bell Ross watch and want to buy a replica, do not need to worry its waterproofness, you can take good care of it and the watch can last for several years.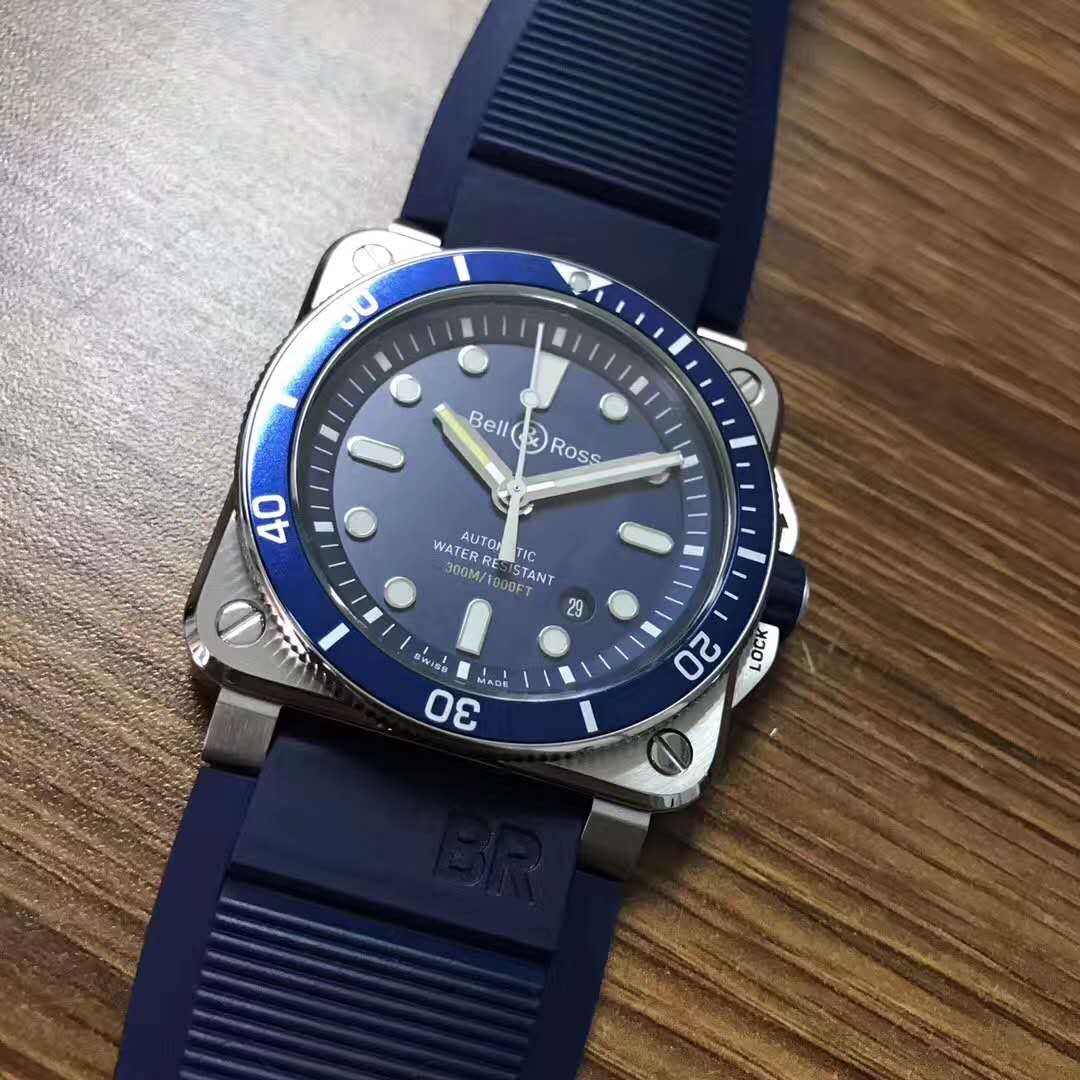 I introduced a Bell Ross BR03-92 Diver replica watch before, it is a black one, now this replica is in blue. Compared with the black, I like this blue Bell Ross more. In this summer, wearing such a watch on the beach will catch a lot of attention. Another reason why I love this Bell Ross is that the factory will send one pair of black nylon strap for free.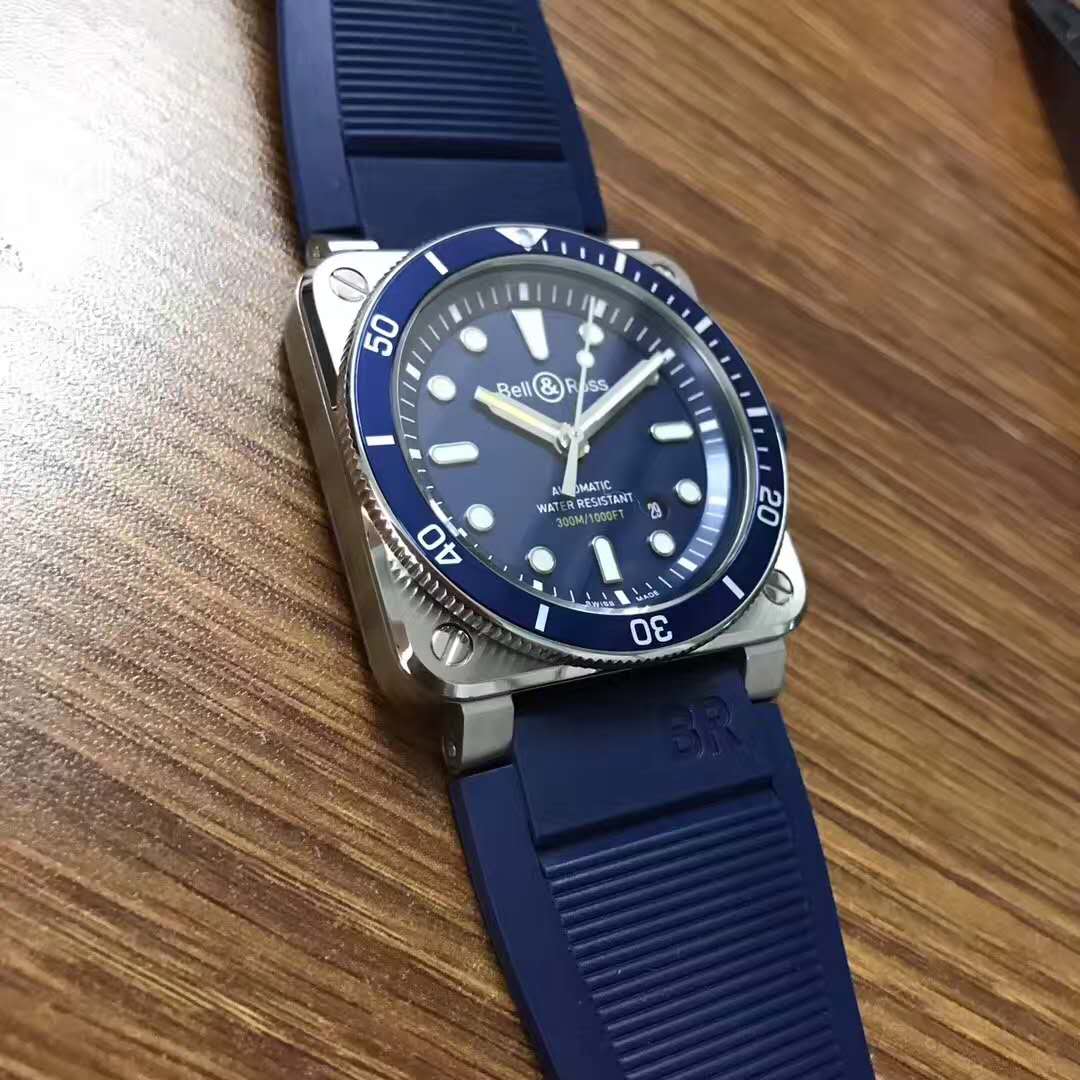 The whole watch looks like a professional instrument, its case is in size of 42mm*42mm, there are four big screws to fix the case and back, case frontal face is brushed while the square edge is polished. Look at four corners of the case, they are polished so round and smooth. Crown has engravings beside to tell you how to lock, it is wrapped by blue rubber and there is a big Bell Ross logo on front face. Blue bezel features white diving engravings, the pearl is filled with white luminescence and looks full. Case back is sold 316L stainless steel and features watch series engravings, it is not just a single steel back, once you open it, you can find the construction is amazing, just the same as genuine.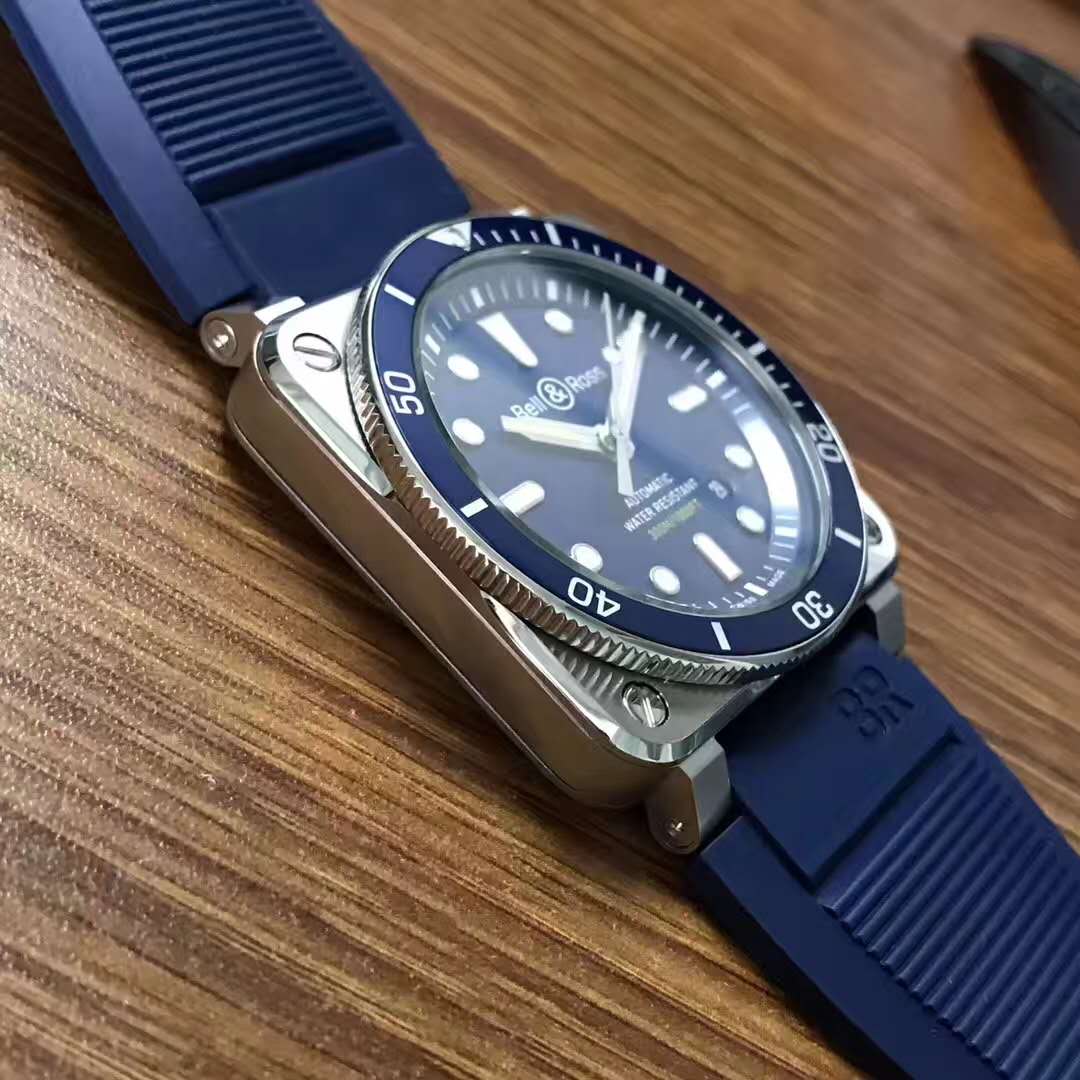 The dial is blue, all markers and printings are white except yellow "300M/1000FT". Hour markers are very big and filled white luminous material, they will emit blue light in the dark, while the hour hand has yellow luminous material applied and will emit green light. A small round date window is positioned at 4:30, date font is in white and has the same thickness as genuine watch. In front of the dial, the sapphire has light AR coating, so whether during the day or at night, the replica watch will have a good readability. The dial completes the whole watch and makes it look like a diving instrument for professional divers.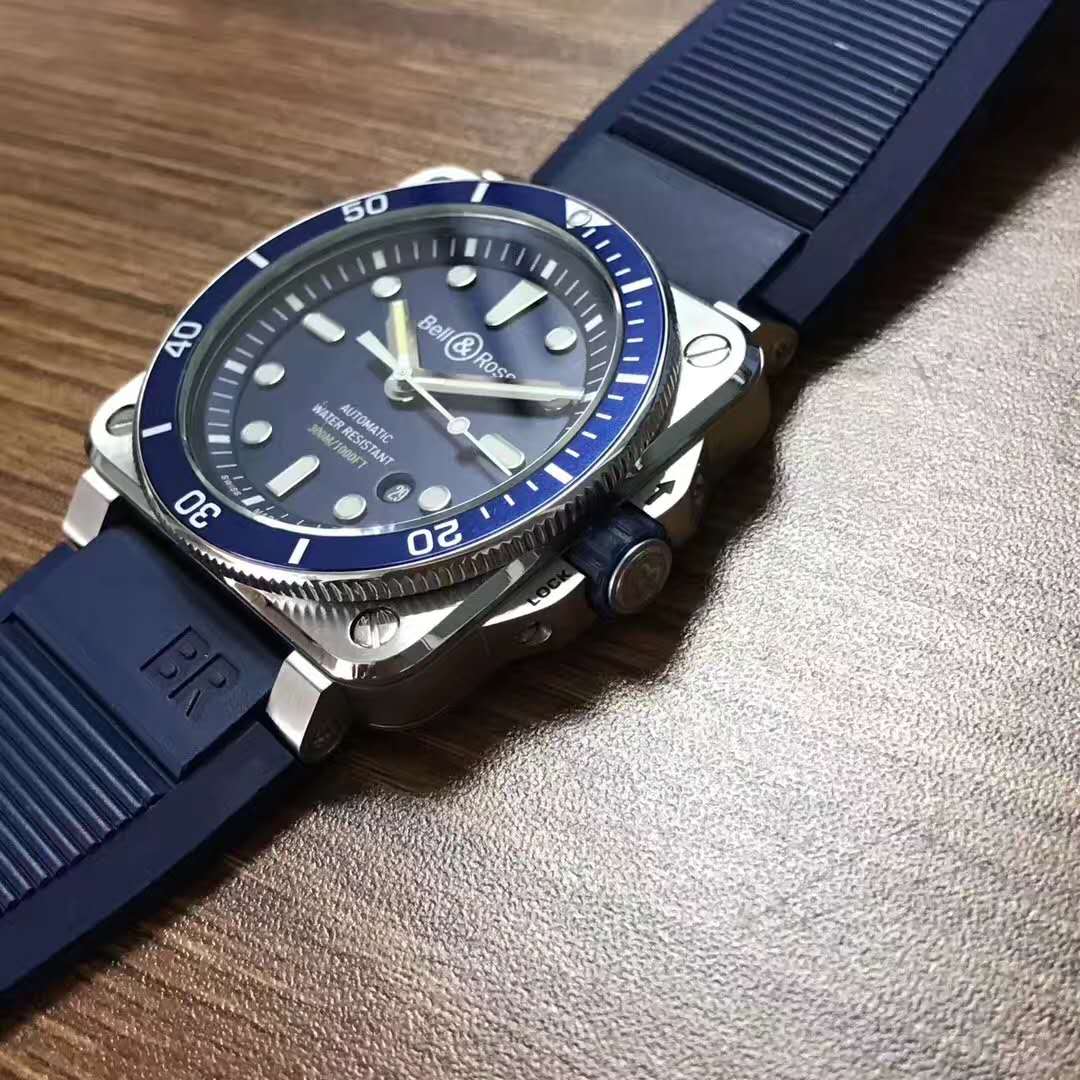 At last, I want to share the specification of the replica watch with you guys.
Movement: Genuine Japanese Miyota 9015 Automatic, Very Stable and Accurate
Case: 42mm*42mm, Solid 316L Stainless Steel with Removable Lugs
Bezel: Blue Metallic Bezel
Crystal: Sapphire with AR Coating
Dial: Blue with Luminous Hour Markers and Hands
Bracelet: Blue with Tang Buckle, Free Black Nylon Strap
Water Resistant: 50m