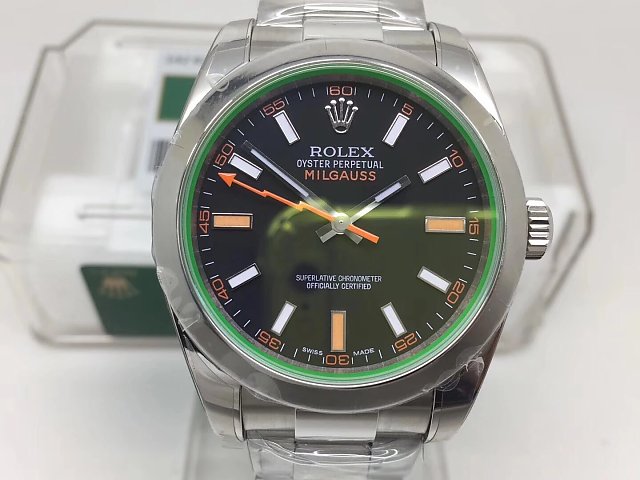 Top quality watches are always pursued by a lot of people, they like to buy watches from the most famous brands such as Rolex, IWC, Panerai, etc. If they have a rich budget, then it is a good idea to buy genuine models. However, you need to buy a lot of luxury items in your daily life, for you and your girl friends, so sometimes high quality replica watches will do you a favor. You need to own more than two watches, but there must be one Rolex. In my opinion, Rolex is the symbol of noble status. However, when I saw this Milgauss, I thought it was made for some special groups like the scientist, not good for common people. But a large majority of people is willing to buy this Rolex Milgauss watch, is it really more popular than Datejust and Submariner? I think no. Lots of people buy Milgauss due to the amazing tinted green in the sapphire crystal glass, do you agree? Today, I want to show you one Rolex Milgauss replica watch made by AR factory, it is the popular 116400GV, the replica is made of 904L stainless steel and equipped with a super clone 3131 movement, it is currently the best replica Milgauss 116400GV.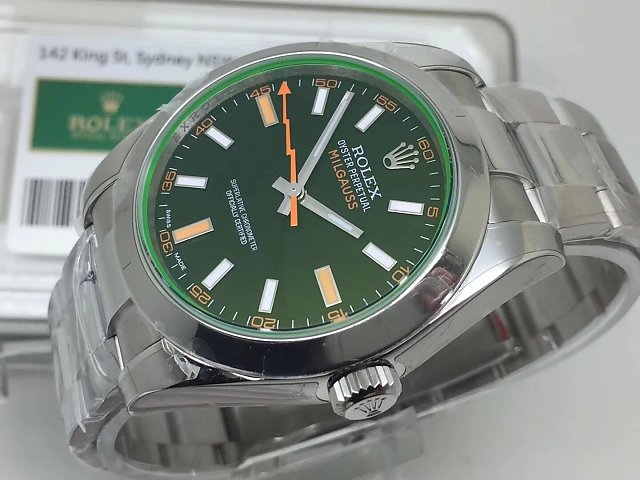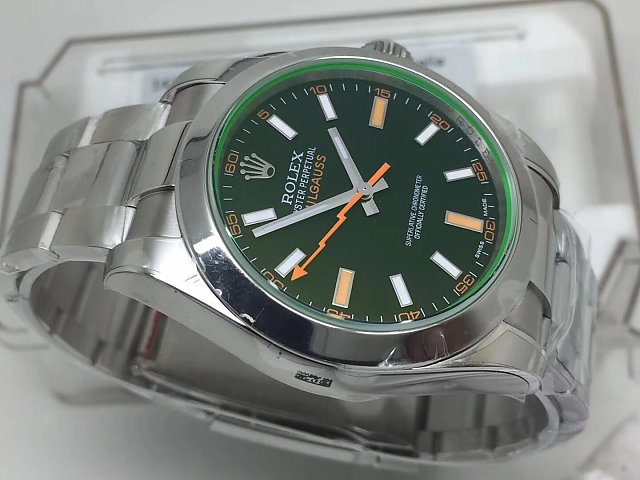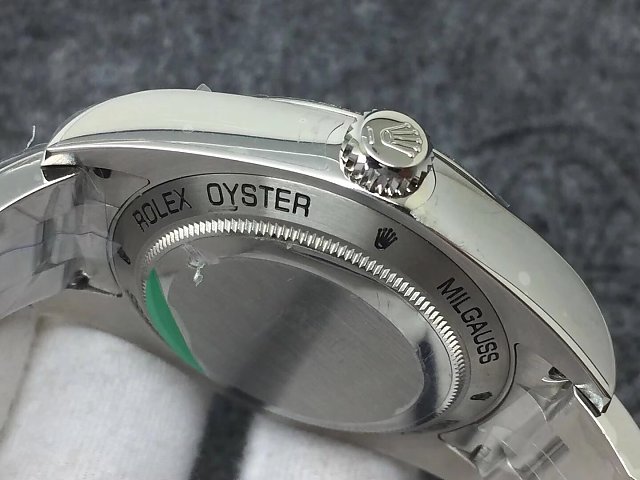 The case is 40mm in diameter, it is made of solid 904L stainless steel, it seems like the keyword in 2018 replica watch market is "904L". Not only the case uses higher grade stainless steel material, it also has a top-level finish, with every corner and edge being polished well. The round bezel is polished smoothly, it fits the case perfectly, just like one-forged piece. Rolex Crown logo looks more three-dimensional than any other cheap Rolex replicas. Case back is solid, it has an excellent workmanship, the center part of case back is brushed, while its edge is polished, engravings have black coating. Once the case back being opened, you will find one piece of soft iron before seeing the movement inside, this piece of metal has the same antimagnetic performance as genuine Milgauss watch.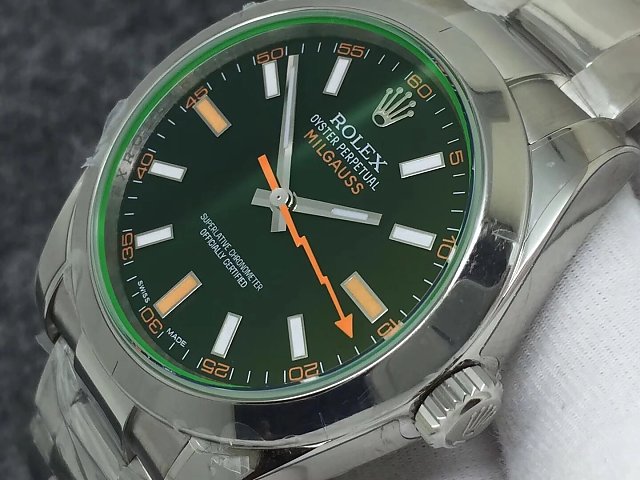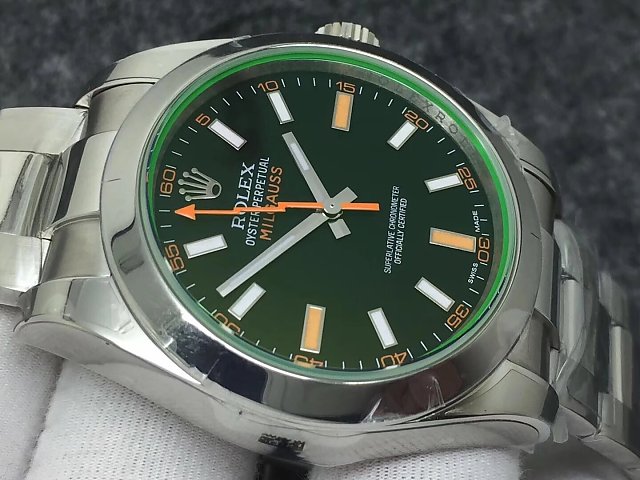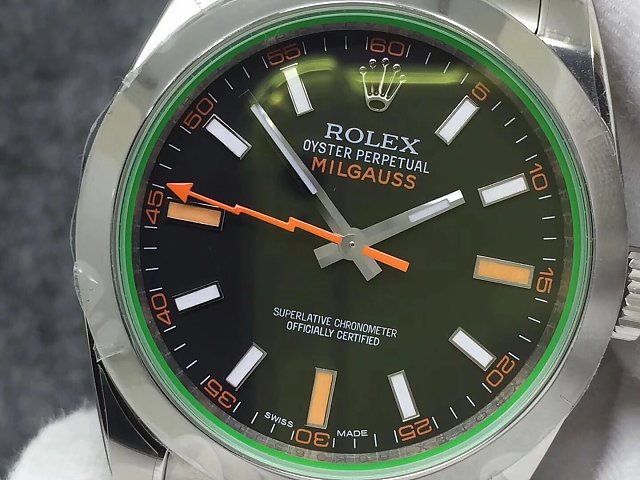 Super clone 3131 movement makes this replica one of the best cloned Rolex watches. AR factory developed this movement by themselves, it not only has the same functions as genuine Rolex 3131 Caliber, but also has a top quality finish. If you are able to open the back, you can check it by yourself, the base movement plate is polished very well, it has beautiful Geneva Stripes, the golden engravings are also correct, original shock absorber and bridge guarantee that the balance wheel works stable. the factory also offers an Asian ETA 2836 movement option for this replica, if you want it to be equipped with a genuine ETA, please contact me.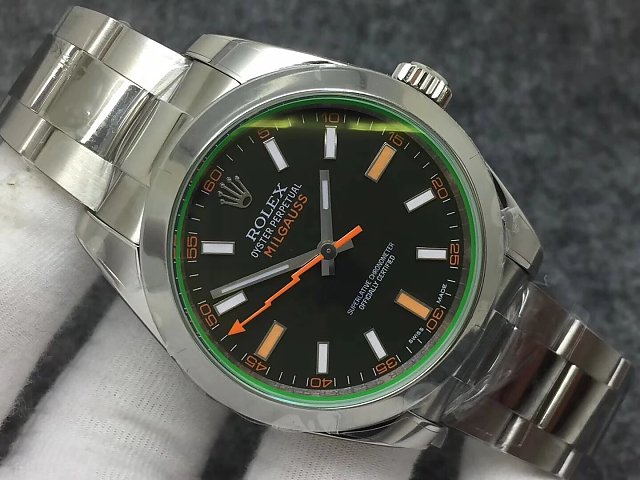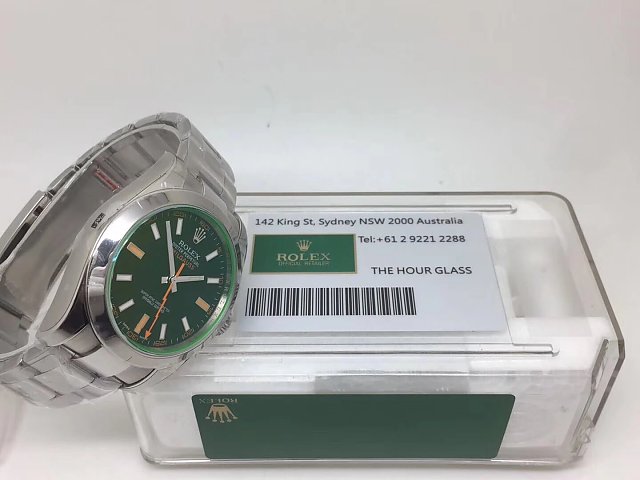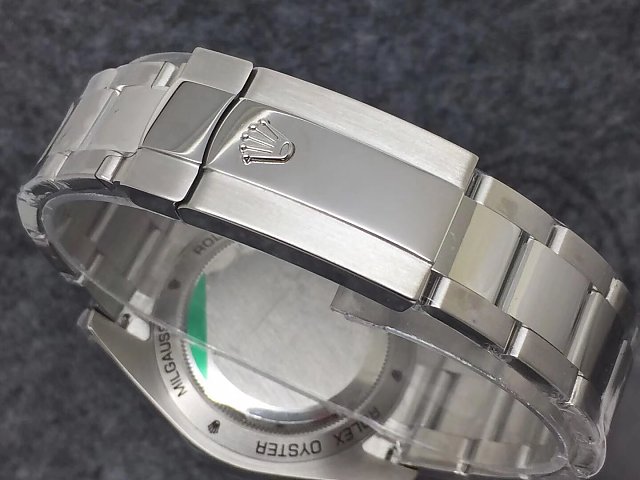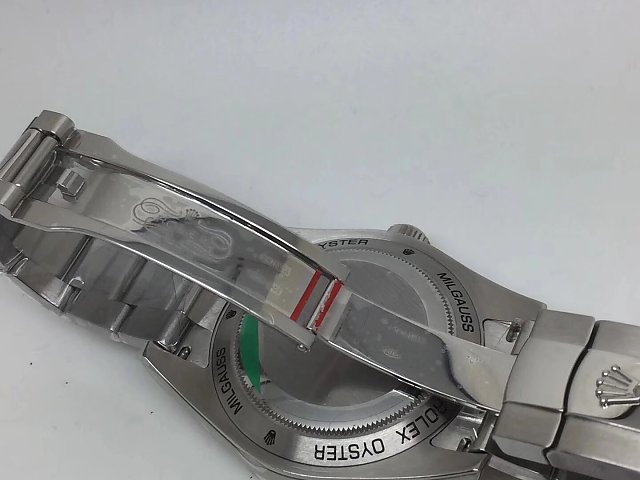 At last, let us talk about its dial. Black dial features the iconic lightning second hand in orange color. Hour and minute hands as well as hour markers are applied luminous material, check the watch in dark place, the dial will have a strong blue lume. The orange is a distinctive color of Milgauss, besides the orange second hand, Arabic minutes markers, "MILGAUSS" and the luminous material on hour markers at 3, 6, 9 are also in orange color. The orange elements form an obvious contrast with black dial, which makes the dial have a high readability.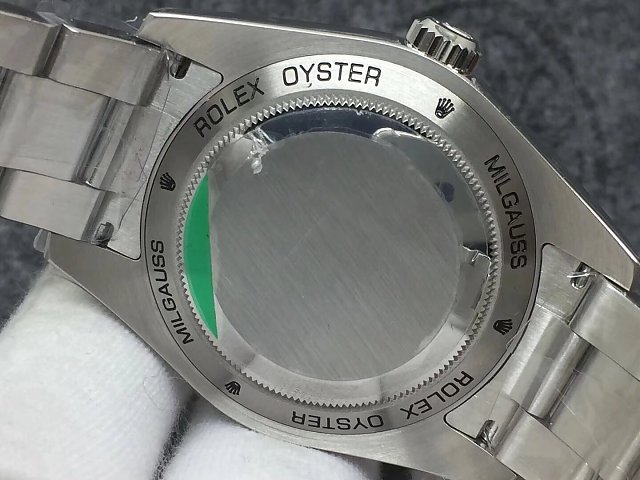 Certainly, this is the latest highest edition of Rolex Milgauss 116400GV replica, the price is also a little higher than those replicas you bought before, but it is absolutely in a top quality. By the way, I do not sell poor quality replica watches that are with cheap quartz movement. These cheap replicas do not last for a long time, they are a waste of money.