Hey everybody, before introducing the replica, I'd like you to know some specifications of the genuine watch.
Metallic ceramic case and matte black dial are two main features of Top Gun Miramar. White, grey and green classic colors highlight the military style of the watch. The strap material is made of extremely tough Nylon that is often used on pilot's watches. Unique outer minute scales and inner hour circle remind people of Chronometer in the 1930s and 1940s as well as the rich heritage of IWC pilot's series. The date display is also unique, which is very similar to cockpit's altimeter. This timepiece is equipped with IWC in-house 89365 movement, after being modified, it can offer 68 hours power reserve. Soft iron inner case can protect precision device against the effect from magnetic.
Today, the leading role is from KW, it is a quartz watch and very cheap. It's quite a bit harsh if you take a quartz watch to compare with an authentic watch. However, you can see manufacturer's effort from the replica's details. It's a touching moment when thinking of its selling price after making the review.
The difference between genuine IW 388002 and KW replica:
Movement: genuine watch uses 89365 mechanical chrongoraph movement, the replica is equipped with Japan Miyota Co.6S11 quartz with SONY battery.
Case material: genuine uses ceramic case, the replica is made of stainless steel with black pvd coating.
Inner case: Soft iron inside case to protect device against the effect from magnetic. Fake does not have the antimagnetic soft iron, because it is a quartz watch.
Crown: genuine watch uses screw-in crown, the replica is directly inserted into.
Crystal: arched sapphire crystal with double ar coating on genuine watch. The replica uses mineral crystal.
Water resistance: 6-bar water resistant on genuine watch. All replica watches are just daily waterproof.
Two top gun replicas here. The left one is from small factory, the right one is made by KW.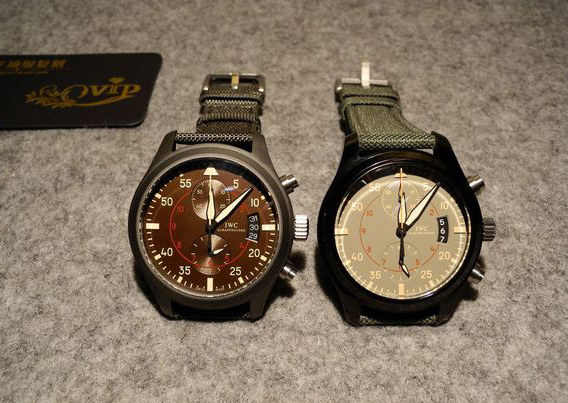 I think KW version dial's color is lighter than genuine while samll factory version is a bit deeper, which is oviously the biggest difference.
Date font and shape. KW version has the same date font as genuine, there is groove around the edge of the date window, the replica from small factory has a different date font.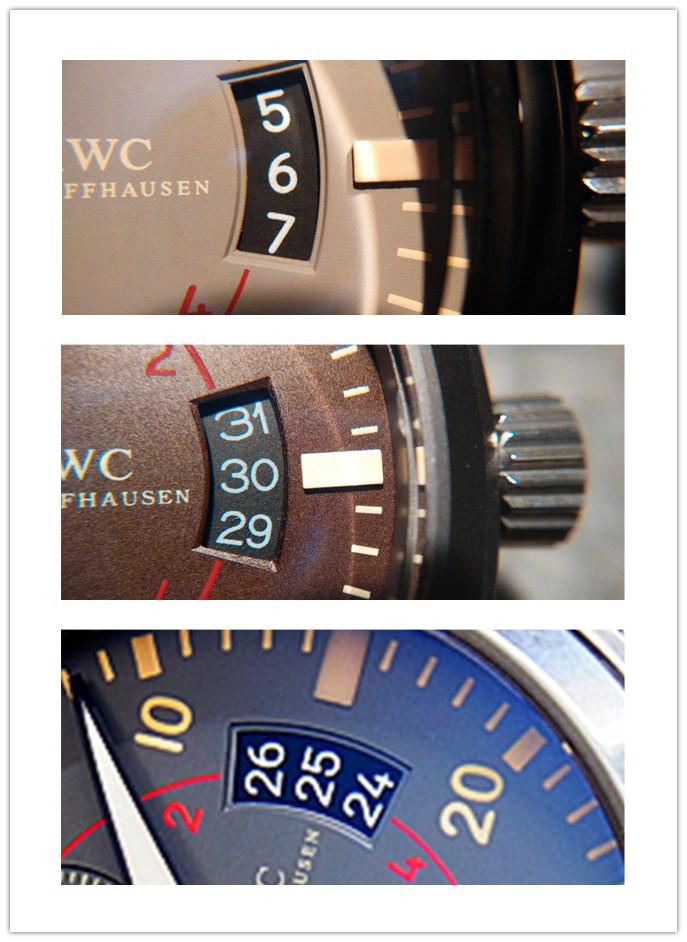 Case tone and logo. Although the case material is not ceramic on KW version, the texture and polishing on case is almost the same as genuine.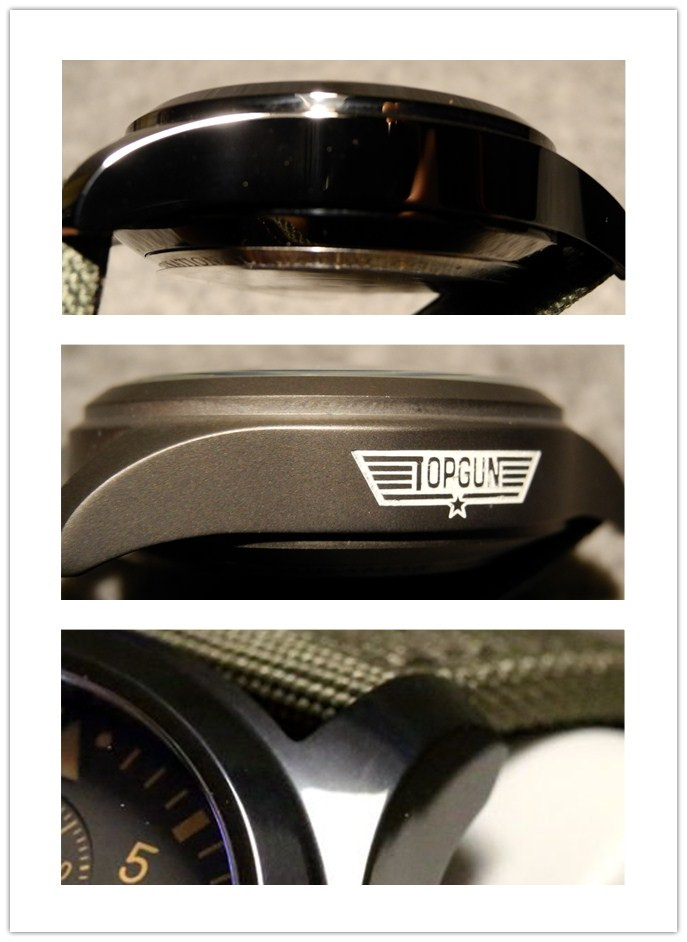 Minute hand's length. The length of the KW minute hand is same as genuine, while the replica from small factory one is a bit shorter.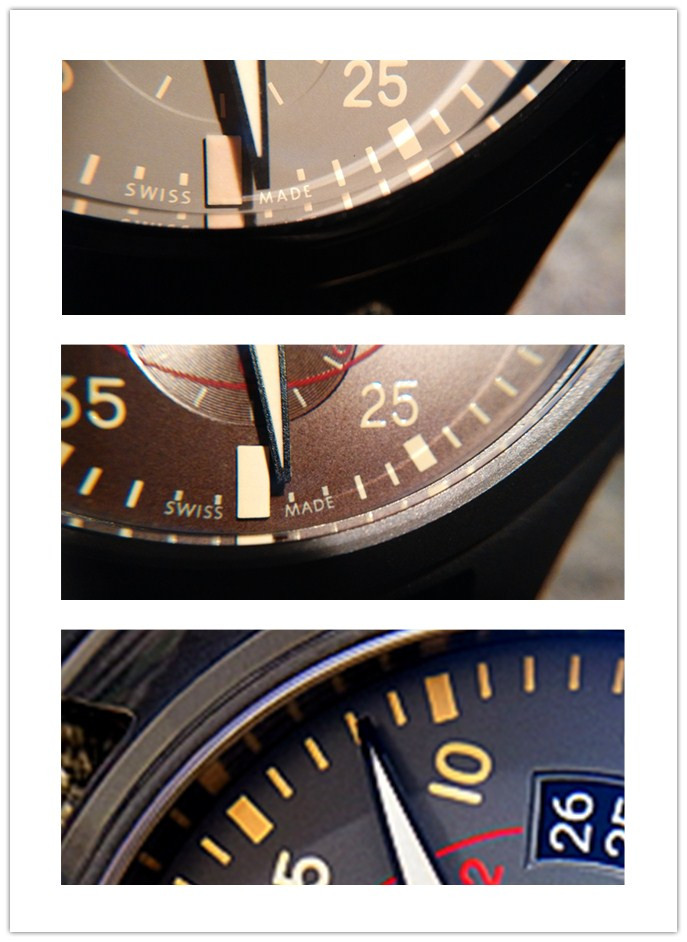 The central red circle and 6:00 small dial. KW has the same red line as genuine, smooth design on the surface of 6:00 subdial. The replica from small factory does not have notch, there are patterns on the subdial.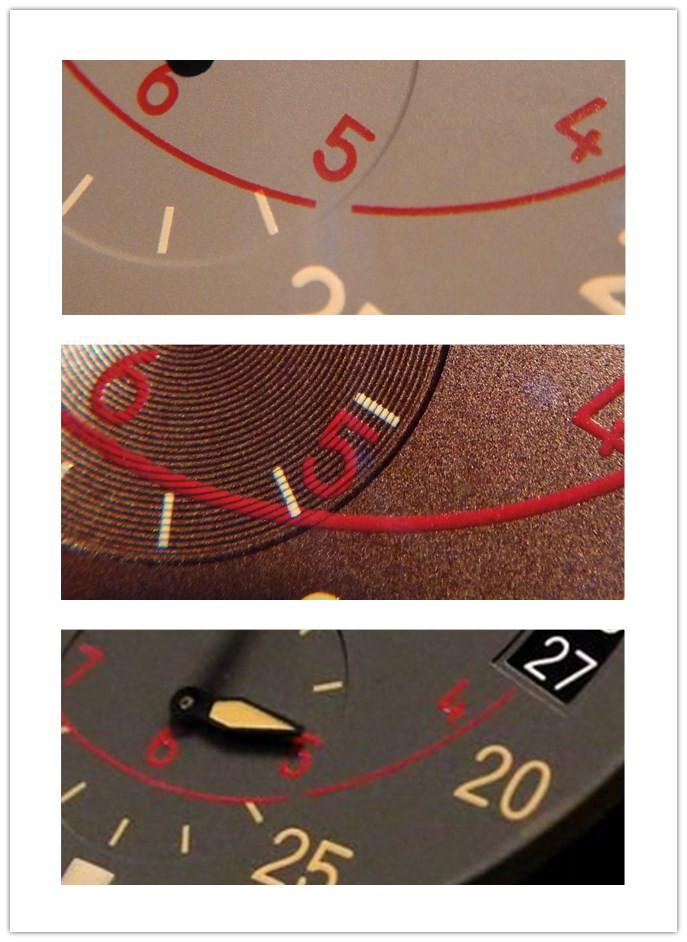 Digit "20" on minute-chronograph counter. See the picture below, the first one is KW replica, the second on is from small factory, the last is genuine.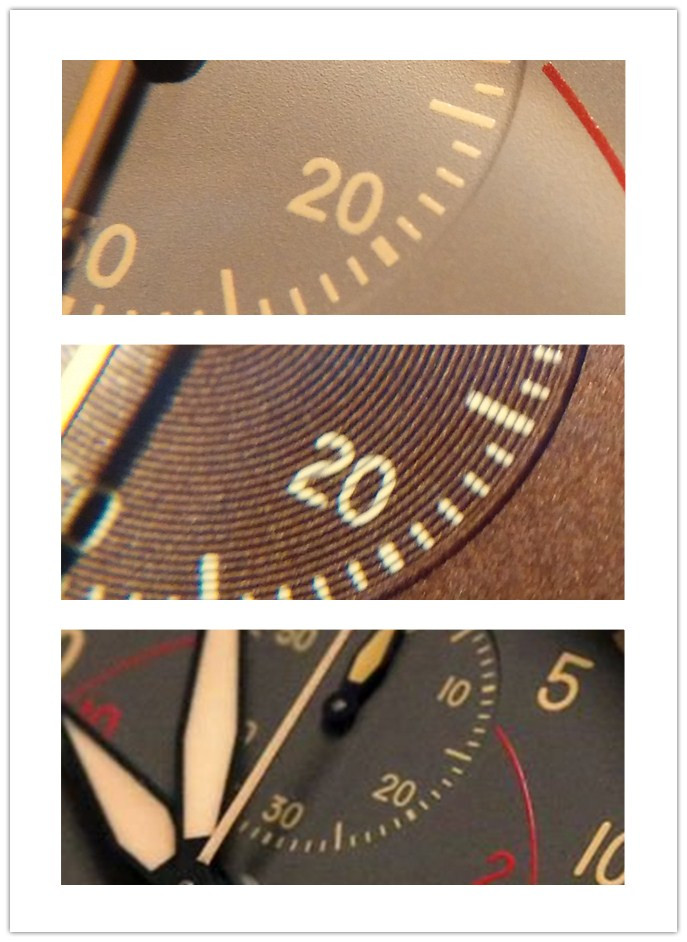 Engravings on case rim. No black painting on KW replica.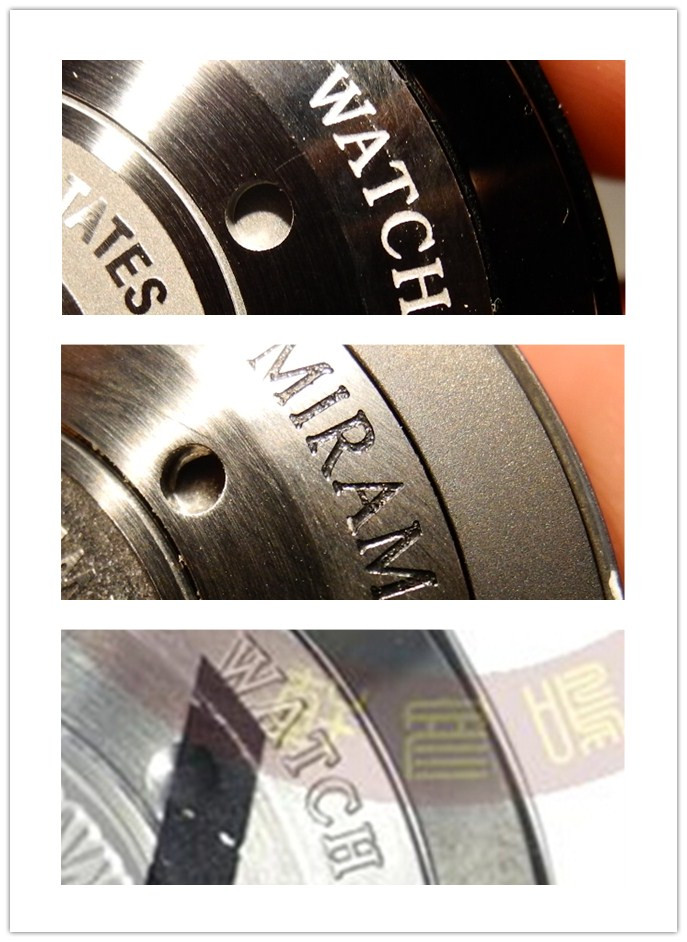 Crown. Notice the second one, you will find a small notch on the replica, both KW and genuine watch do not have this feature.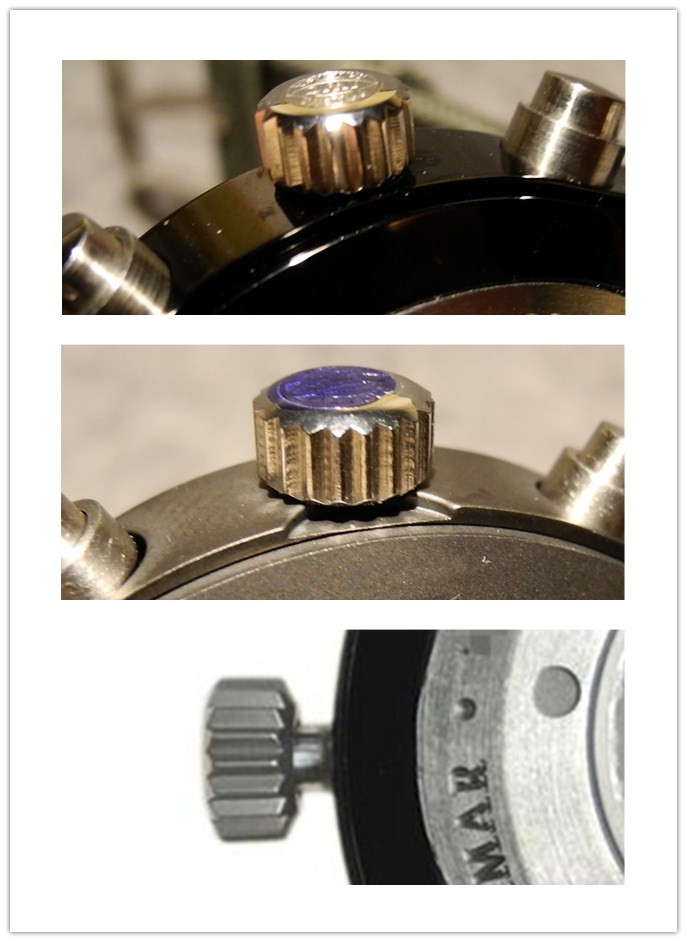 The color of second-chronograph hand. KW has a darker big second hand than the genuine.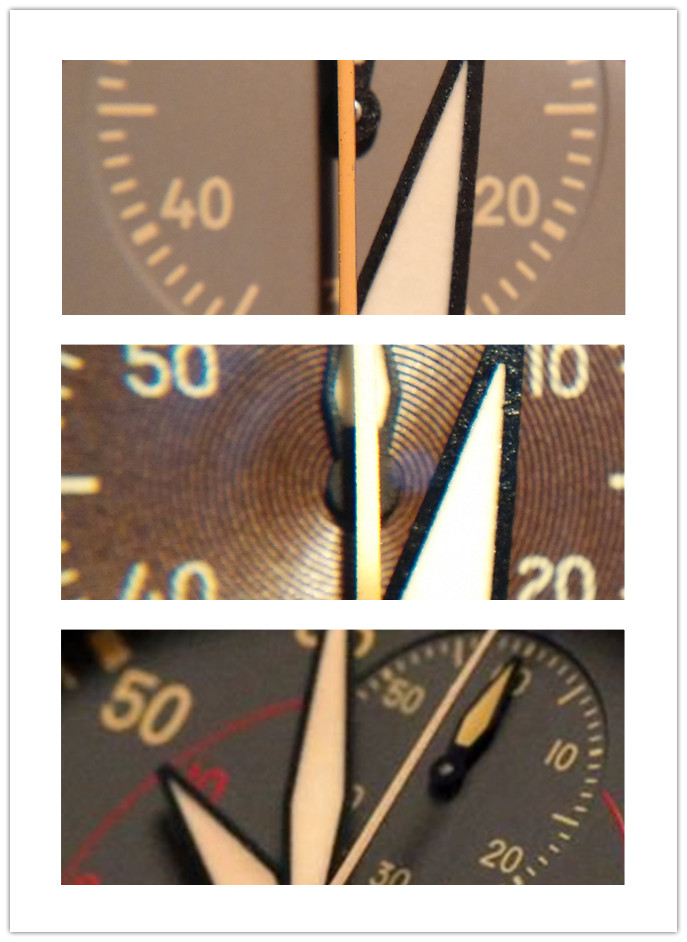 This is an evaluation made in a early time, and now clean it up again. All I wanna say is that there are not too many good fake quartz watches in the market, and this is a classic quartz watch from KW, even it has some imperfect parts, while we still could see the efforts which the manufacturer has made. I am impressed by its superior texture, maybe it has been discontinued in production, this could be used as an aniversary review.