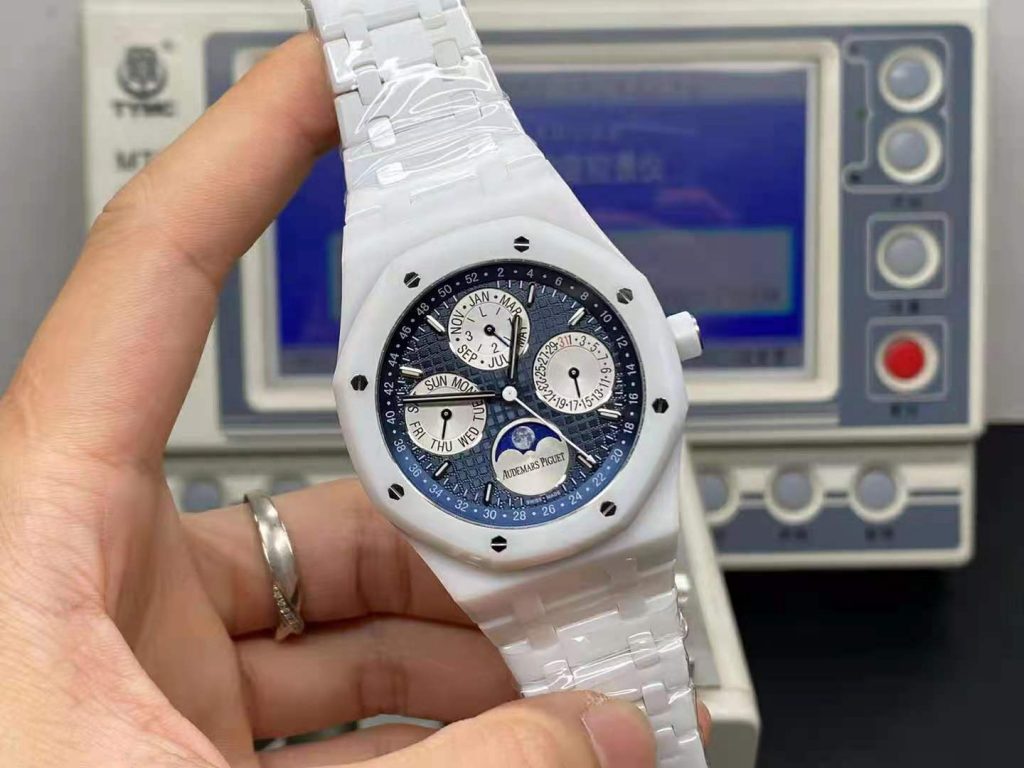 This is a new model coming from our watch market, the watch is Audemars Piguet Royal Oak Perpetual Calendar replica, which is made by APS factory, I never heard of this factory before, for me, it is the first time to know APS, except this Audemars Piguet, I do not know if they make any other replica watches. This Audemars Piguet Royal Oak is a complicated model, it has many functions, for this replica, all functions you can see are all working, so this replica has a much higher price than common AP models.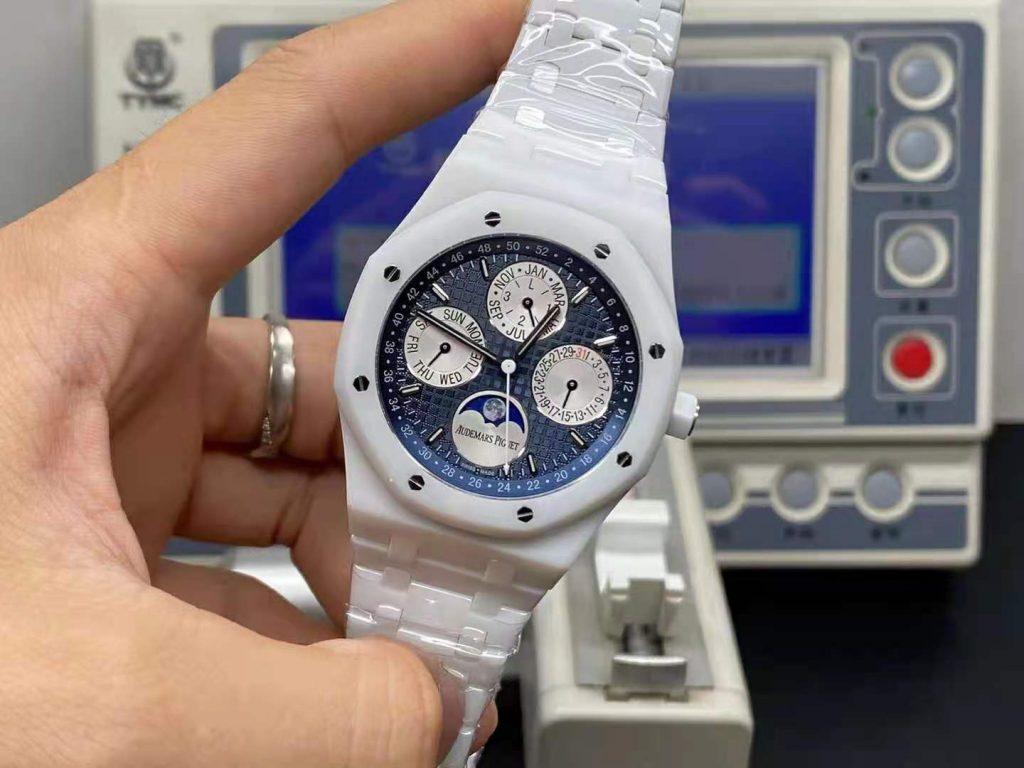 For such a complicated Audemars Piguet that is fully made with white ceramic and with so many functions, the price is actually very reasonable. If ZF starts to make a replica of this Audemars Piguet, I believe that they will sell it over 1000 US Dollars.
The replica is made with white ceramic, its case diameter is 41mm, while case thickness is only 10.5mm, not that thick as most people think of. Case back is see through sapphire crystal, with stainless steel case rim that is fixed by screws. On both sides of the ceramic case, you can see several buttons, which are used to adjust the functions you can see from its dial.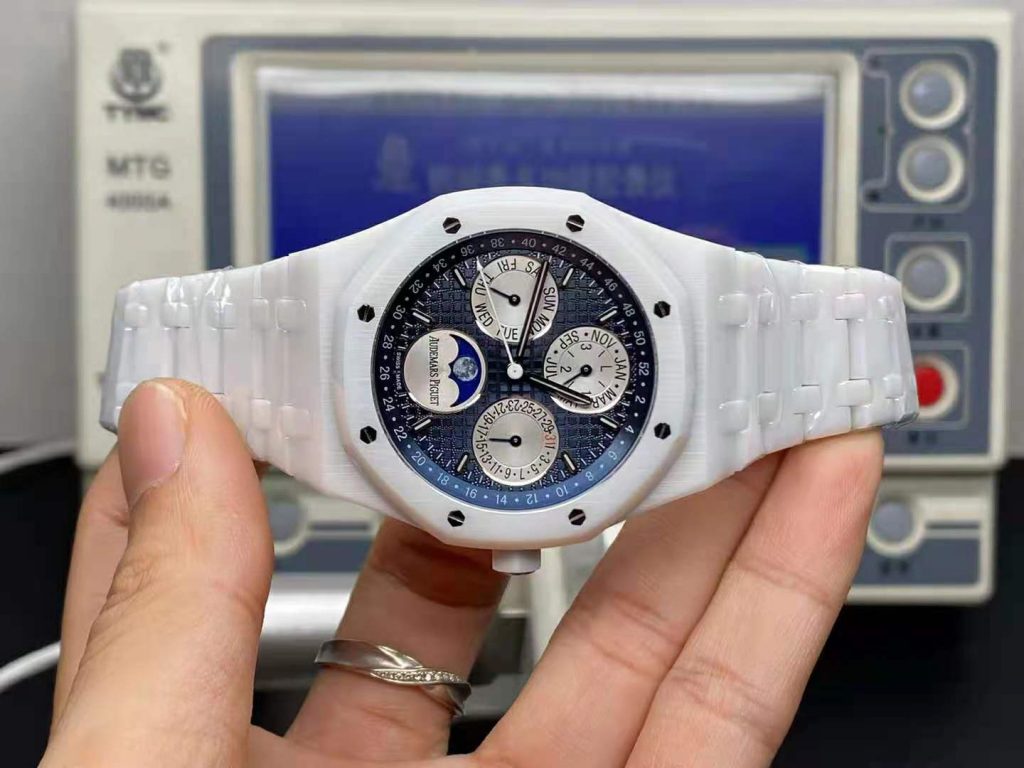 The dial is blue checkered, with four big small dials in silver tone, the bottom small dial at 6 o'clock is moon phase display, which is like genuine, it rotates one circle per month. Each of the other three subdials has a small hand in blue color, from the numbers and letters, you will know the function of each dial. Although the three blue hands are working, but there is difference with genuine in operation. There are no replica watches in our market that can completely achieve the perpetual calendar function.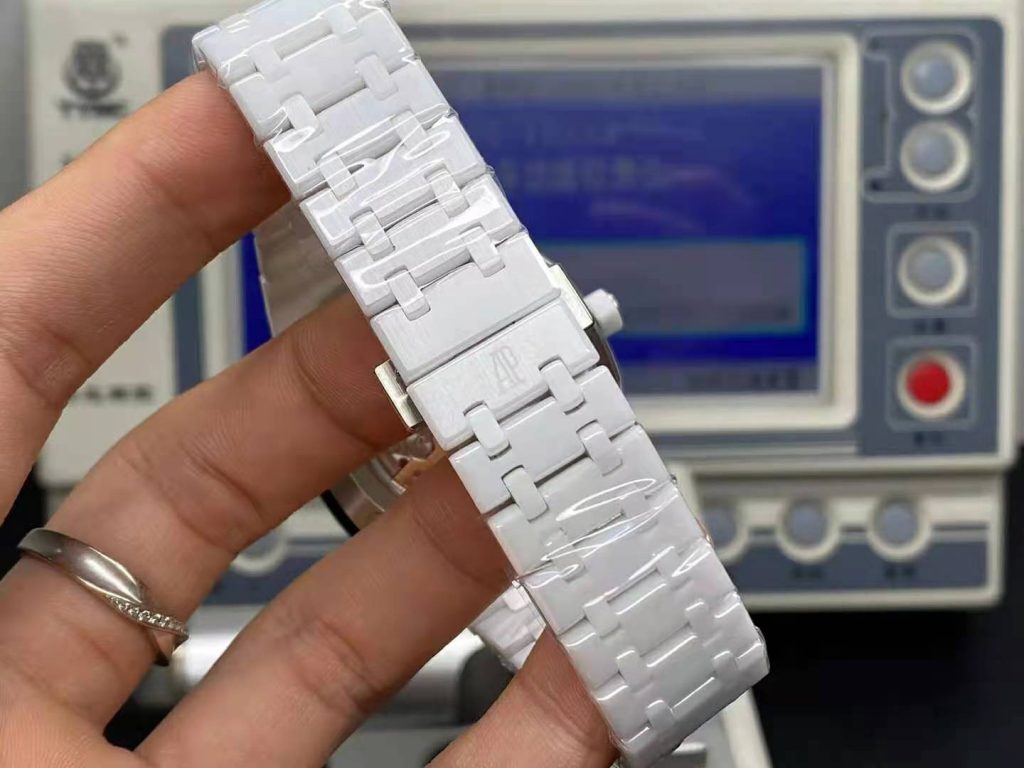 For me, if you are looking for a replica Audemars Piguet that looks closet to genuine, I do not suggest you buy an AP with too many functions like this one, because it will not be genuine like and some functions will be false. If you are a collector and want to enrich your collection, then this Audemars Piguet is worthy of your consideration.