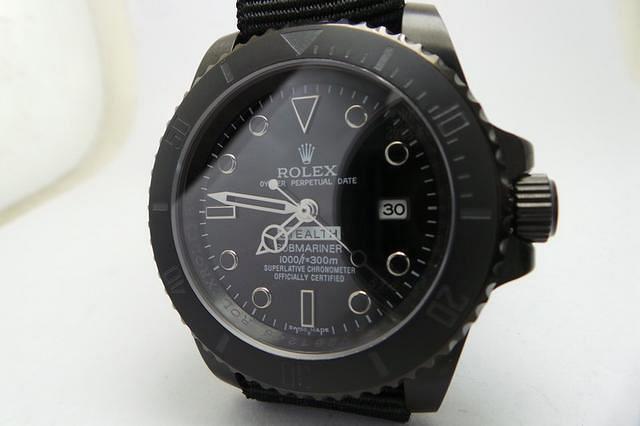 I have never seen this type of Rolex ultil I found it in our replica watch market, its full name should be Project X Stealth. Genuine watch is a custom-made Rolex by a company which I have no idea about. But we have to admit that these Rolex watches made by them are really cool, most of them in full black appearance with nato band. The biggest difference between Stealth Rolex and normal Rolex watches lies in their case and dial design, from the replica watch review in the following article, we will find more things interesting.
The case is measured to be 40mm, which is a normal size for Rolex Submariner. But among all Submariner models Rolex has published, I never saw a full black case on Sub, while this replica Rolex Stealth Submariner features an all black pvd case with bezel. I do not way this company painted the case to be black, maybe this more meets the meaning of STEAlTH. There are diving markers on bezel but no pearl set at 12 o'clock. On solid case back, there are engravings of "STEALTH MK IV" on case rim, and featuring an engraved pattern of SBS' Frog on the centre.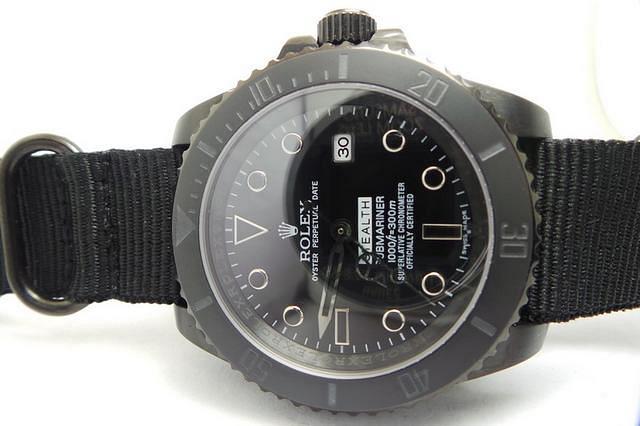 The dial is also in black, you will see larger hour markers and fatter hands on this dial, yes, we call it Maxi Dial, which is only used on some Rolex models. So it is very rare. The hour markers have black luminous material applied, so do the hands. All printings on dial are in white color, except the "STEALTH", which is black in white square background. The date window is set at 3 o'clock, black date font is in white background, it is curious that this Submariner replica watch does not have a date cyclob.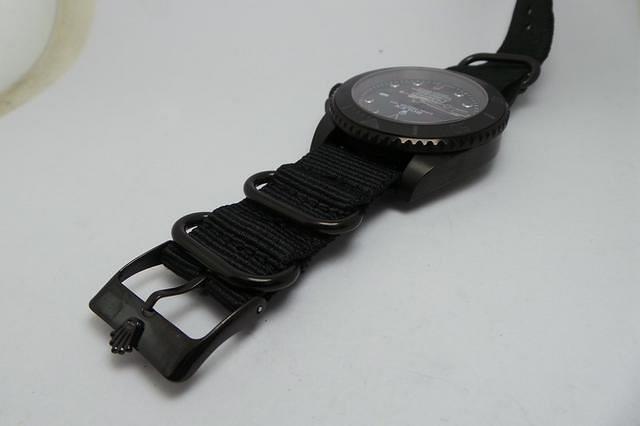 The replica watch is equipped with an Asian ETA 2836 movement, which is used on most replica Rolex and gets a better stability than other automatic movement. Some people here always ask me to change a genuine ETA movement for their orders, but I have to say that only certain replica watches made by big factories could be installed with genuine ETA movement. By the way, for all chronograph watches, they can't be equipped with genuine ETA 7750 movement in replica watch field.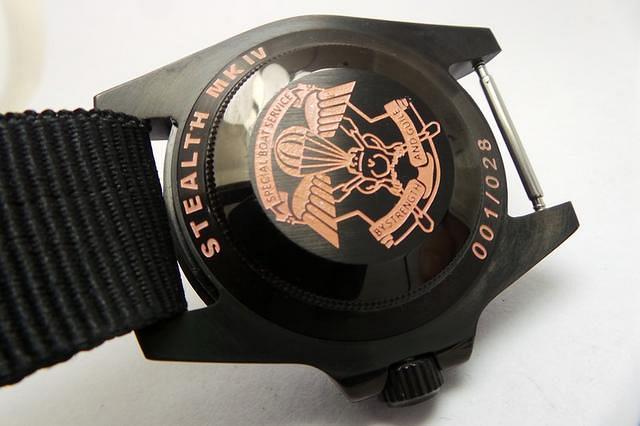 Finally, let us see the nato strap, it is a single strap in full black, which is exactly matching the black pvd case of the replica. There are three black steel keepers on the strap. It is very easy for the wearer to remove the band and replace a new one in any color, but you must ensure the new installed band meets the black theme of this replica Stealth Rolex.