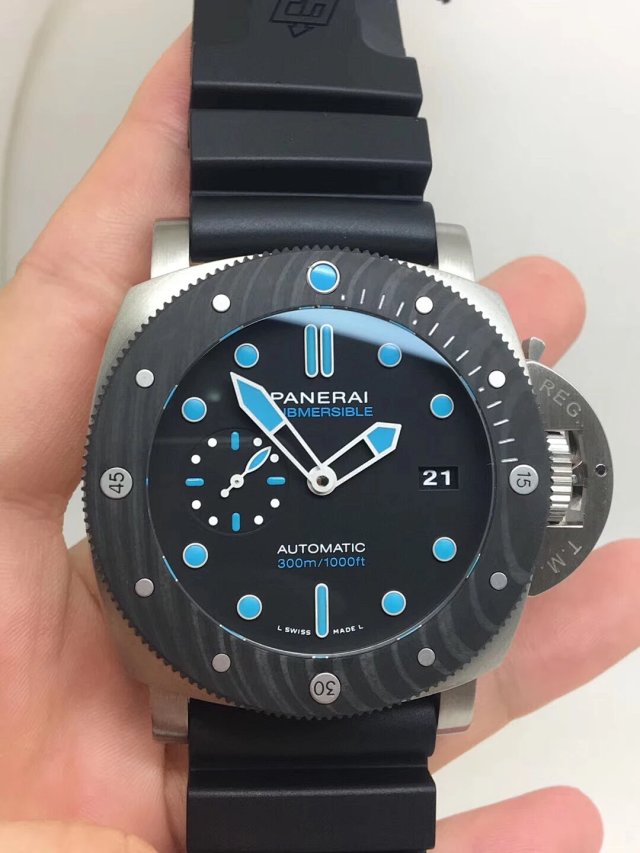 The latest Panerai replica watches published by VS factory are all CarboTech Submersible, they are PAM 979, PAM 1616 and PAM 616. Among them, PAM 979 and PAM 1616 were published by Panerai in 2019, while PAM 616 replica was firstly made by VS factory in 2017, but they just made improvement and unveiled the V2 edition. Today, I want to show you another Panerai CarboTech Submersible watch, it is PAM 799.
Like other CarboTech Submersible, PAM 799 also has a large case, which is up to 47mm in diameter. Different from PAM 979 and PAM 1616, the case of PAM 799 is made of Titanium material, only the bezel uses forged carbon. Titanium case is fully brushed, it is a bit thick, almost 16mm, I do not know how thick the genuine watch is, may be much thinner. Please check the watch from side, the bezel adds a huge thickness to the case, we can see that the studs are bit higher above the bezel, while the crystal is completely in the same horizontal line with the bezel, this is the same as genuine watch.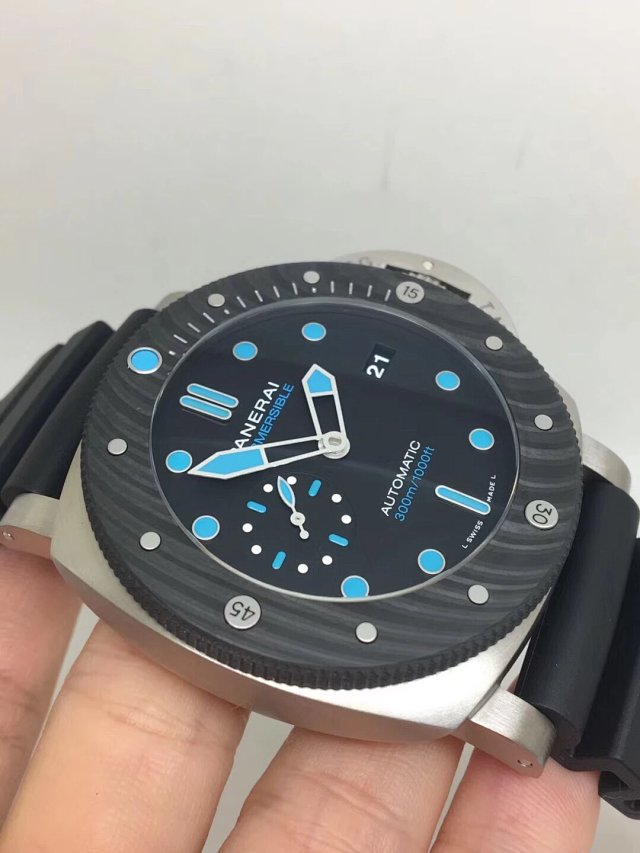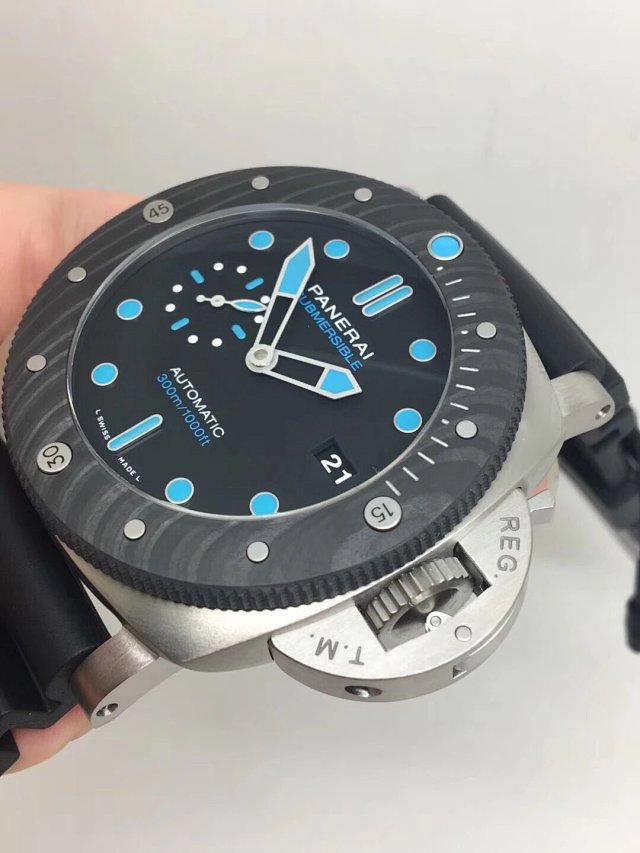 The dial is black, the blue color we see on hour markers and hands is actually one type of luminous material, it is fully filled in these hour markers so that the dial will have a strong and long-lasting lume light in dark conditions. The dial is simple but you still can find some flaws, check carefully on these hour markers, some or maybe one of them is not fully filled with the luminous coating, you can see tiny gap. The small second hand on the subdial at 9:00 is absolutely running smoothly.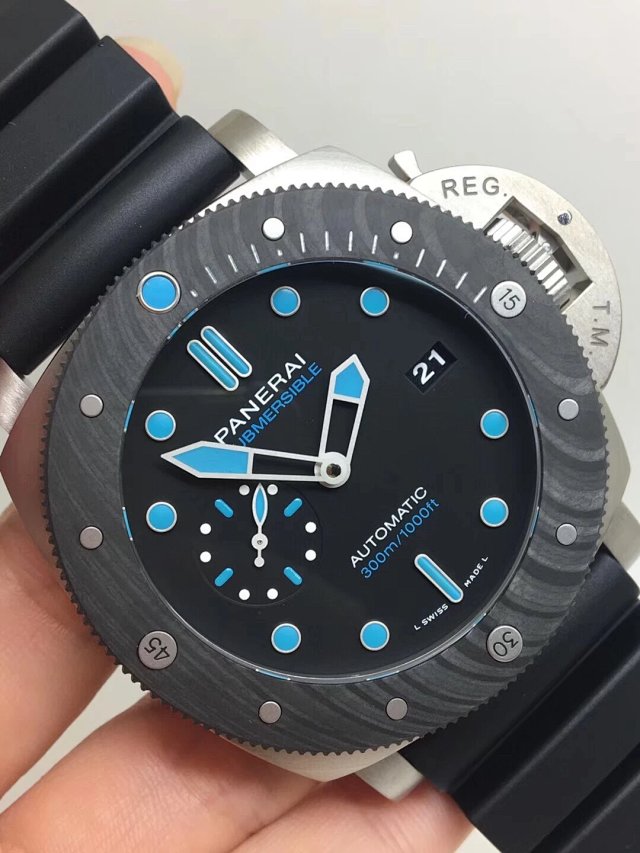 Inside the case back, it is a Super Clone P.9010 movement independently developed by VS factory. About this movement, I have talked too much about it, in outlook, it looks completely the same as genuine P.9010 Calibre, even the balance wheel is set in right position at 7 o'clock. In function, the clone movement still can not have the same power reserve as original, you have been already very lucky if the watch you bought can run an entire day without winding.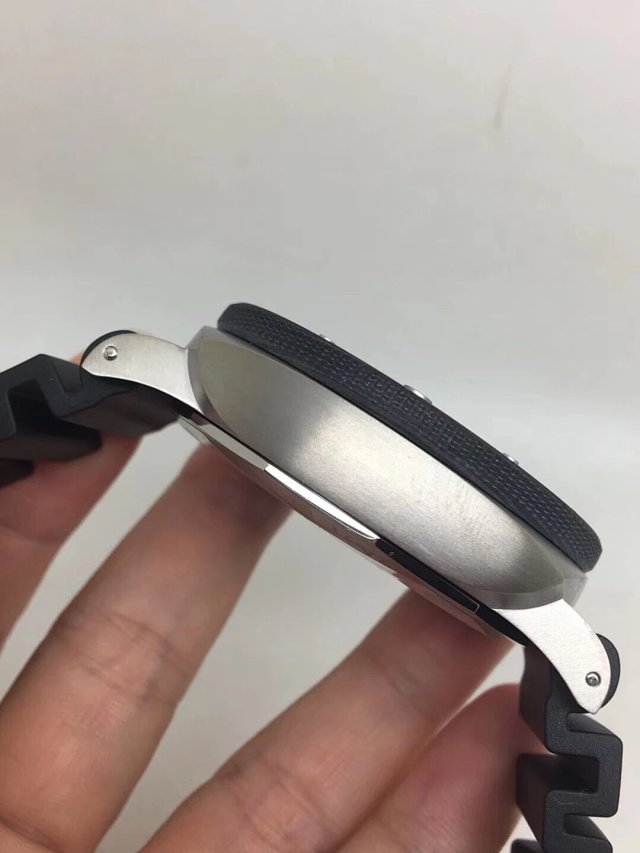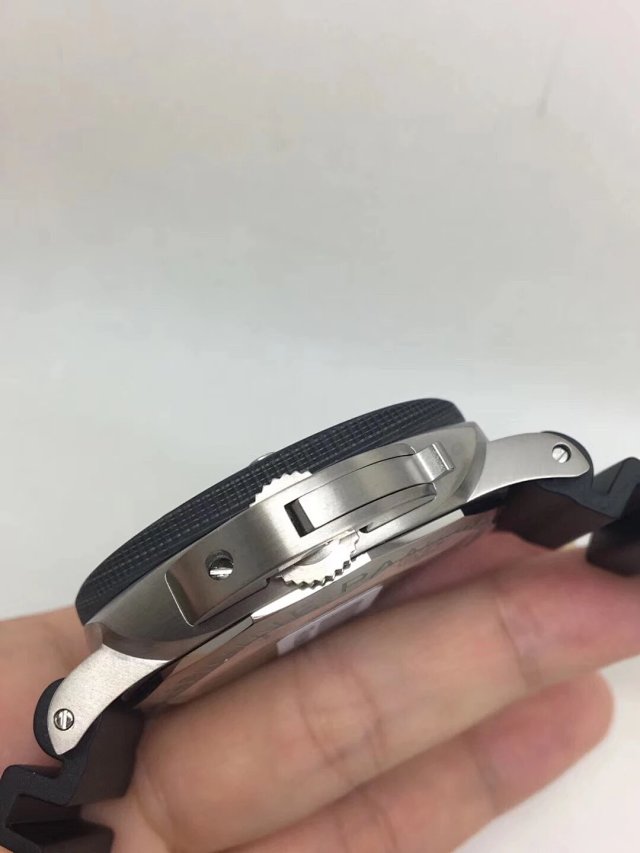 Actually, the gap between replica and genuine is still big, even there are many quality replica watches, we have to face the truth that replica can not be made 100% the same as original.