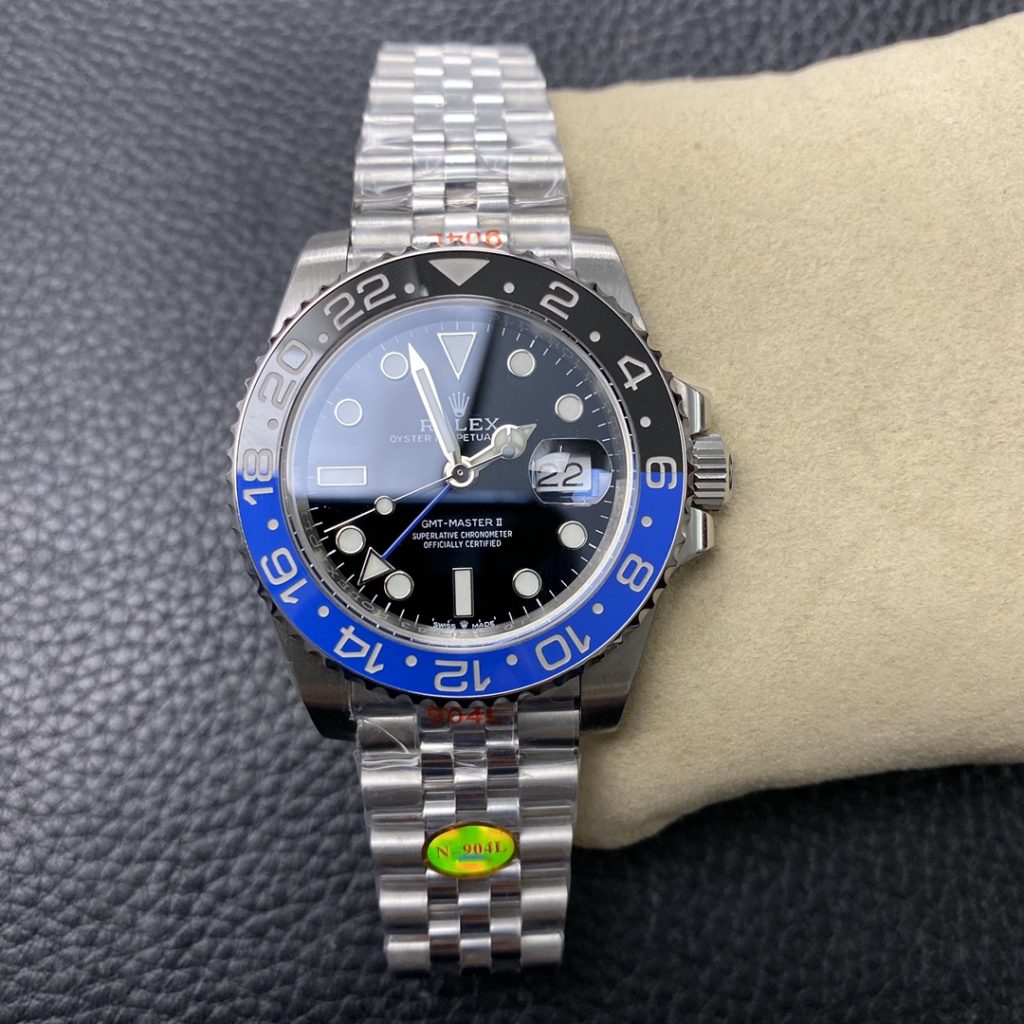 GMT-Master is really attractive to men, some people will consider a GMT Master watch when they are going to buy their first Rolex, I also like Rolex GMT-Master, its unique bezel design attracts me so much, if I do not have an IWC Portuguese, then Rolex GMT-Master II will be my most favorite. GMT-Master is not like Datejust or Day-Date that look so "Rolex", it has its own sports elements that could also be found on some other brand watches, maybe this is the reason I love GMT-Master. In our market, many factories make the replicas of Rolex GMT-Master II, the earliest BP, now VR and AR, which version is the best? That depends on your budget, if you only have less than 300 USD, the best option for you is those ones from small factories. If you have enough budget, then I only recommend Noob. It is the only version that has closest dial details, and also makes correct functions with real time and date adjusting.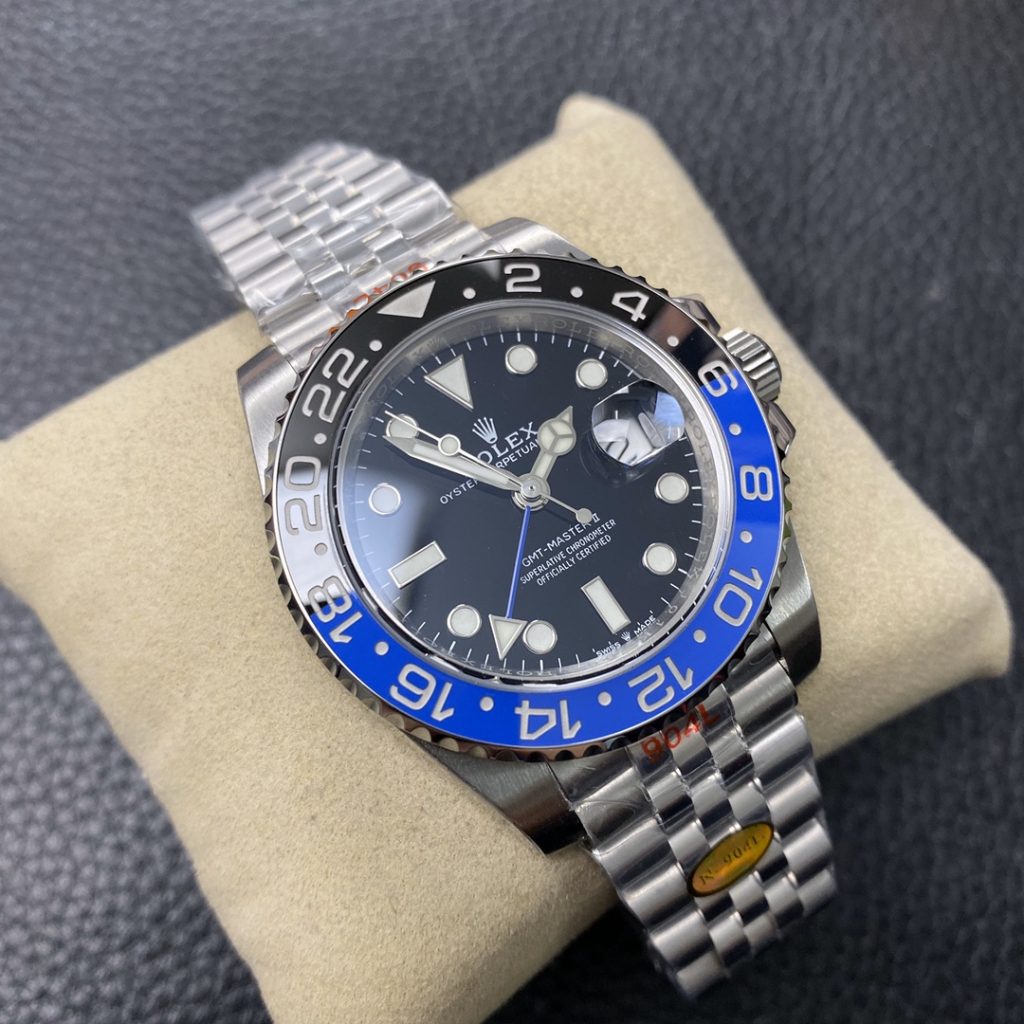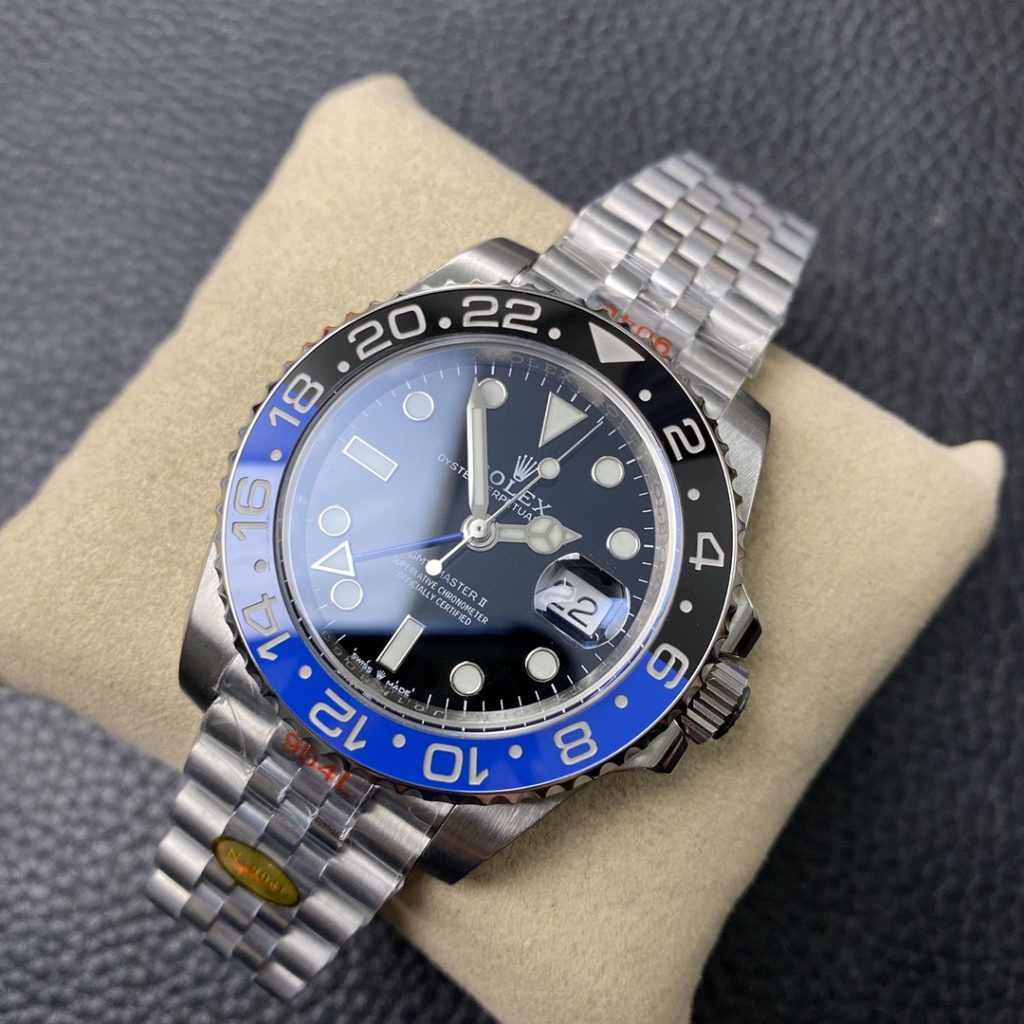 This GMT-Master II with black/blue bezel is very popular, especially when Noob just published it, at that time, it is the one with Oyster bracelet, now the new model comes with a Jubilee bracelet, and there is a small Rolex crown logo printed at 6 o'clock, between "SWISS MADE". In my previous posts, I told you guys not to choose a GMT-Master if you are going to buy your first replica Rolex, and I recommended Noob Submariner or Daytona first. Today, this is also the truth, Submariner and Daytona from Noob are much more stable than their GMT-Master. Even this 126710BLNR replica has A3285 movement that could realize all functions of gen, I still do not suggest you guys buy it, unless you are very crazy about Rolex GMT-Master and are collectiong them.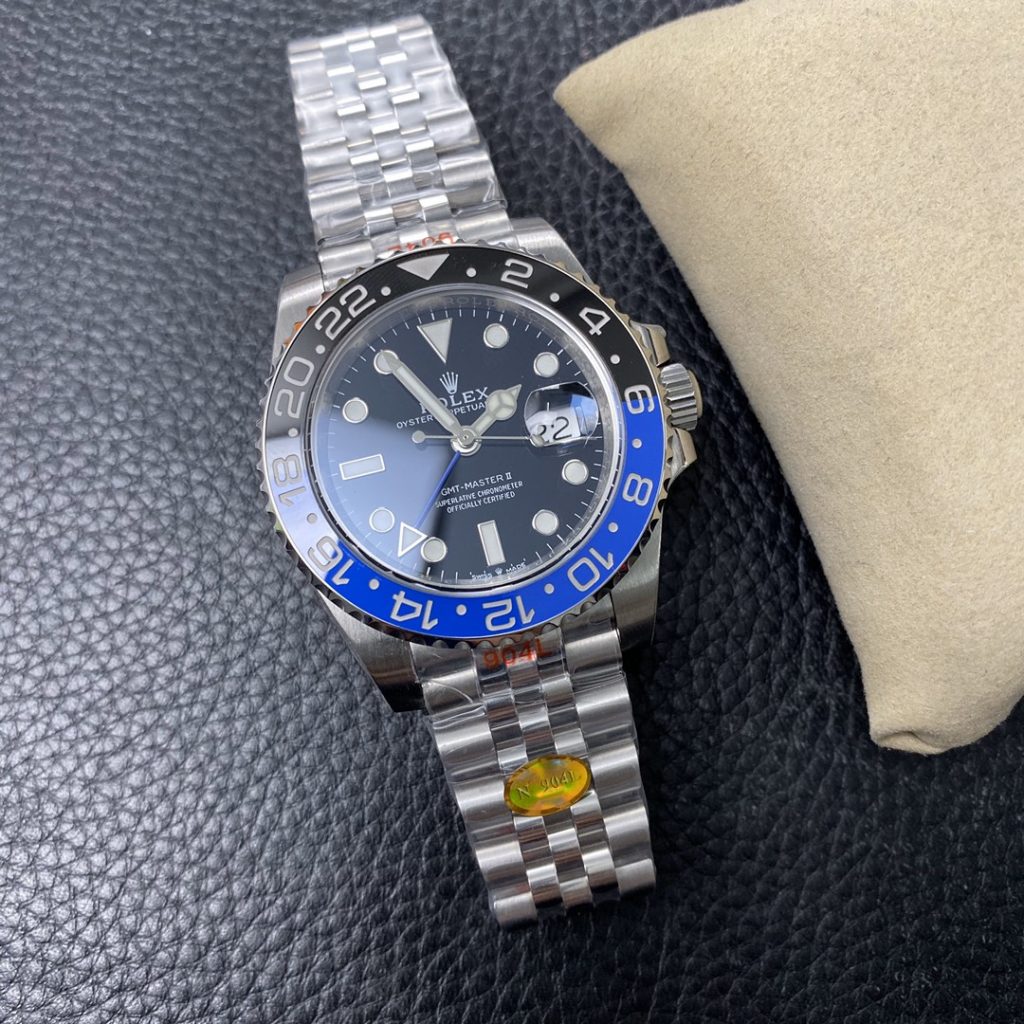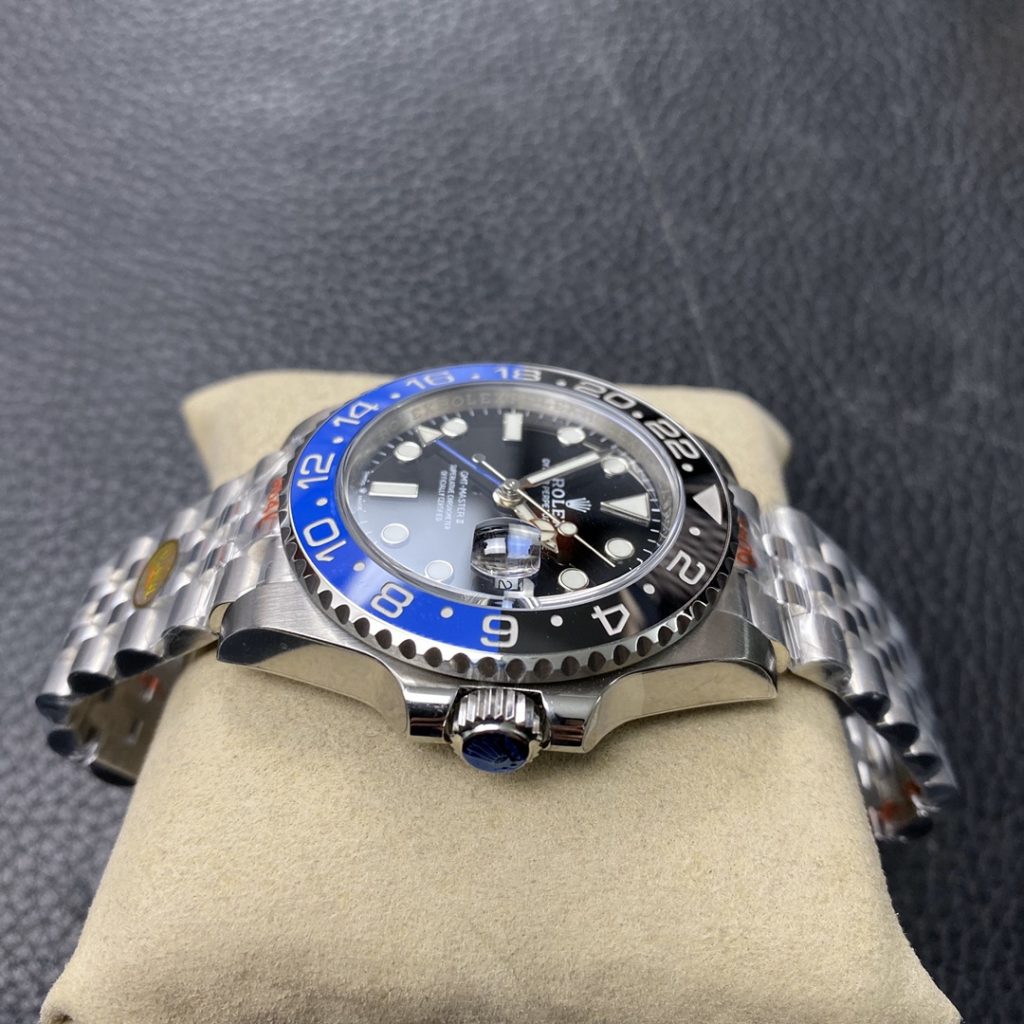 I did not mean it is not a good replica, it is very good, in high quality, and I also believe that other factories can not reach its level. The watch must be in the top ten list of replica Rolex, there is no doubt about this. If you are a loyal fan of Rolex GMT-Master II, buy one from Noob, you will see its amazing quality, absolutely to guarantee no issues, I will test your watch for several days before shipping, my clients before bought Noob Daytona from me and never had issues, so, Daytona will be the first watch I recommend if you want a replica Rolex, this GMT-Master II is worth buying, its quality is the same as Daytona, maybe looks more advanced than Daytona, to guarantee no issues after my clients receiving, I will test their GMT-Master for a few days, adjust them and wear.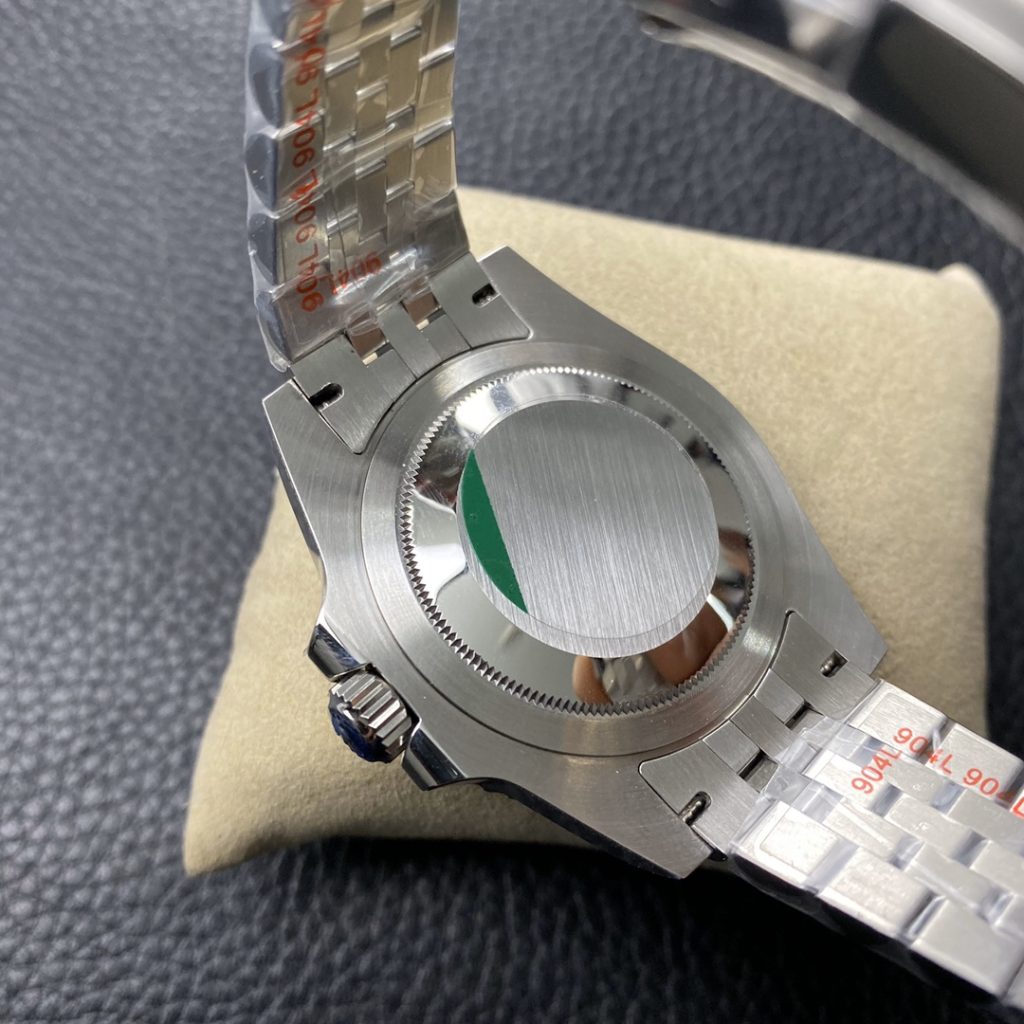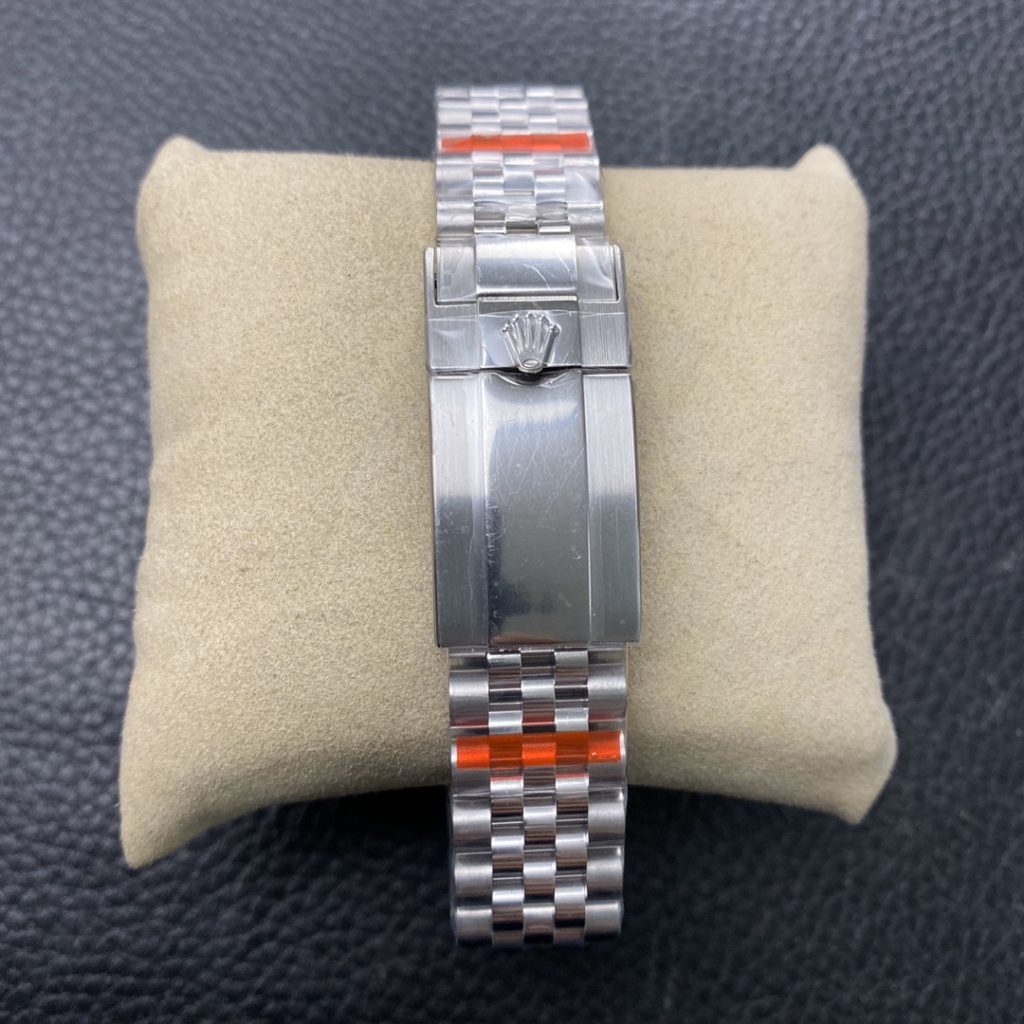 The replica is very expensive, but tens of dollars cheaper than Noob Daytona, almost one hundred dollars expensive than Noob Submariner. With the Jubilee bracelet, there is another GMT-Master II model, it is 126710 Pepsi, with blue/red ceramic bezel. Each of these GMT-Master II watches with this Jubilee bracelet is sold at a very high price, maybe due to the new clone 3285 movement, I think Noob will lower their prices in future, but seems not possible in a short period.