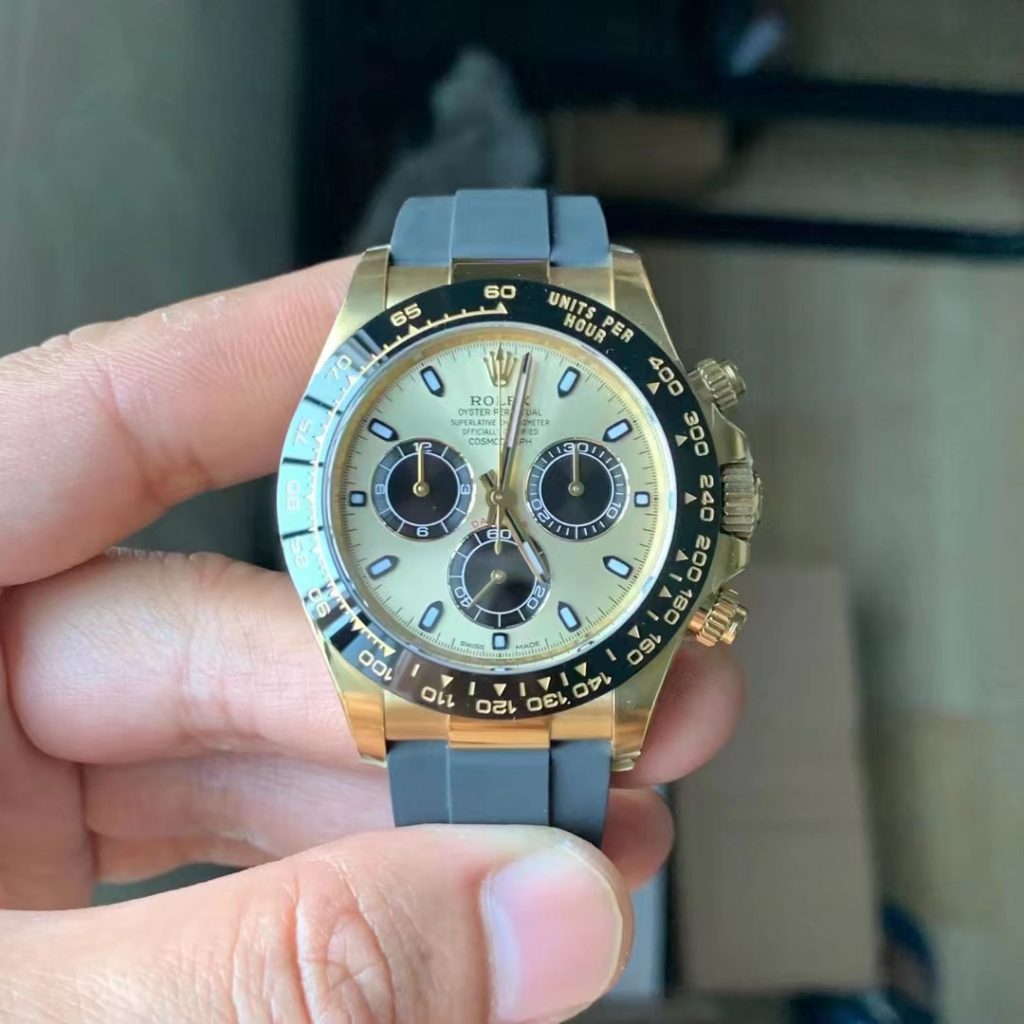 Because the closing of Noob, before the appearance of BT factory, Clean is always the boss in the market of super clone Daytona. When mentioning super clones, not every replica watch in "AAA" grade can be called super clone, a super clone must meet three standards, first, it is made by a big famous factory, second, its price is over 500 US Dollars, third, its movement must be the number 1 in the same watches. In the past, Clean factory only produced two Panda Daytona models, many people bought them, there were no other competitors at that time, so Clean was too lazy to improve these two models even they have obvious flaws, months ago, BT factory saw this opportunity and seized it, they developed a lot of Daytona models at once, all super clones, so, Clean felt the pressure, they were afraid that their customers choose BT to buy, so weeks ago, Clean improved their Panda Daytona and published a new model – gray Daytona with rubber band, how about its quality? We have discussed it on my blog before.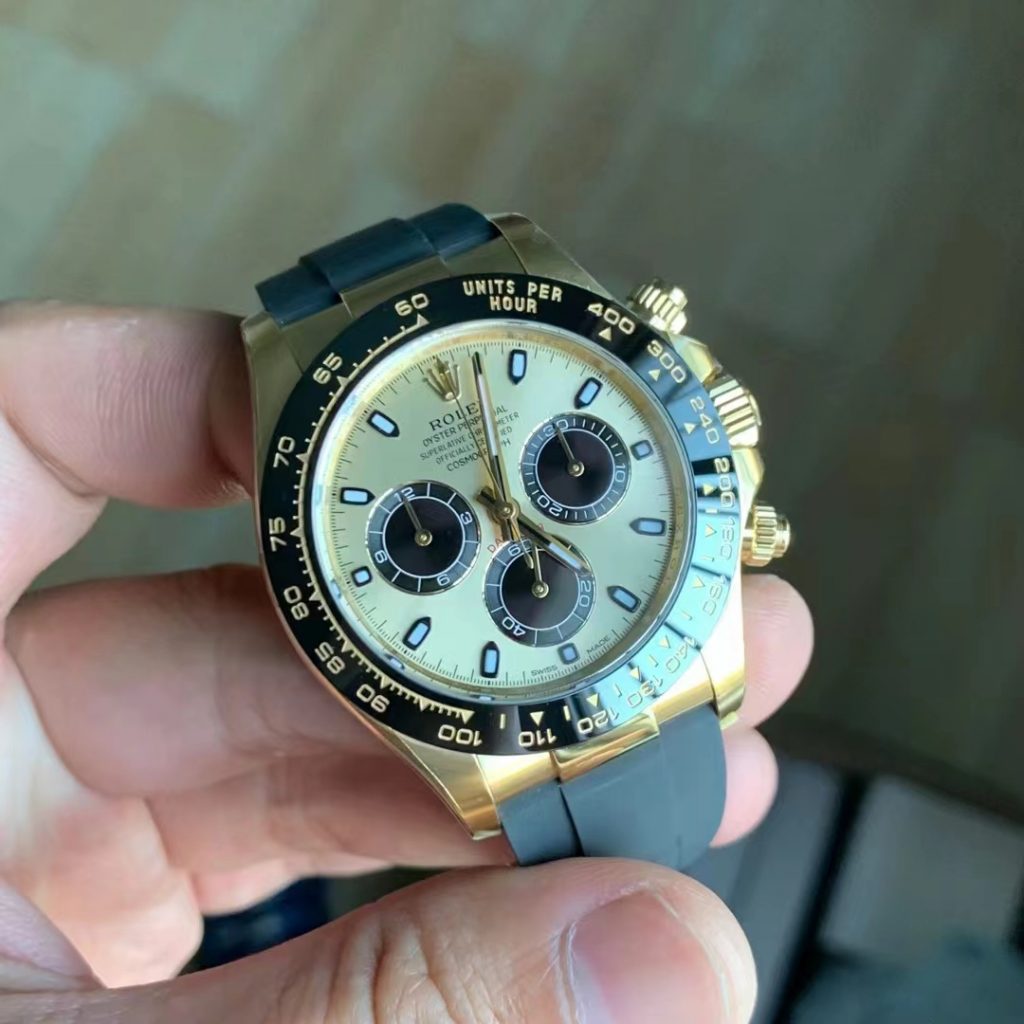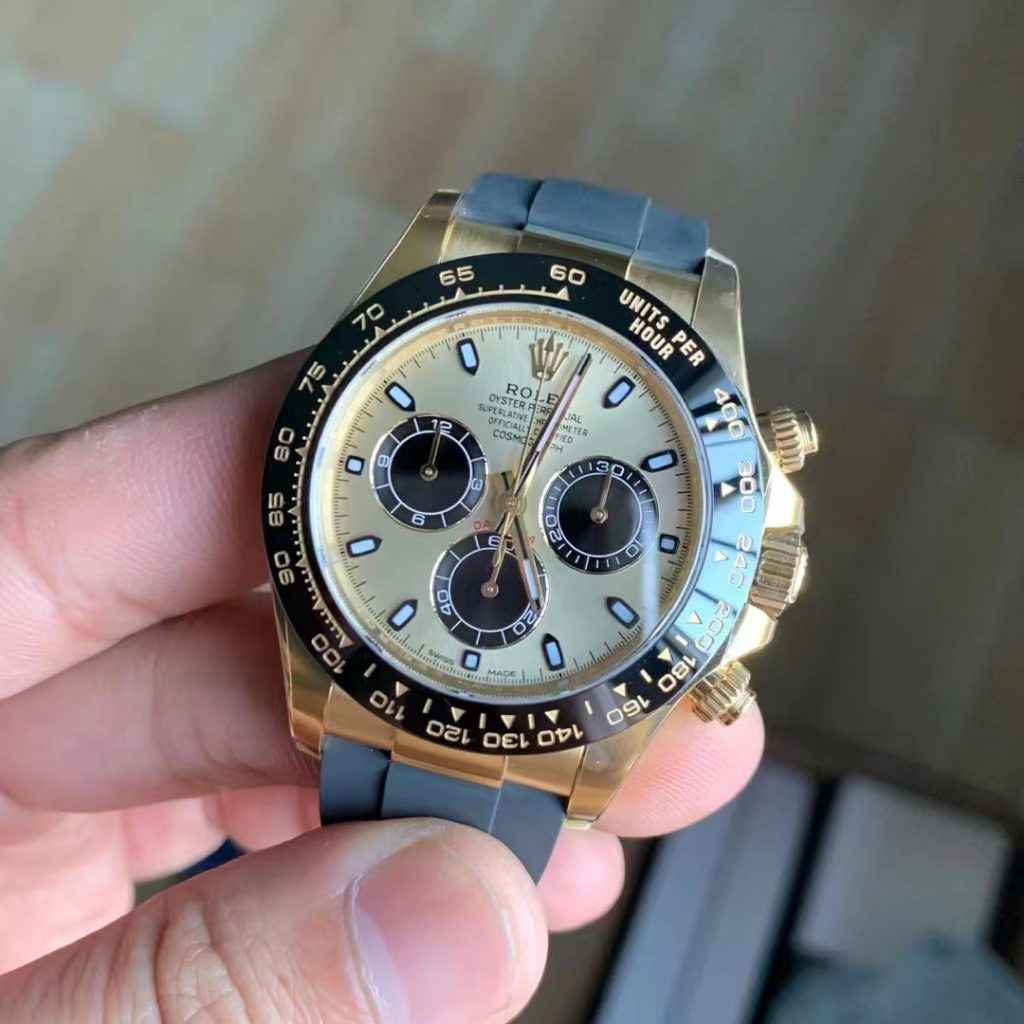 After the gray Daytona, the new model which Clean factory will publish is a yellow gold Daytona with rubber band. This is the best yellow gold Daytona replica watch I have ever seen. The yellow gold tone is very natural and looks closest to gen. About the yellow gold, whether on Daytona from QF or New N Factory, it looks too yellow. The dial on this Clean Daytona also has better details, especially the three small hands, their edges are well finished, not just looking flat. The only bad thing is Clean does not offer extra rubber band in small size for this watch, so you need to remove the band first and cut it short if it is too long.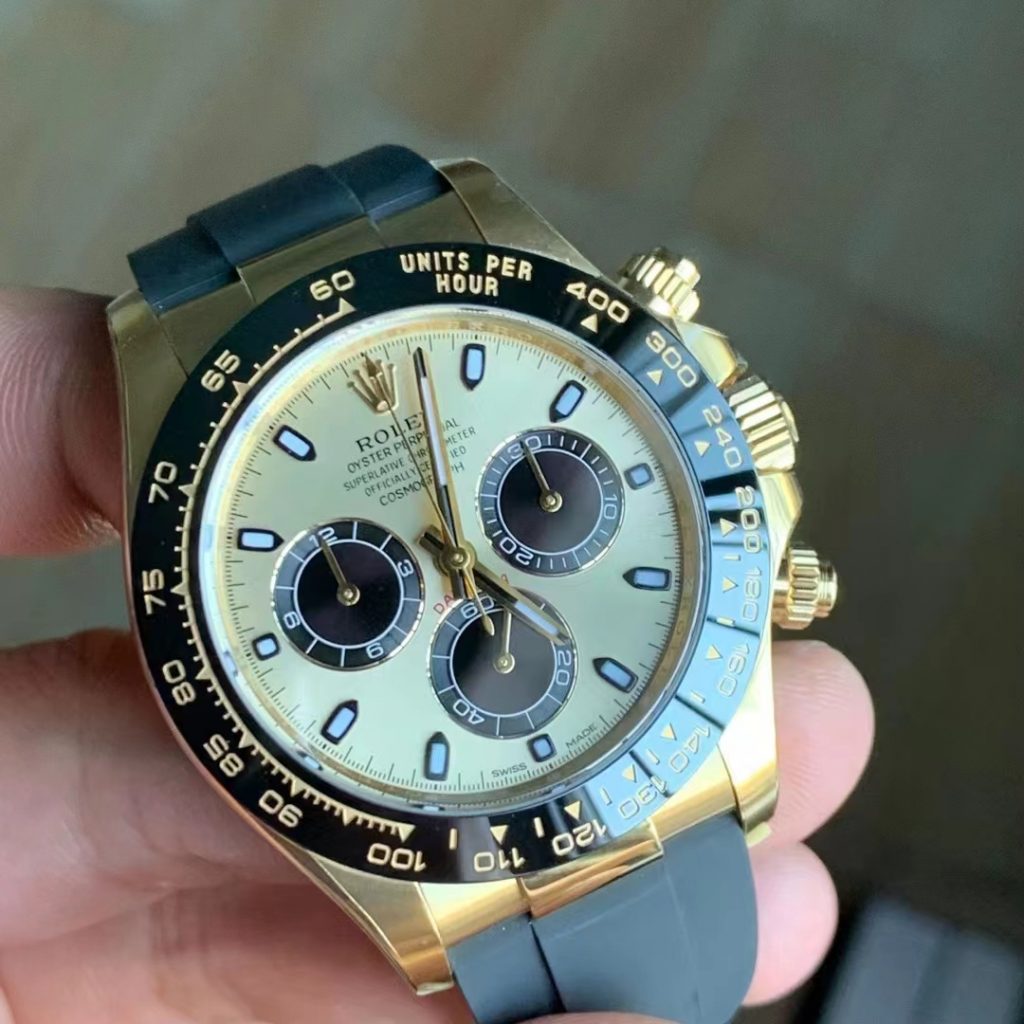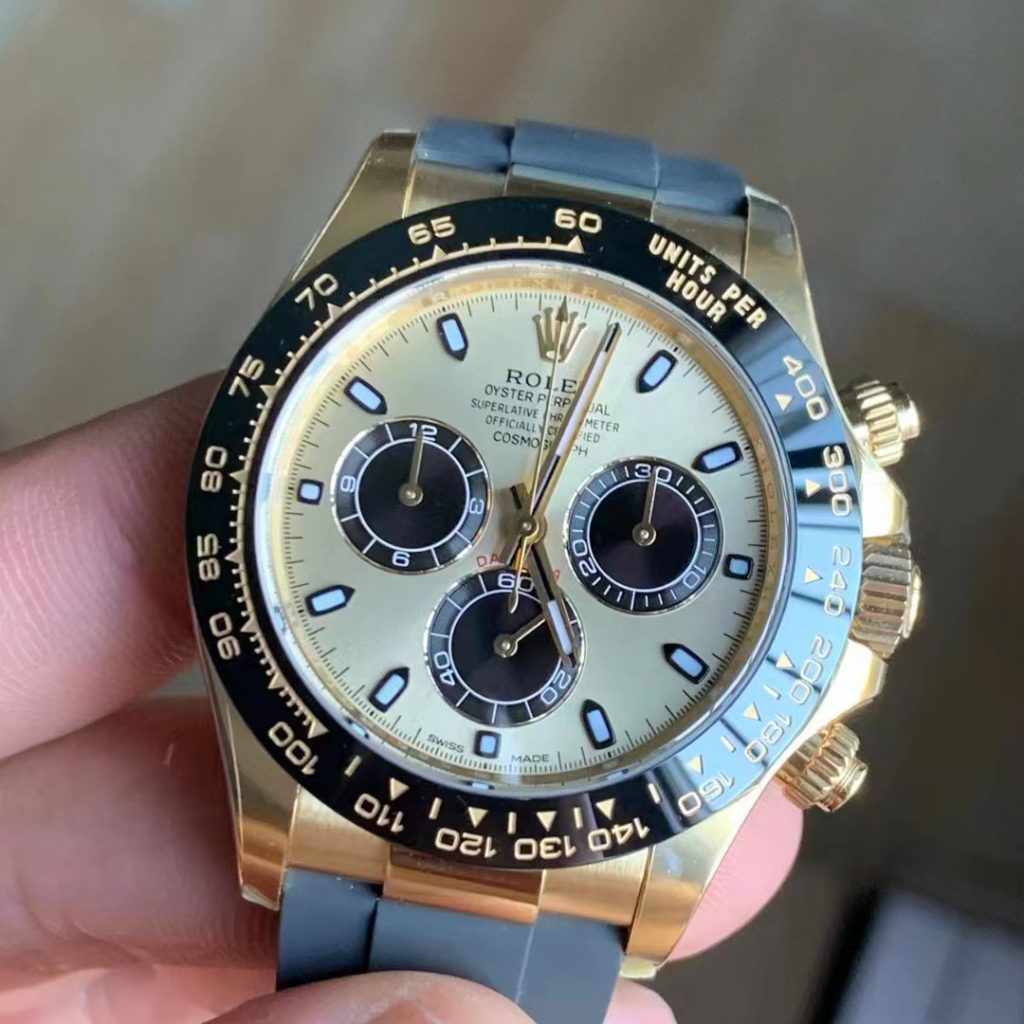 I still think the Daytona from Clean factory is the best in the whole market, or Clean wouldn't have the courage to sell it at such a high price, which is a little higher than that of BT Factory. Absolutely, the Daytona from Clean is much better than the one made by Noob before. Some people still seeking for replicas from Noob, I do not want to say again, this factory has been closed and won't provide watches any more. This yellow gold Daytona, everyone will be shocked by its quality, whether the case finish, dial details, movement or rubber band, they are all 1:1 clone from the original. No need to talk too much good things and how high quality this watch is, you need to buy one and feel it by yourself. Some person bought an AAA grade replica at 100 or 200 USD and thought it is the best, because the replica is really good, but when I introduced such a super clone to him, he did not trust me and thought that the watch is overpriced.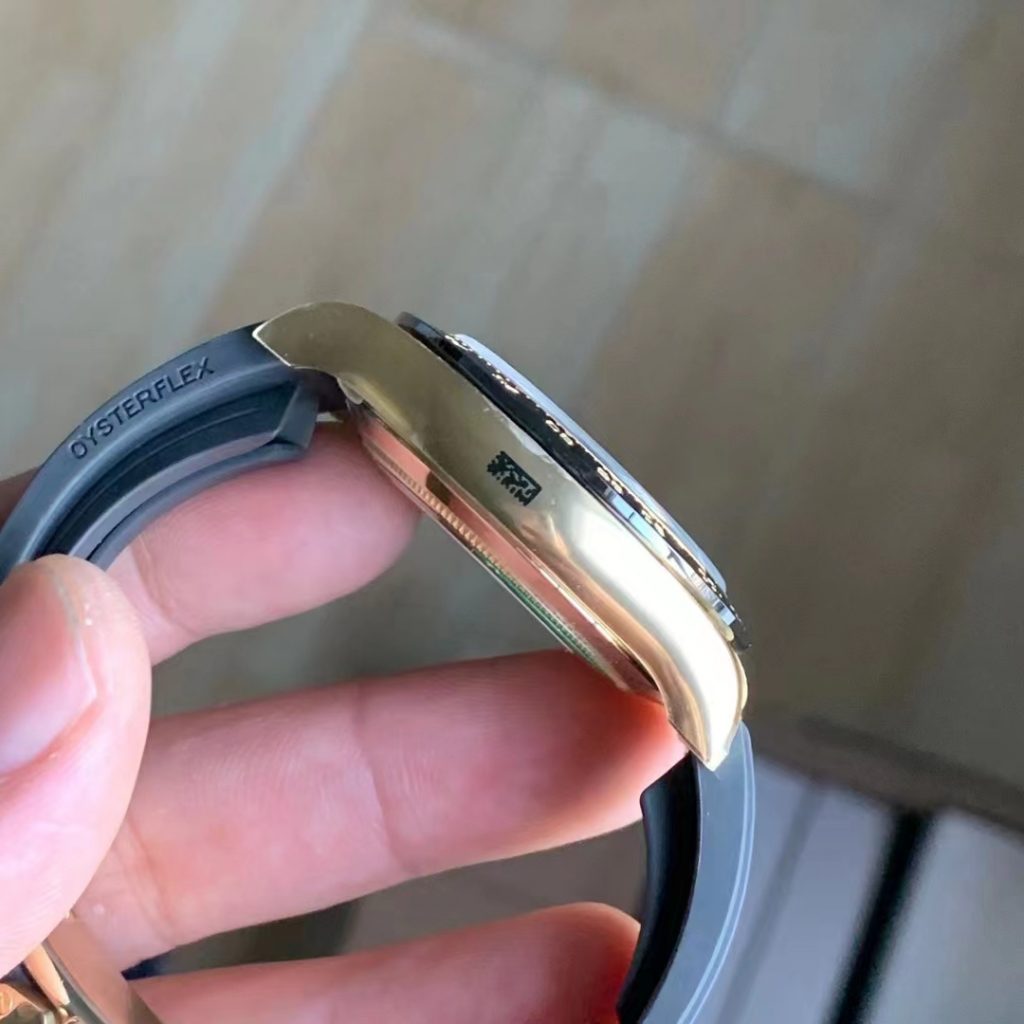 By the way, the case thickness is from 12.3mm to 12.5mm, each piece is different, but not thicker than 12.5mm. One last thing, tell your dealer to do a good quality control, some small details need to be checked carefully, for example, the central second-chronograph hand, Rolex Crown marker at 12 o'clock and the Rolex crown logo engraving on the inner bezel, these three must be aligned on a line.