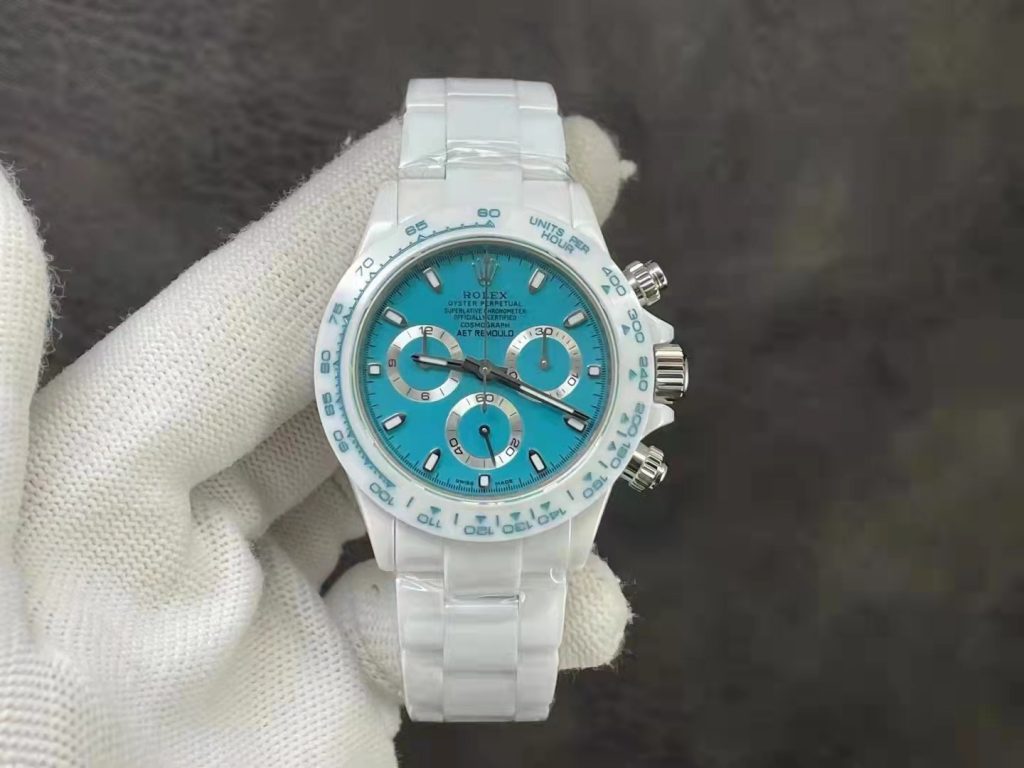 This replica watch I am going to review is a new model just published in our market, it is also the first Rolex Daytona watch I have ever seen that is fully made with ceramic material. Before giving a detailed introduction of this replica watch, I want to explain two things. First, it is about the word "Noob" you see on the article title. Yes, it is Noob factory, but the replica watch is not made by Noob factory, the replica watch only uses the super clone 4130 movement that was also used by Noob Daytona before. I do not know which factory makes this blue and white ceramic Daytona, but the movement is absolutely the best super clone 4130. The second thing I want to explain here is about Noob. This factory does not exist any more, they do not offer watches now, by the way, the super clone 4130 under Noob's name is manufactured by a movement factory, not by Noob, Noob did not manufacture any watch parts, they ordered them from watch parts factories, did a quality check and then assembled.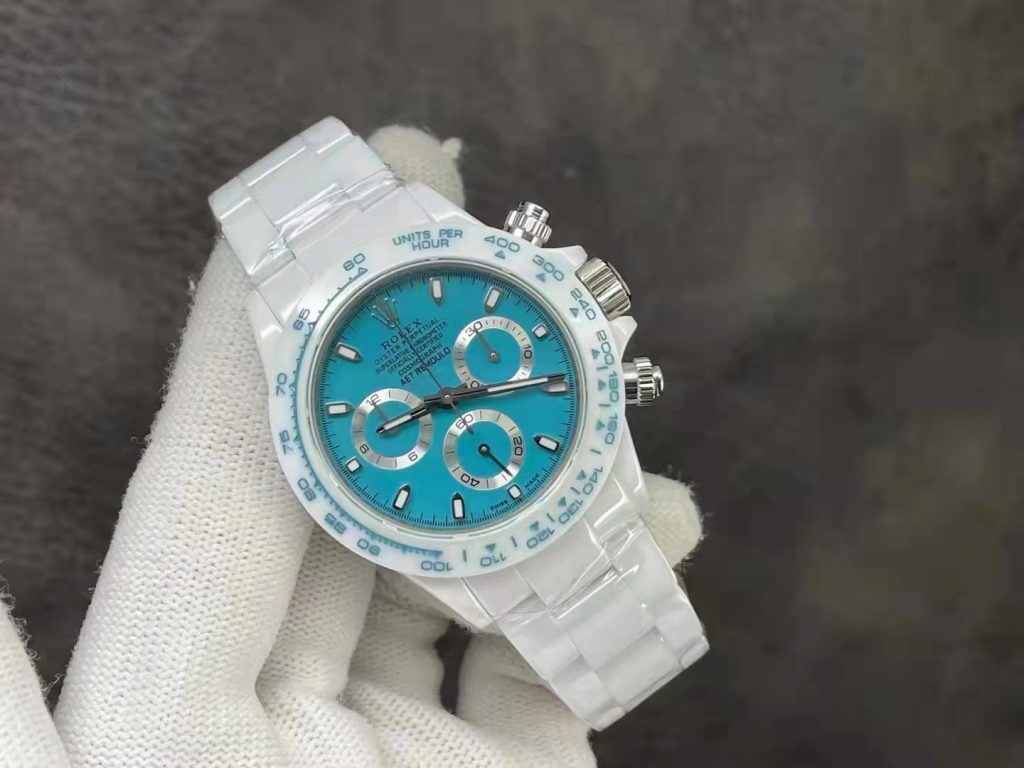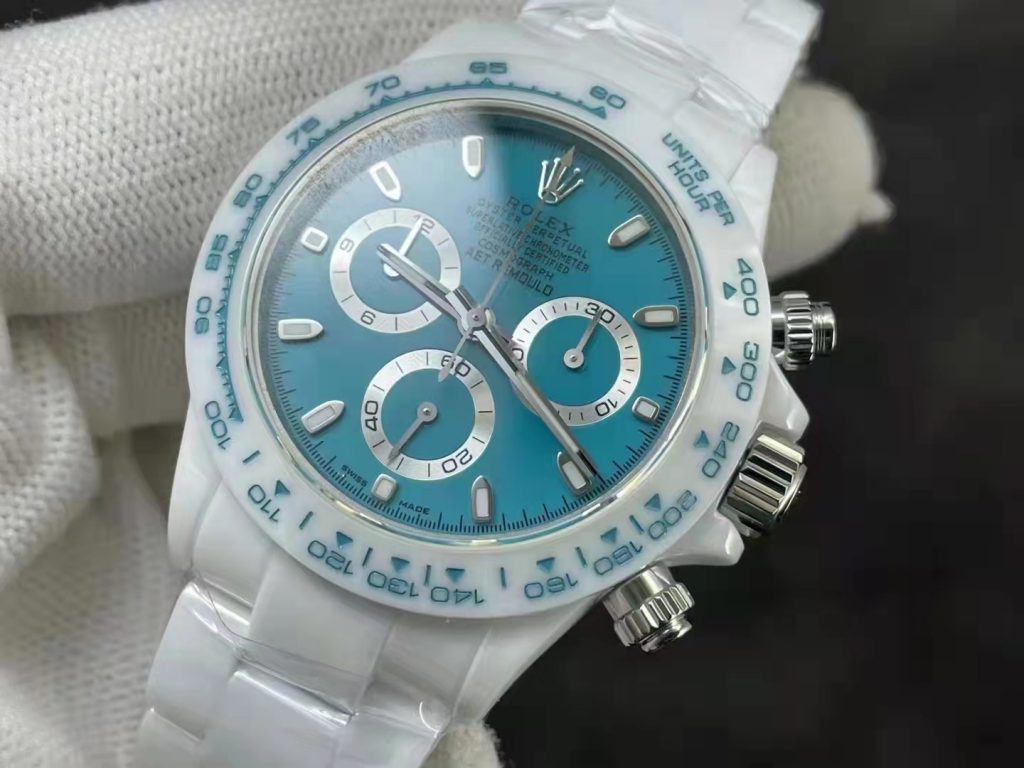 Now it is time to introduce this Rolex Daytona ceramic watch, two big advantages, first, the ceramic material, second, the best super clone 4130 movement it uses. The watch looks beautiful, it is a perfect watch for women, tiffany blue dial with white ceramic, a perfect match, and the Daytona exactly meets the need of people for big watches, so I think a lot of ladies will consider this watch. On its tiffany blue dial, I see a new name "AET REMOULD", which is a watch brand from Germany, they mainly customize watches, this Rolex Daytona is exactly from them.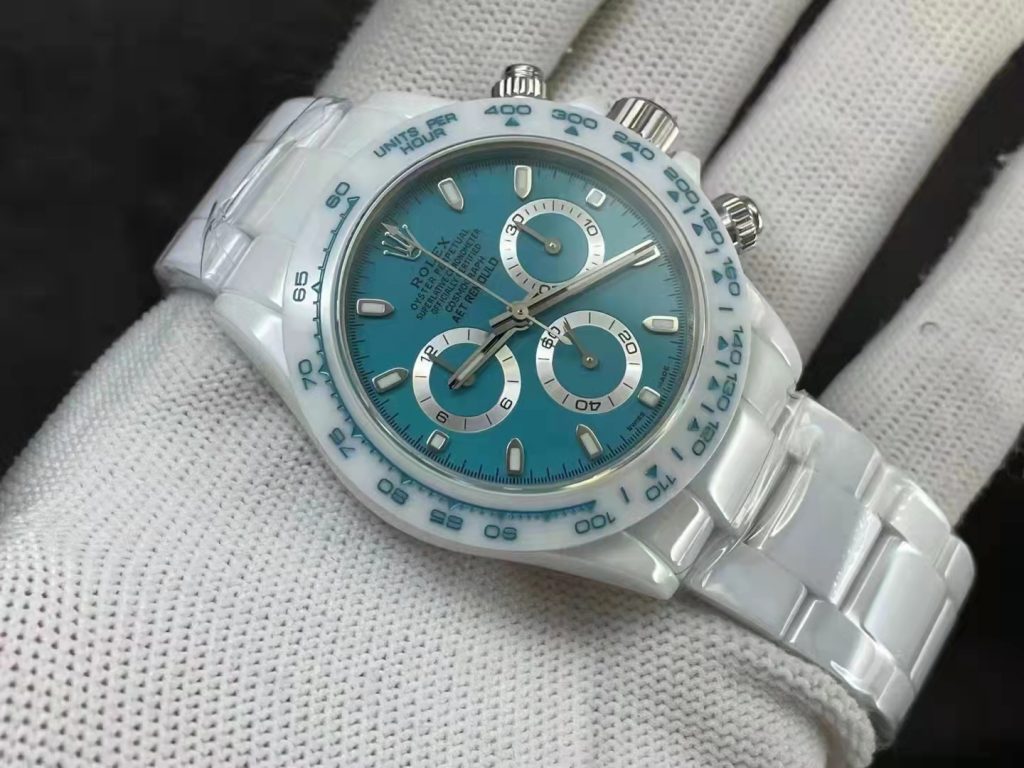 The case, bezel and bracelet are made with white ceramic, there are tachymeter scales in light blue on white bezel, crown is screwed down, stainless steel chrono pusher have been tightened up by screws. On the tiffany blue dial of this replica watch, there are three small dials in silver. The subdial at 6 o'clock is for small seconds display, 30-minute chronograph counter is positioned at 3 o'clock, while 12-hour chronograph counter is at 9 o'clock. Three small dials work the same way as genuine Daytona, which means the replica has a fully working chronograph function. The case back is also ceramic made, it is fixed with four stainless steel screws.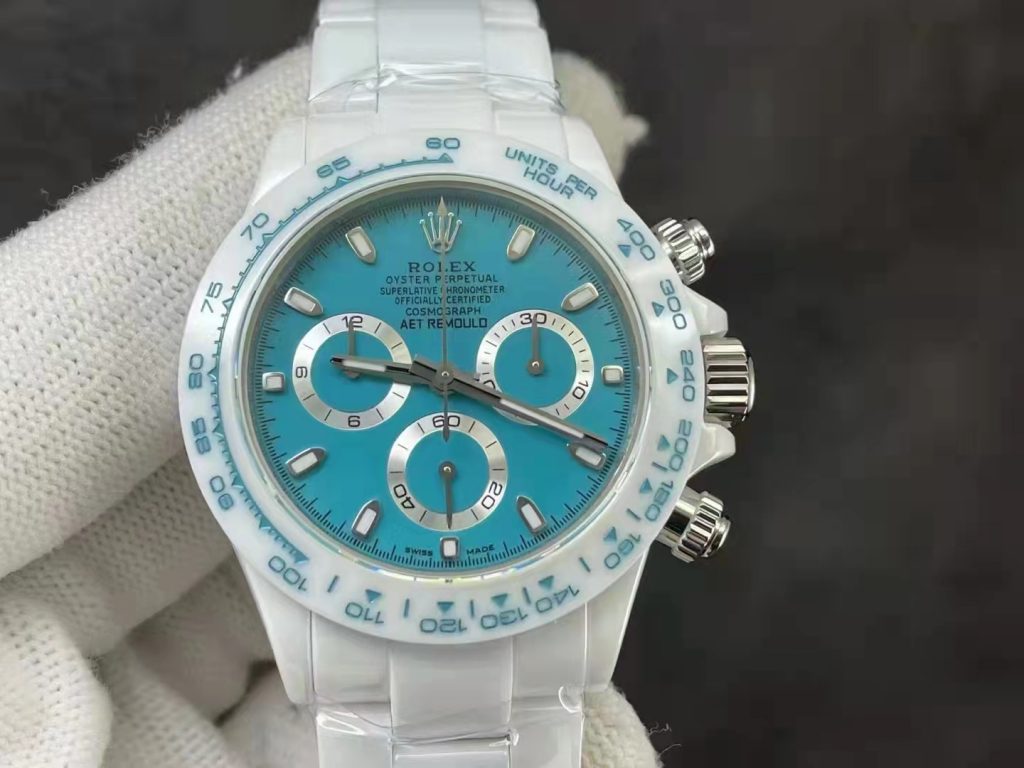 Because of its high-end ceramic material and super clone movement, the replica watch is sold at a very high price, but the quality is perfect, this super clone 4130 has been proven to be the best and most accurate chronograph movement in Daytona.