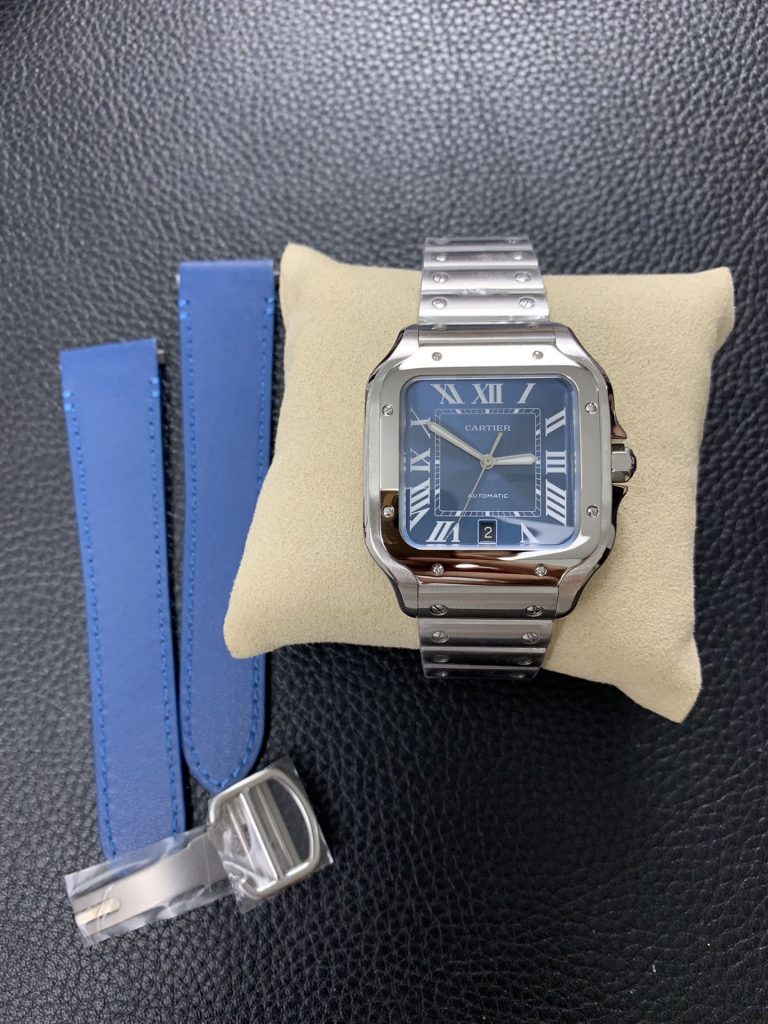 There have been almost five years since I created this blog, before, I usually wrote three to five articles on my blog, but now, I do not have too much time, so I decided to update one post each week, many of you guys want to know the latest information in our watch market, like new models release, special prices of factories, I will try my best to tell you these information on my blog, in recent days, there were some new models published in our market, but for me, none of them are attractive enough. The only thing that shocks me is that Noob decreased the prices of their V10 Submariner 116610LN, if you are interested in purchasing one black Submariner, please contact me.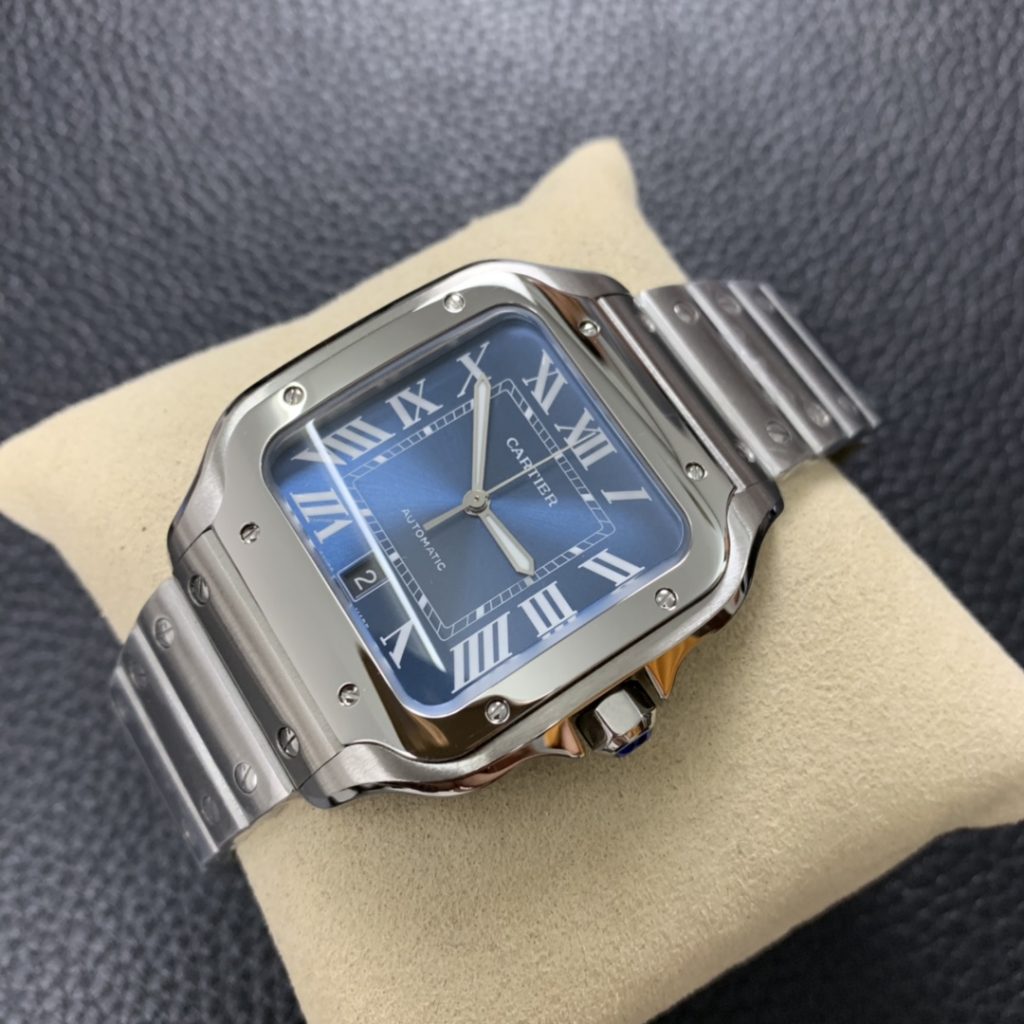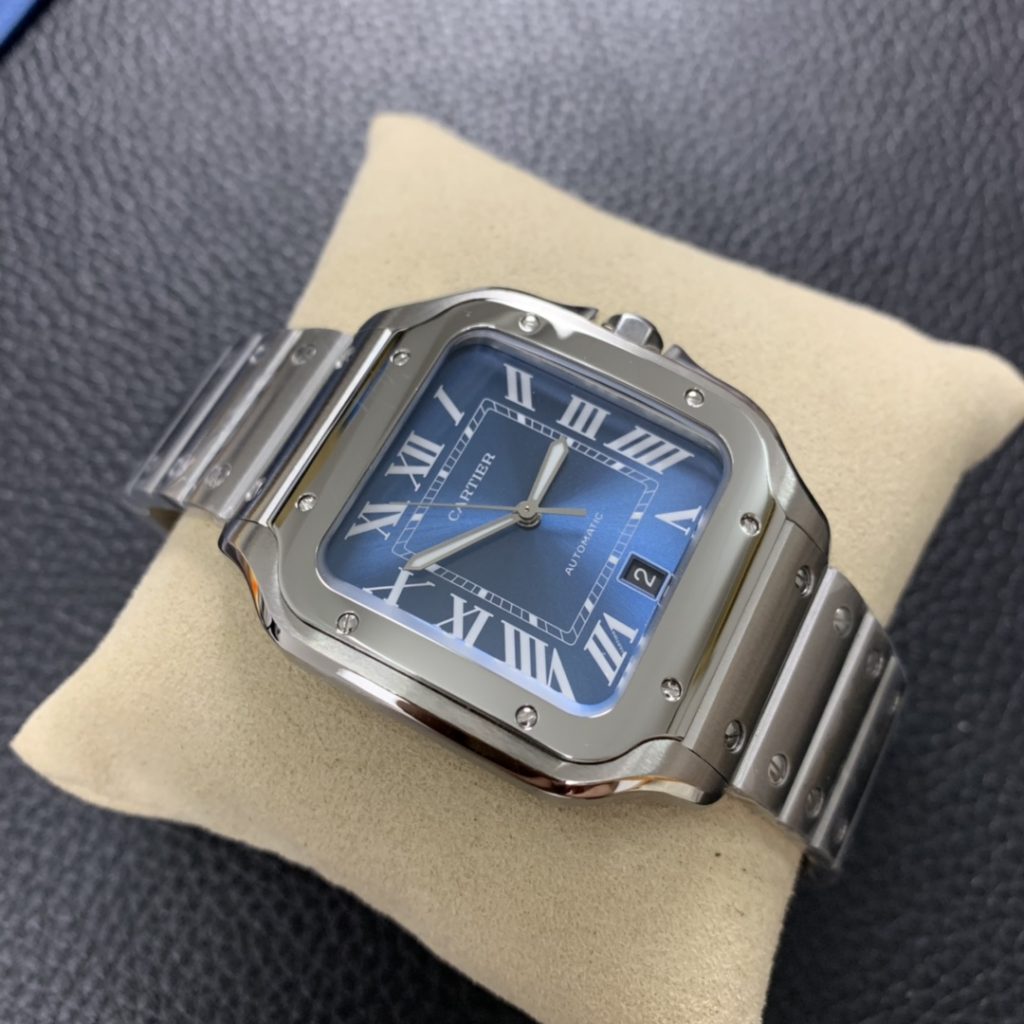 Today, I want to introduce one Cartier watch, it is a Santos replica watch, which is made by GF factory. I seldom gave reviews about Cartier Santos watches, since I created this blog, I have not sold one piece of Cartier Santos replica watches. However, this does not mean that there are no good replicas of Cartier Santos watches, on the other hand, there are several factories that making top quality replica Cartier Santos watches, such as V6 and GF. This blue Santos watch looks good, it attracts me deeply, not only because of its high quality, but mainly due to its blue dial, I like this color, looks more attractive than the black dial on Santos.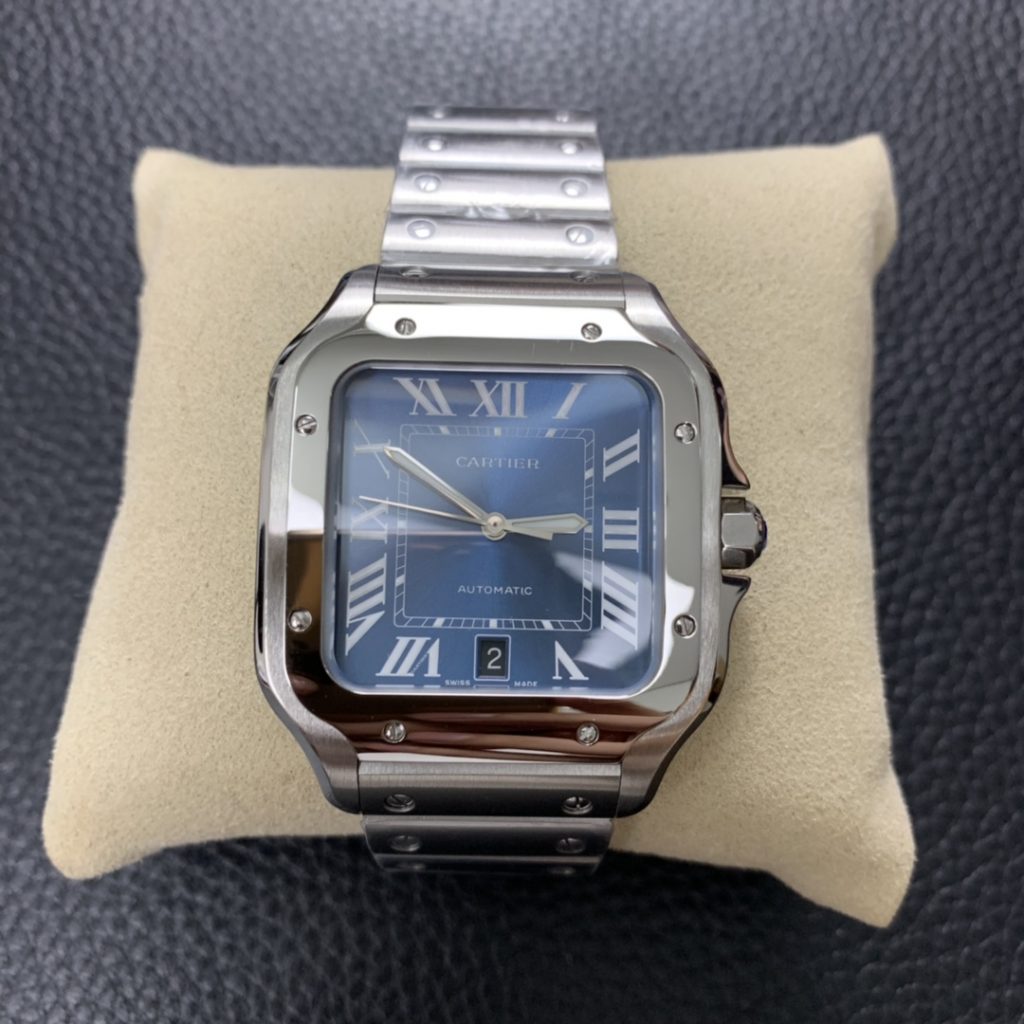 The size of the case is 39.8mm*47.5mm, case is about 9.08mm thick, for a replica watch with automatic movement, the case is already very thin. The replica watch has a stainless steel bracelet, while GF factory also offers one blue leather strap. Look at the case, polishing and brushing are applied carefully, screws are decorated on case and bracelet, this is a feature of all Cartier Santos watches. The blue dial looks charming, with white Rome numeral hour markers, a window is opened at 6 o'clock showing current date. For people who like square watch, this Cartier Santos watch with blue dial is a very good watch for men, it will look nice and charming on the wrist of men who usually wear business suits or shirt.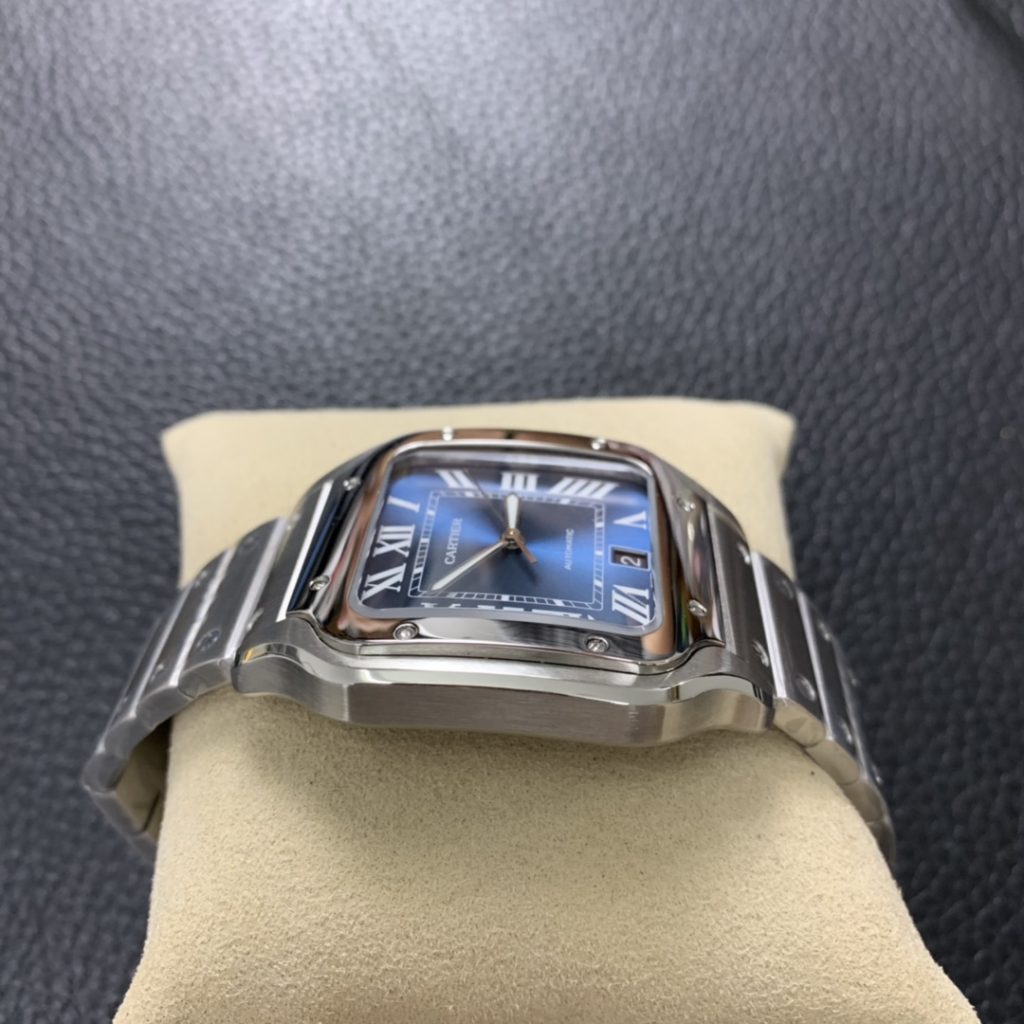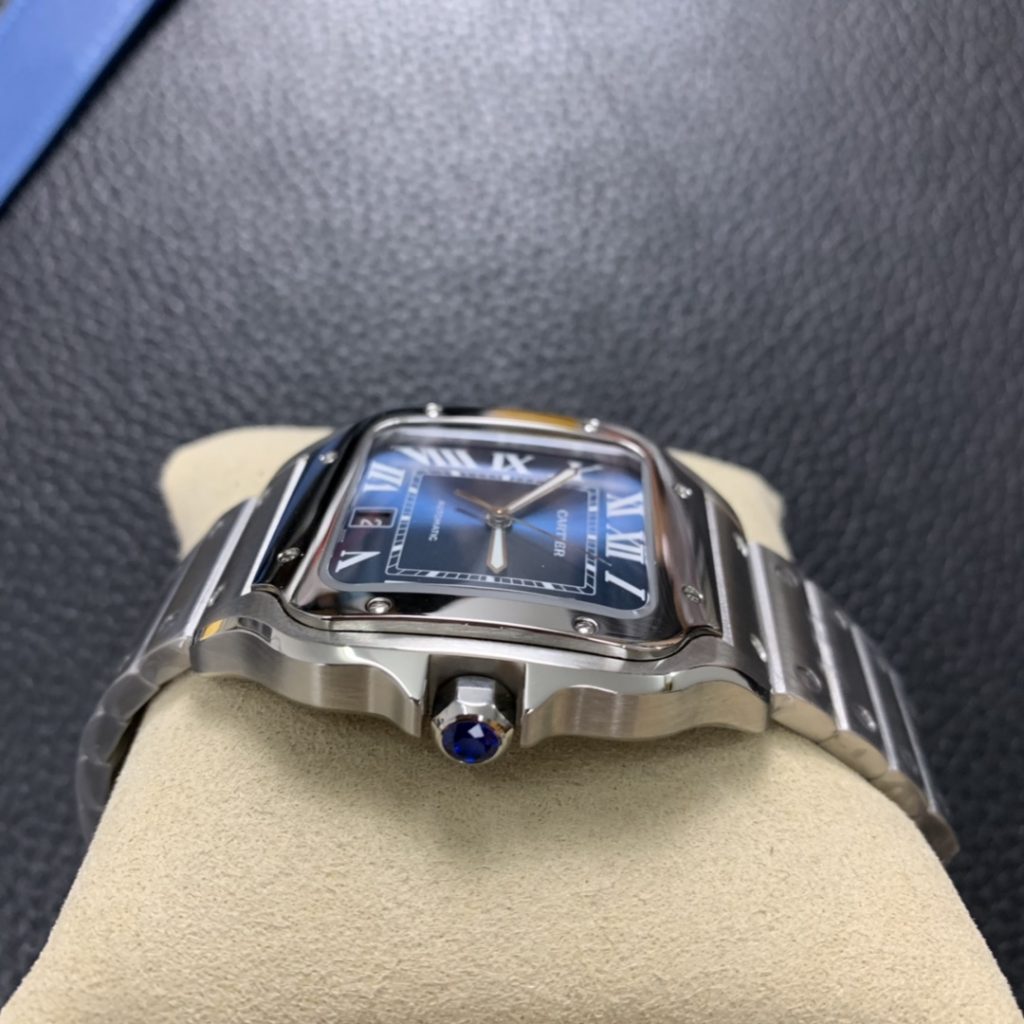 The replica is powered by an automatic movement inside, which is imported from Japan, it is a Miyota 9015 movement. Now, Miyota 9015 is widely used in replica watch industry, more watch factories would like to use this movement rather than the A2824 or A2836 because Miyota 9015 is more stable. At last, one advice I need to give you guys, do not wear this watch when swimming, it is a square watch, maybe it does not have the same water resistant performance as those replica watches with round case.