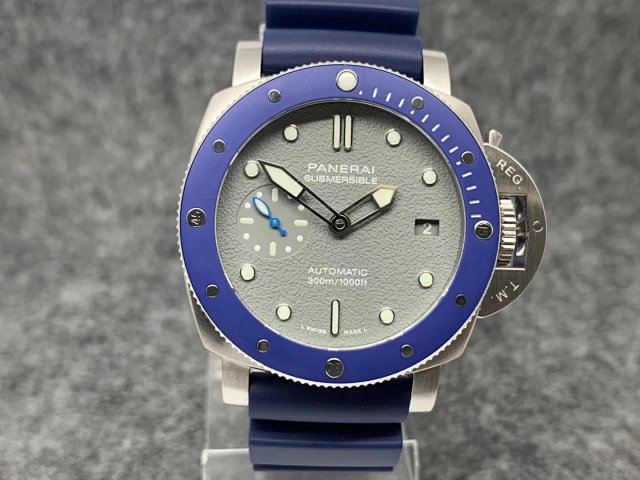 It is all Submersible models among the latest PAMs published in 2019. These Submersibles seem to more like using new materials such as forged carbon, Panerai also added new blue and green color choices in these Submersible models. In recent years, the biggest change which Panerai has made on their Submersible is to reduce the size, from 47mm to 42mm. This change allows more people to choose the big Panerai as their diving-style watch, for me, the 42mm case diameter, plus the crown bridge, the Submersible is still too large.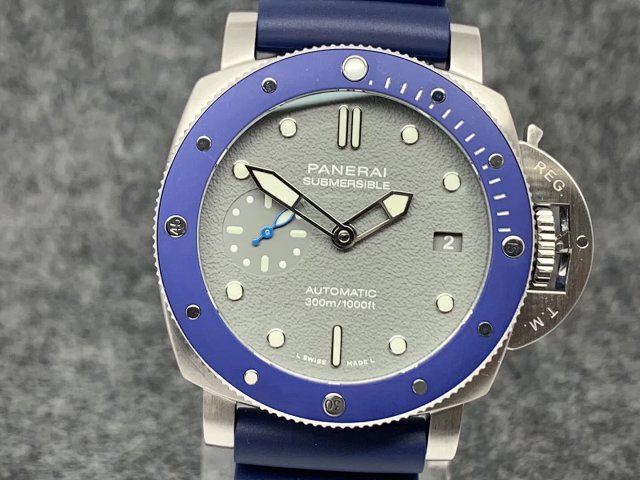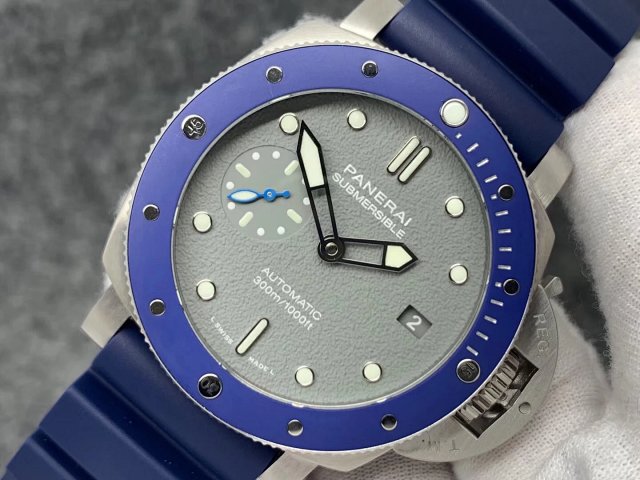 Today, the Panerai watch I am going to share with you guys is a 42mm Submersible, whose reference is PAM 959, it is the newest PAM which Panerai added to their family at 2019 SIHH. It is first time for me to see a PAM on which Panerai is willing to use such a bright color, previous PAMs from Submersible must be black ceramic or black forged carbon. Like genuine watch, the replica from VS factory uses a blue ceramic bezel, which immediately caught my eyes. 42mm case is only 14.5mm in thickness, much thinner than other Submersible watches. Both case and studs on the bezel are brushed.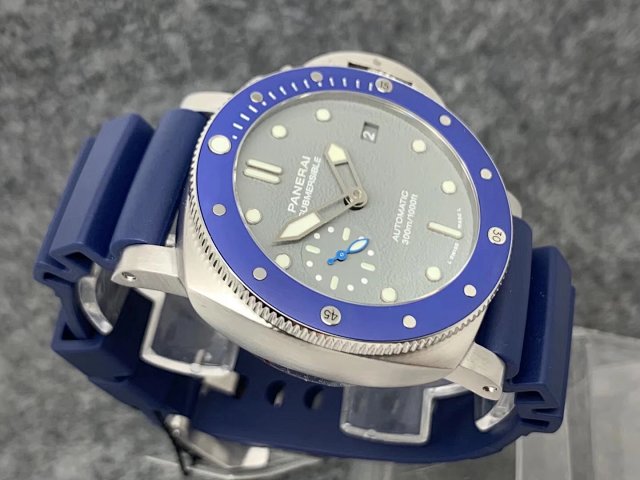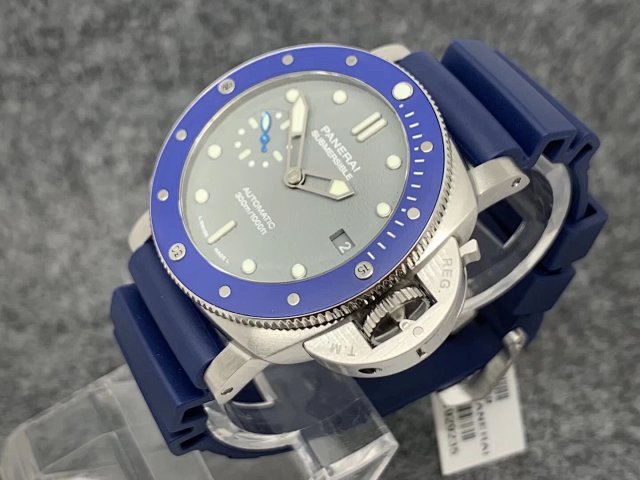 The dial looks very unique, it is in shark grey color. Actually it is uncomfortable for me to see such a color combination on a watch, blue with grey. What is exact material of the dial, it seems to have a grain texture on the surface. While the small dial at 9 o'clock has a smooth face, with a small blue seconds hand. Like other Submersible, PAM 959 also has round dot hour markers that are filled with white luminescence in the center. There are two different lume light emitting from the watch when in dark conditions, bezel pearl and minute hands are blue, hour markers, hours hand and small dials are green. By the way, the replica uses SuperLuminova C3 on markers and hands, this luminous material has a stronger and longer-lasting lume effect than other lume materials.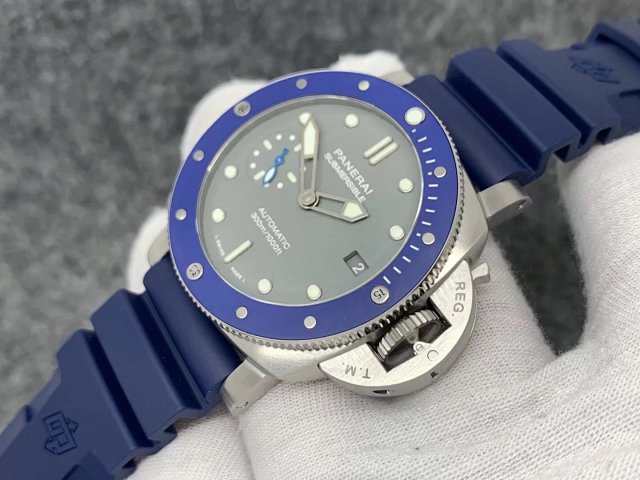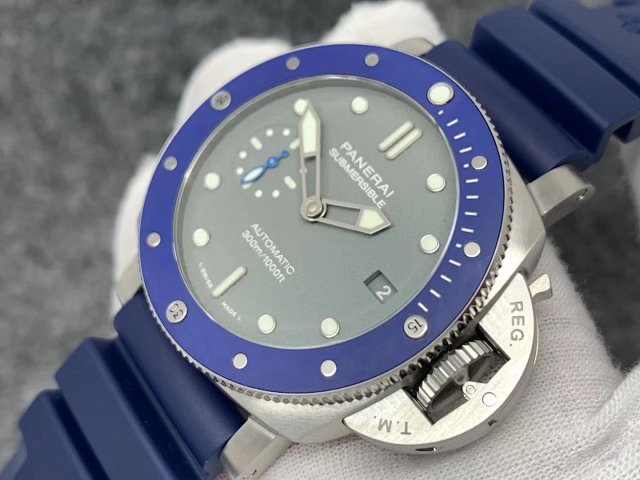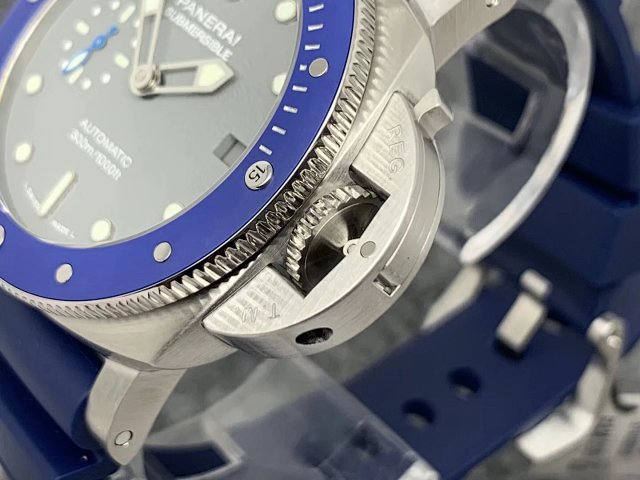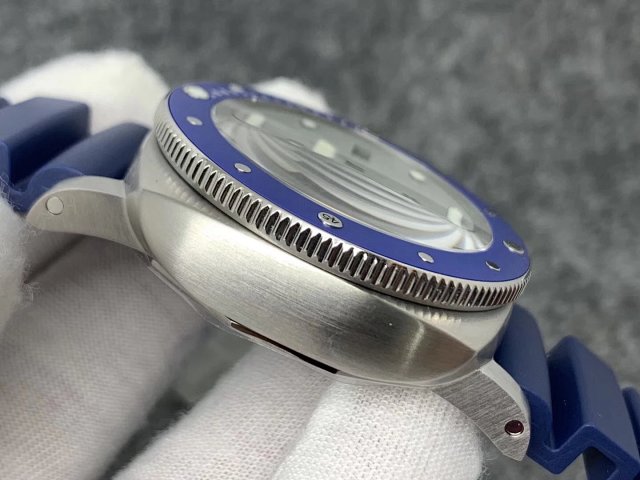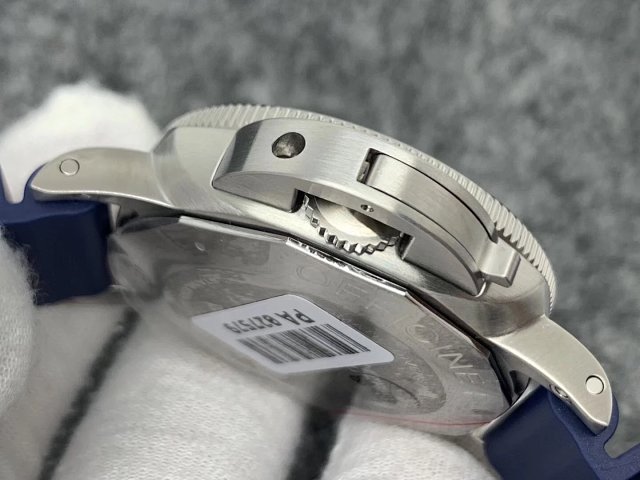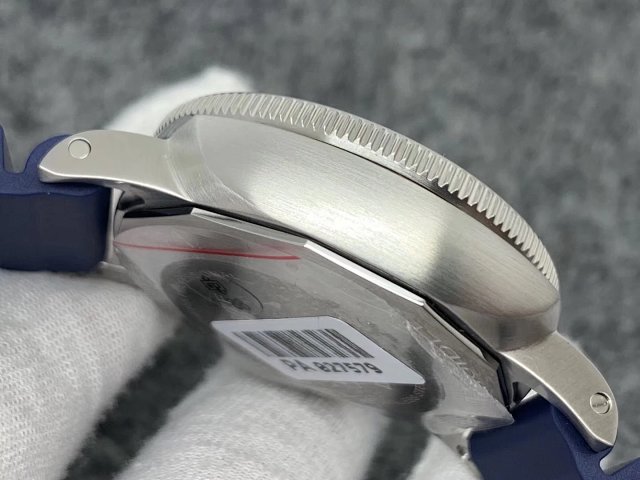 The replica watch is driven by a Super Clone OP XXXIV automatic movement, together with Super Clone P.9000, both are custom made calibres from VS factory. What does a Super Clone movement mean? I think it is superiorer to those movements which watch manufacturers just added fake plates on top of basic Chinese movements. The Super Clone OP XXXIV is researched and developed according to genuine Panerai OP XXXIV, I do not know how close this clone movement is to an original, maybe there still a large gap, fortunately PAM 959 has a solid case back, so, no chance left for those "watch experts" to know if it is a fake watch.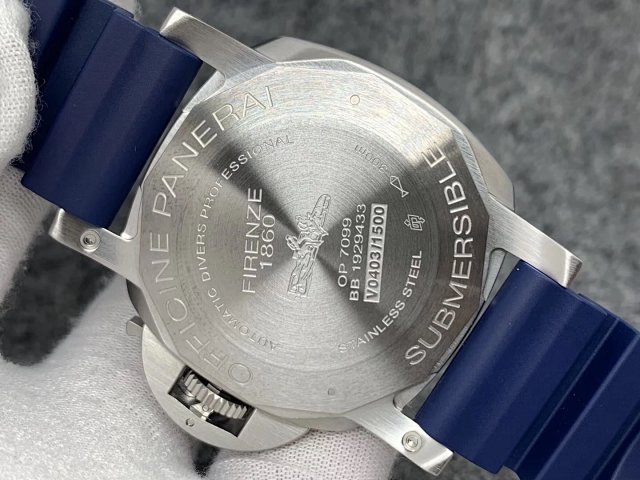 Those Panerai watches worn on the people's wrist in the street, nine out of ten are fakes. This means that the quality of replica Panerai watches becomes better and better, especially the ones made by VSF, some are even difficult for an expert in the boutique to tell whether they are fakes or real. So, many people prefer a Panerai when they are considering their first replica, and they will never regret after purchasing from VS factory.