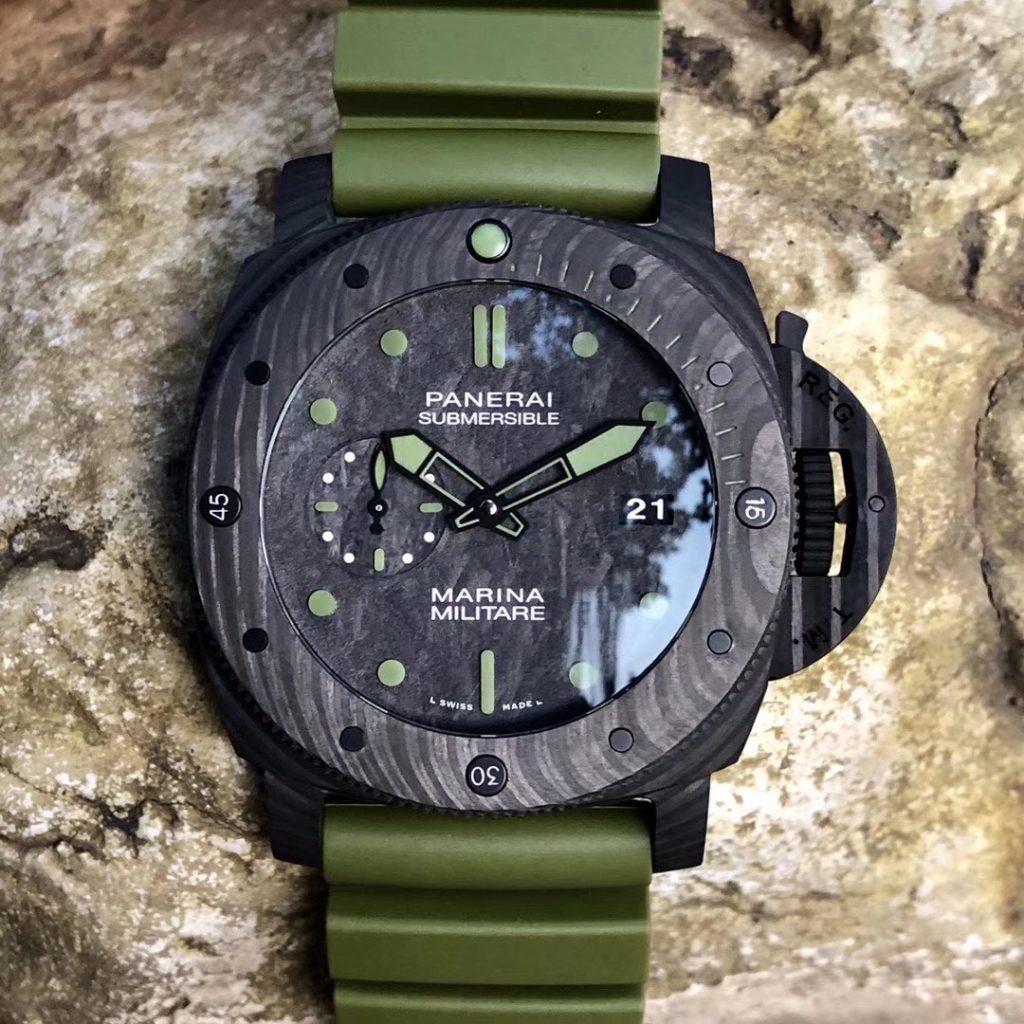 Nearly the end of 2019, there are finally some new Panerai replica watches that could catch my attention, absolutely these new PAMs are coming from VS factory, which makes the best replicas of Panerai. These new Panerai replicas are almost Submersible models that are made of CarboTech, which is a new Panerai composite material, or Titanium. New Panerai Submersible models include PAM 979, PAM 1616, PAM 799, PAM 984, etc., they are in big 47mm or smaller 42mm. Whatever, in my opinion, these new replicas of Panerai Submersible are important supplement to our replica Submersible collection because a lot of popular replicas of Luminor Submersible have been out of stock for a long time except PAM 382. For watch fans who love Panerai's 47mm Luminor Submersible, these new PAMs are good choices.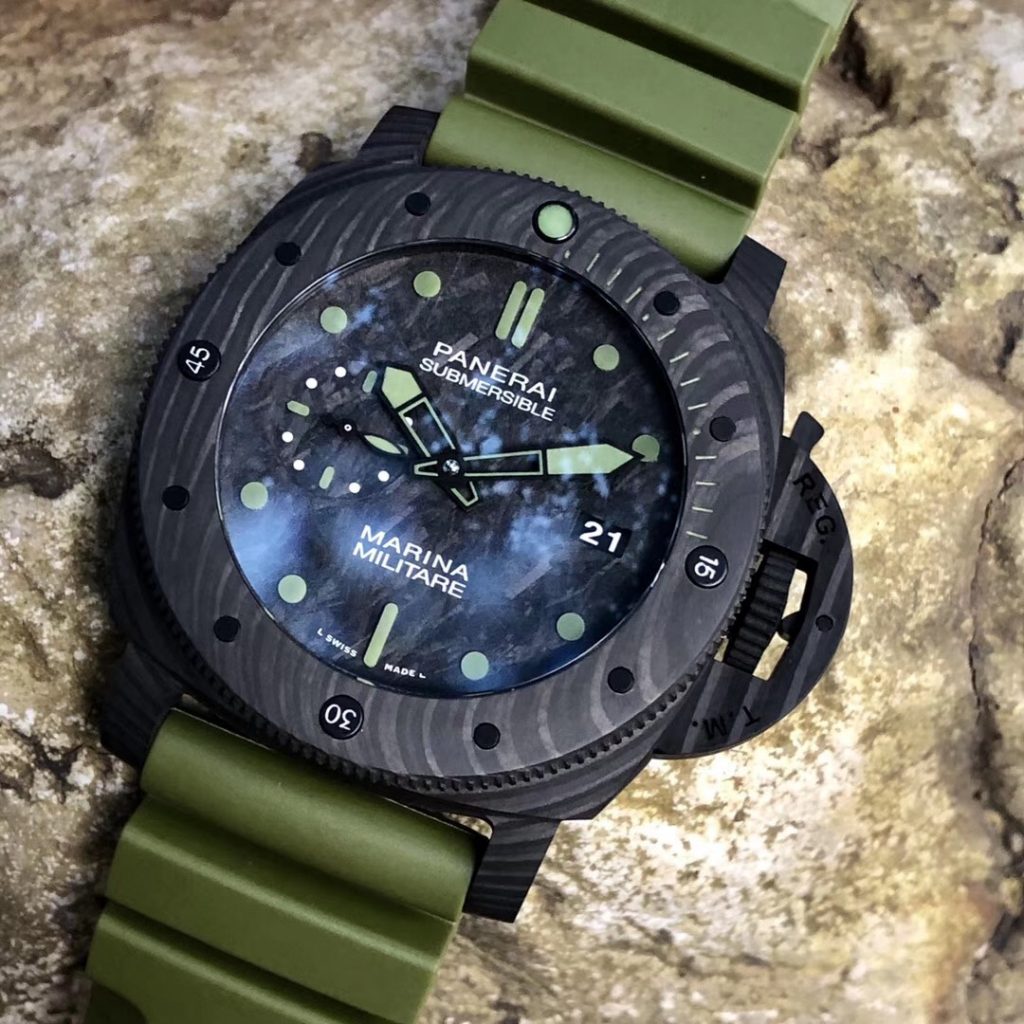 As an official timer for the Italy Navy for many years, Panerai has always been one of the most favorite brands for many military watch fans, besides Luminor Submersible, each model in other Panerai's collection also has a considerable water resistant depth, so if you want a diver's watch with military watch's DNA in it, then you must consider Panerai.
Now back to the Submersible replica watch we are going to review, it is a green PAM with reference PAM 961, the replica watch is made by VS factory. Genuine watch is a limited edition model and only has 33 pieces, while you have a chance to get a good replica in our market. Actualy the green PAM 961 has a brother, which is PAM 979 which we introduced in another post. PAM 979 is a regular model and may be accepted by more people because of its black color.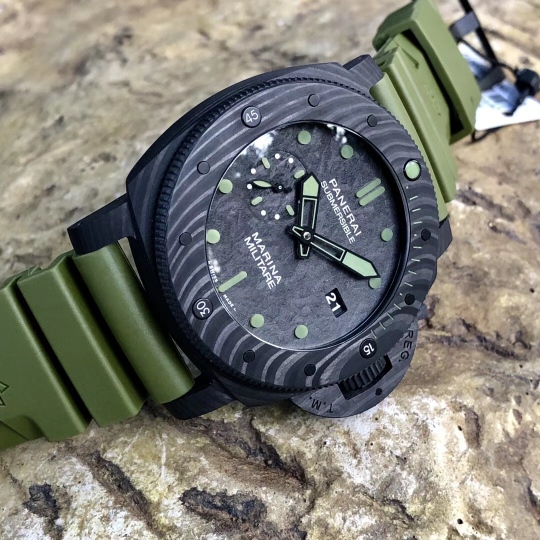 For those who like military watch with green color, PAM 961 is an ideal choice. Like PAM 979, the replica PAM 961 is also made with CarboTech material. In Panerai's official website, they said CarboTech is a composite material based on forged carbon, we do not know how the CarboTech is completed with forged carbon, but it is indeed lighter than Titanium and stronger than stainless steel, however, I think the replica uses pure forged carbon material, not the real CarboTech composite like VS factory claimed.
We can see that both case and bezel are made of forged carbon, there are unique patterns on the surface that make this watch look more special. The bezel pearl is fully filled with luminescence that looks green, the top of the pearl is smooth and flat, there is no gap between the steel edge and the lume pearl. On the solid case back, it is a logo of COM.SUB.IN. in the center.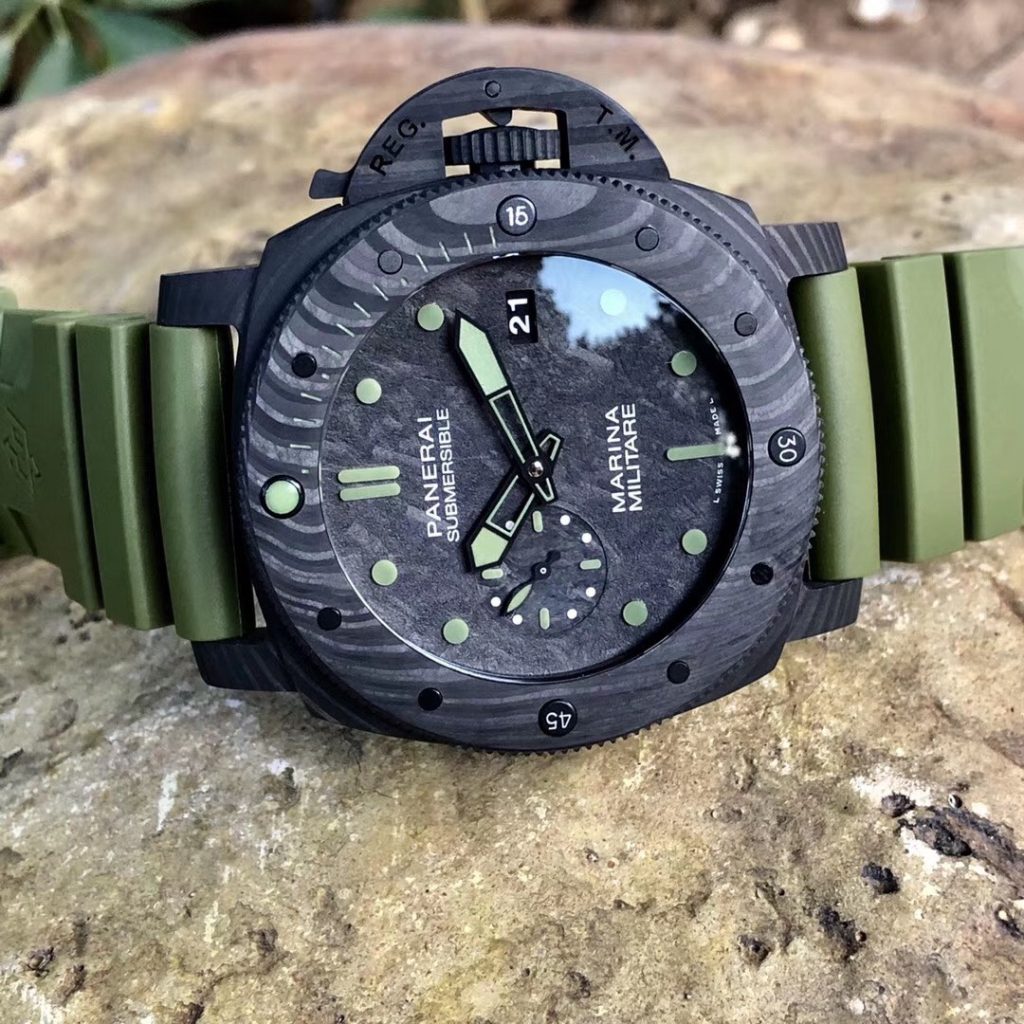 Black carbon dial has green dotted hour markers, central hours hand and minutes hands are skeletonized, they are also applied green Superluminova C3. In the dark, the watch still has a high readability, because the lume is so strong and long lasting. The bezel pearl and minutes hands will emit blue lume light, while the hours hand and hour markers have green lume light.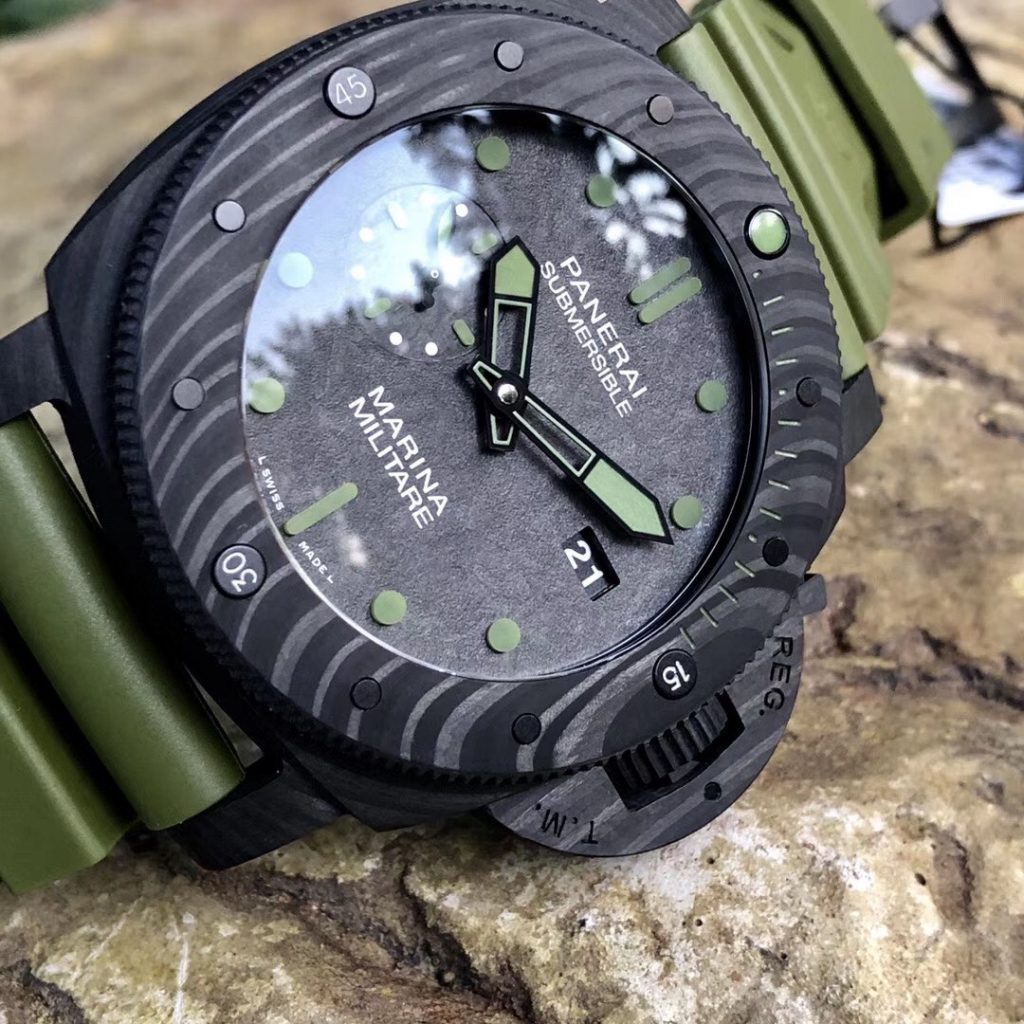 Behind the case back, the replica is driven by a Super Clone P.9000 movement. It is saying "P.9010" on the movement plate, while the replica is actually powered by VS factory's famous Super Clone P.9000 automatic movement. This movement is independently developed VS factory, they tore down the entire genuine P.9000 and then made every component, the factory said that even a watch expert can not tell it is a fake P.9000, but I do not think so, the decoration on the movement plates, the power reserve, they are all not good enough. I think the best cloned movement in our market are Noob Super Clone 3135 and 4130.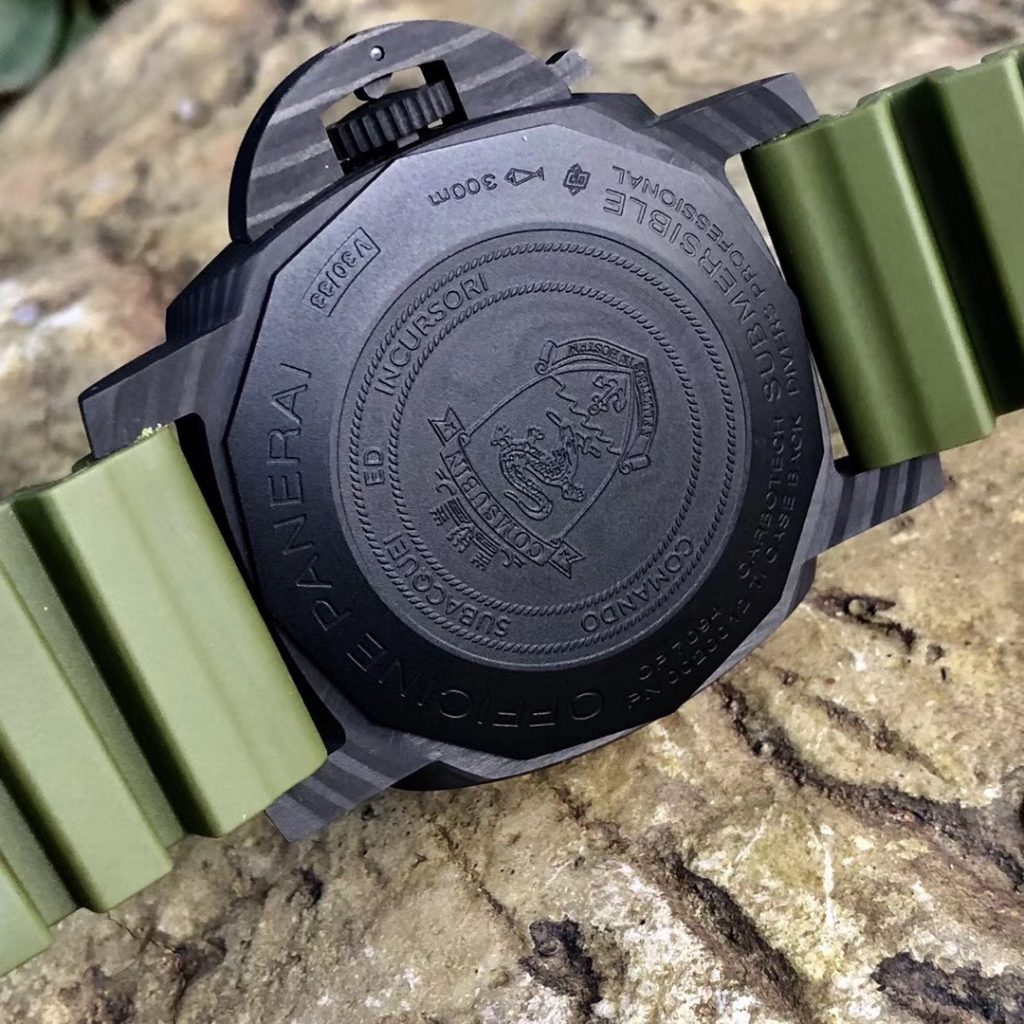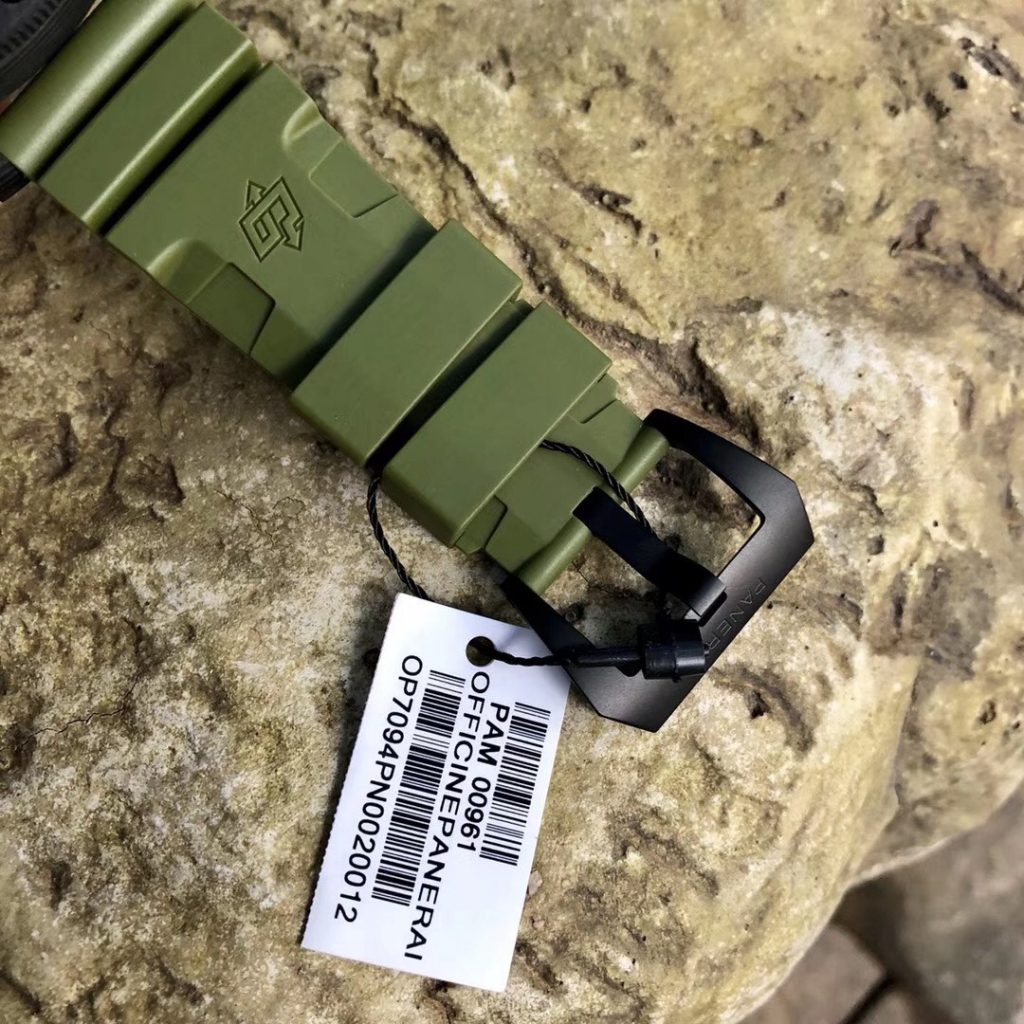 The replica uses a military green rubber band, yes, a good complement to the green color of the dial. I think the factory should also offer a green nylon band for this watch. We know that Panerai is the flagship product of VS factory in the past, but in 2019, VS put more effort in making Omega, the result is, the number of good quality Omega replica watches from VS has exceeded that of their Panerai. Despite this, some special Panerai model which VS factory unveiled is still able to leave us a deep impression, like this PAM 961.