Audemars Piguet Royal Oak Offshore 26470ST.OO.A801CR.01 by JF, the dial is very beautiful, it is in cream color. Sub dials and Tachymeter bezel are in chocolate tone, so sometimes we call it "Audemars Piguet Chocolate".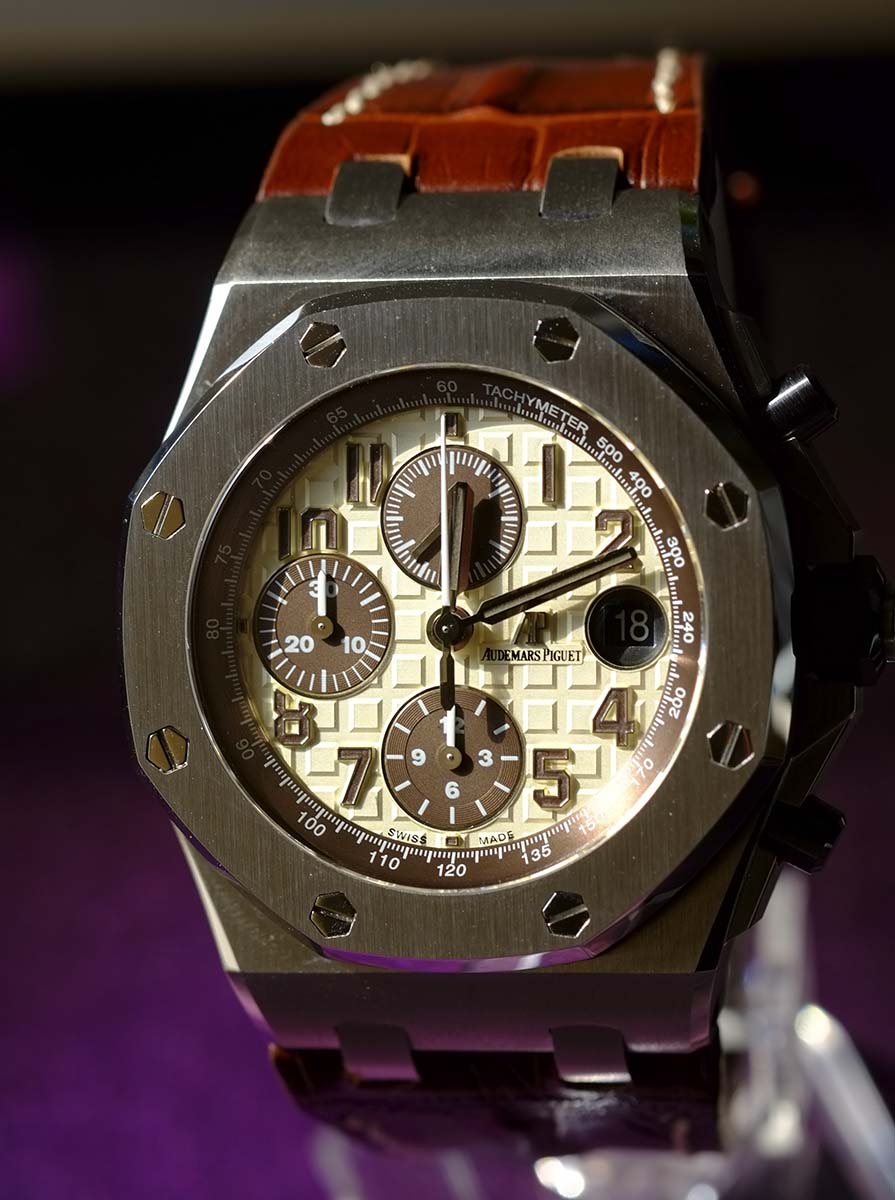 The crystal uses sapphire, it has anti-reflective coating on inner face. Like other AP watches, the crystal is clear and gives a super good visual effect.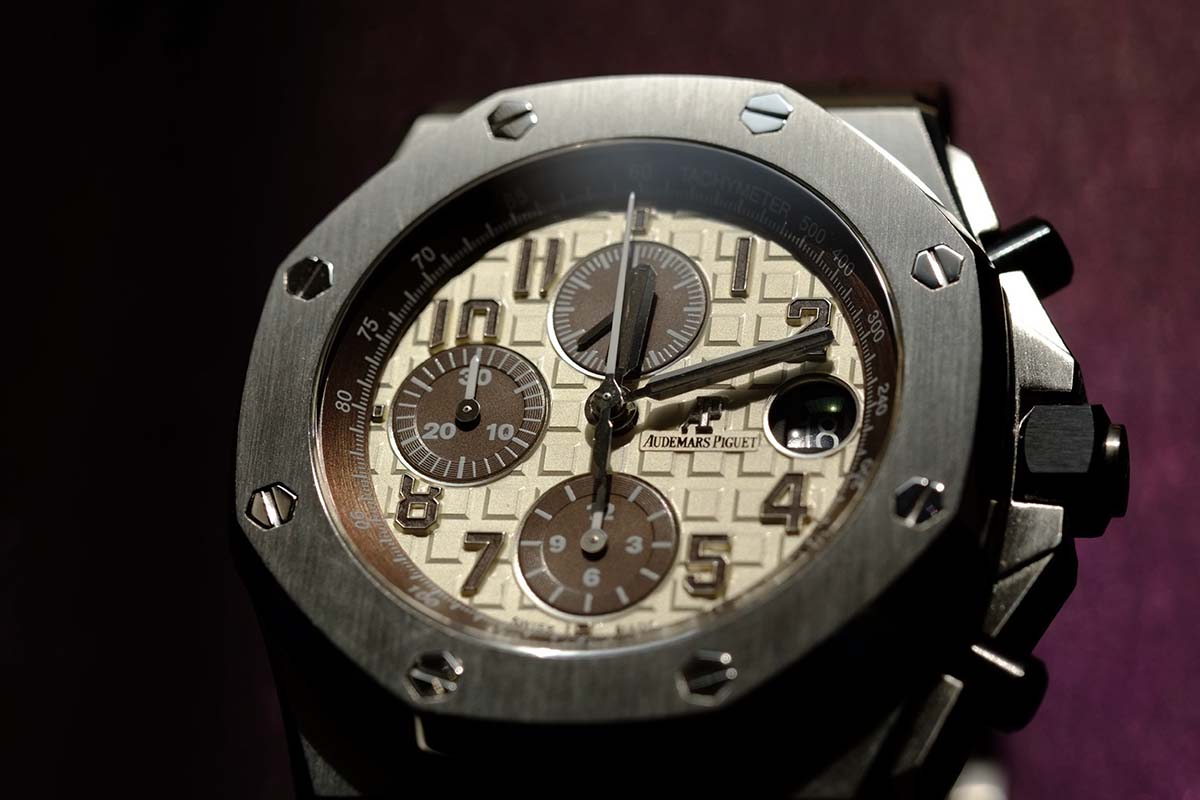 100% same as genuine, crown and chronograph buttons use ceramic, their edges are chamfer processed.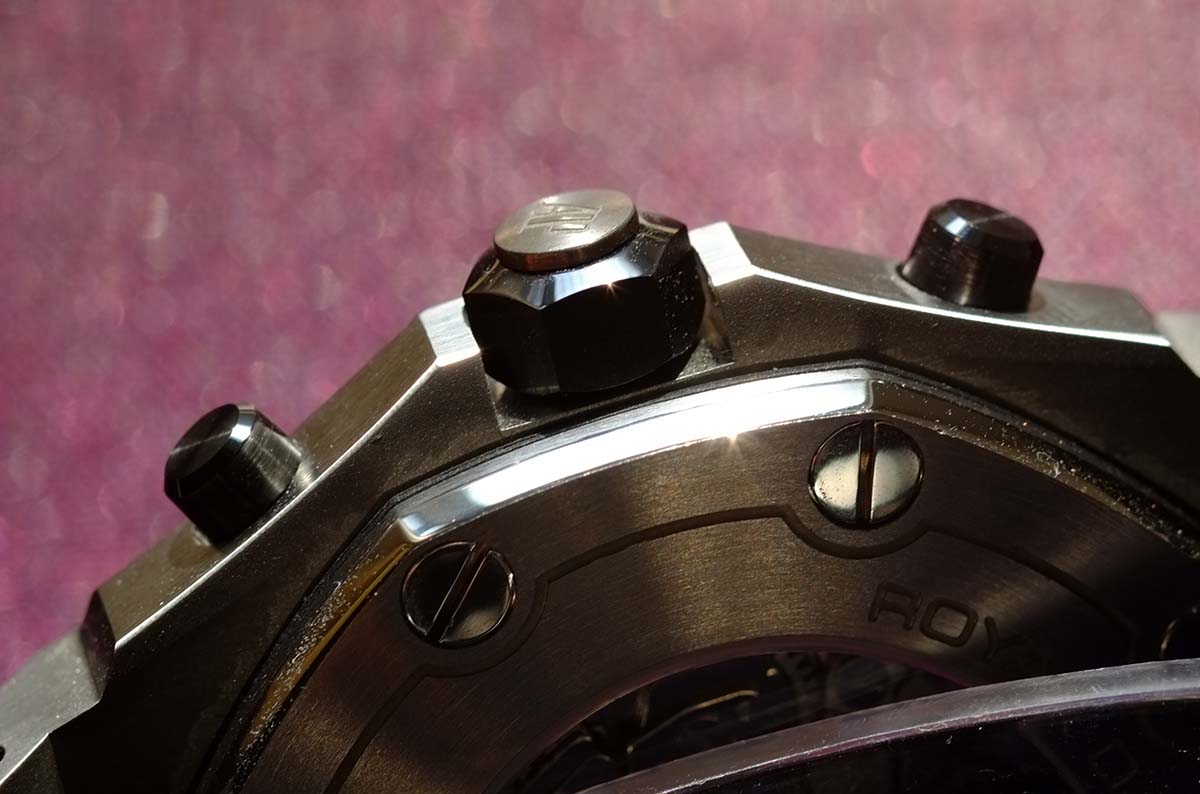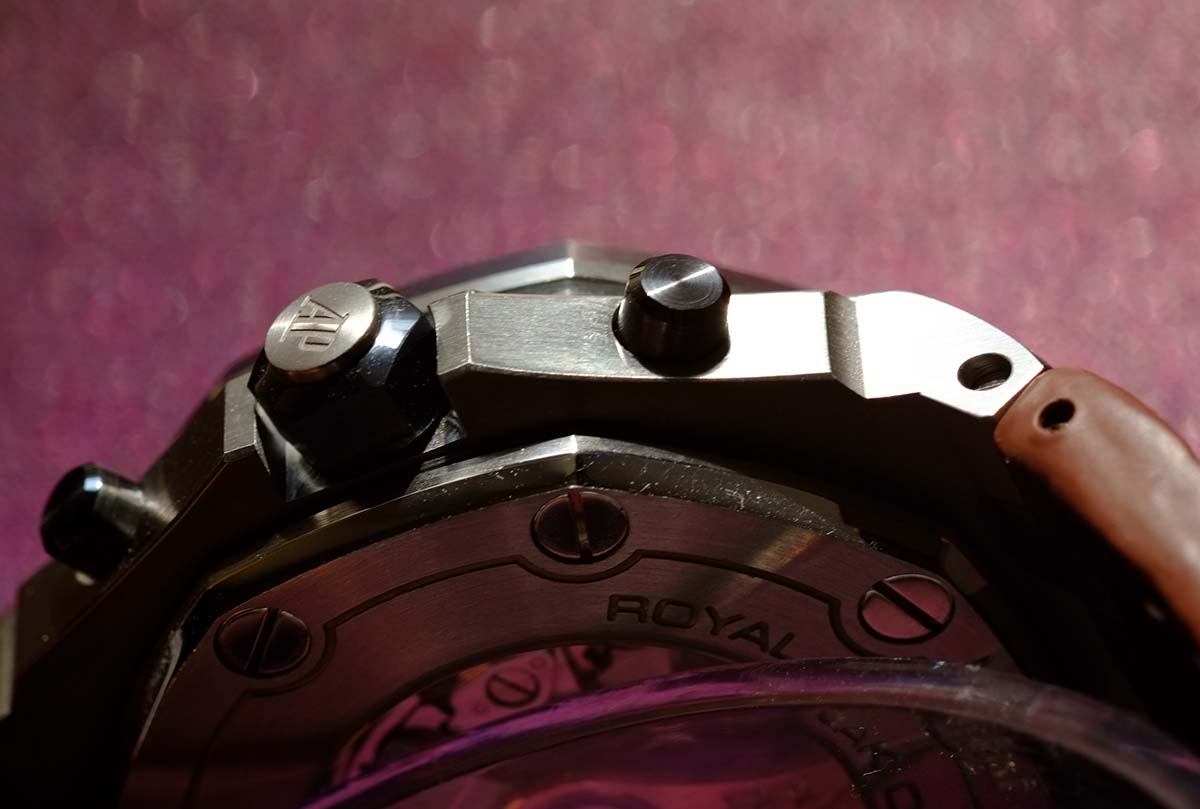 The magnifier above date window also features anti-reflective coating, which is very close to genuine.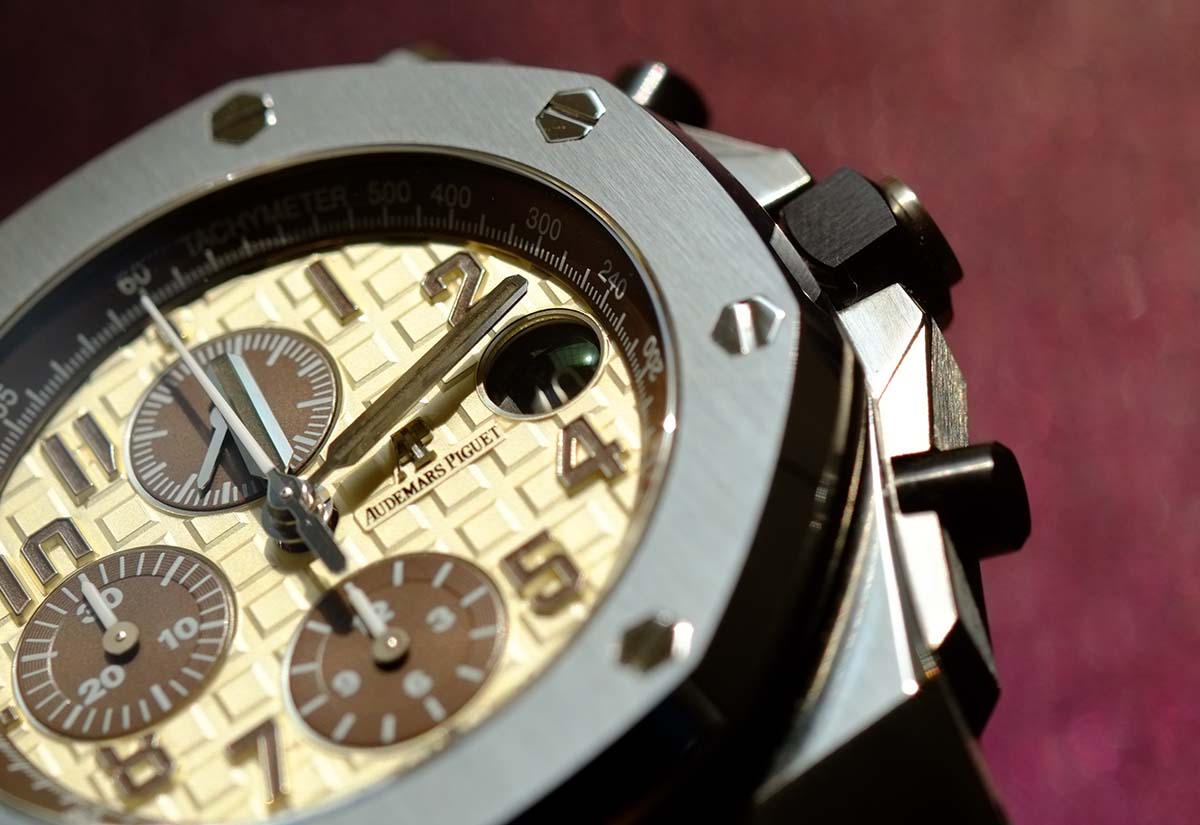 The dial is perfect, I think it has beyond the replication of 15703. All hour markers have correct position and proportion. However, if you observe the date window carefully, its position is a little wrong and goes too right off center. This is limited to the movement, it can not be done to be 100% the same as genuine.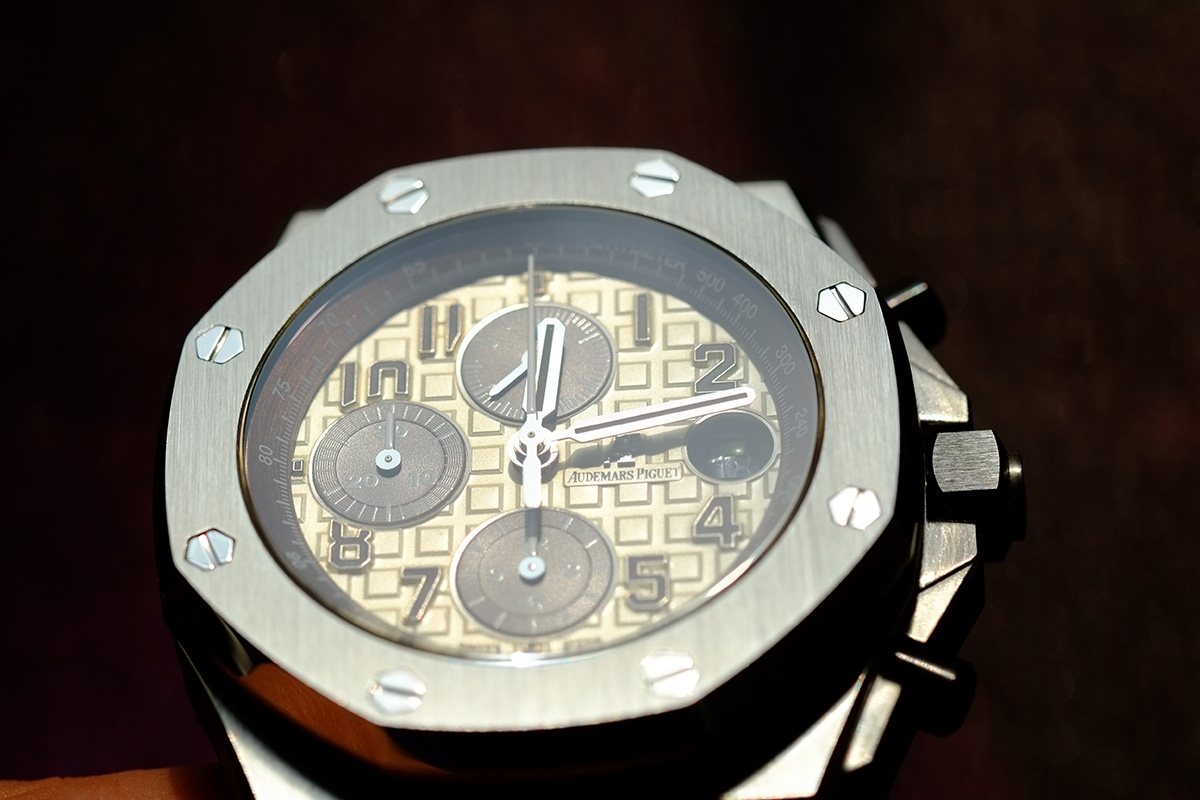 This replica Safari has been upgraded, because the date window of previous version has a deep brown background, which is different from genuine's black. Now, this replica finally solved this defect.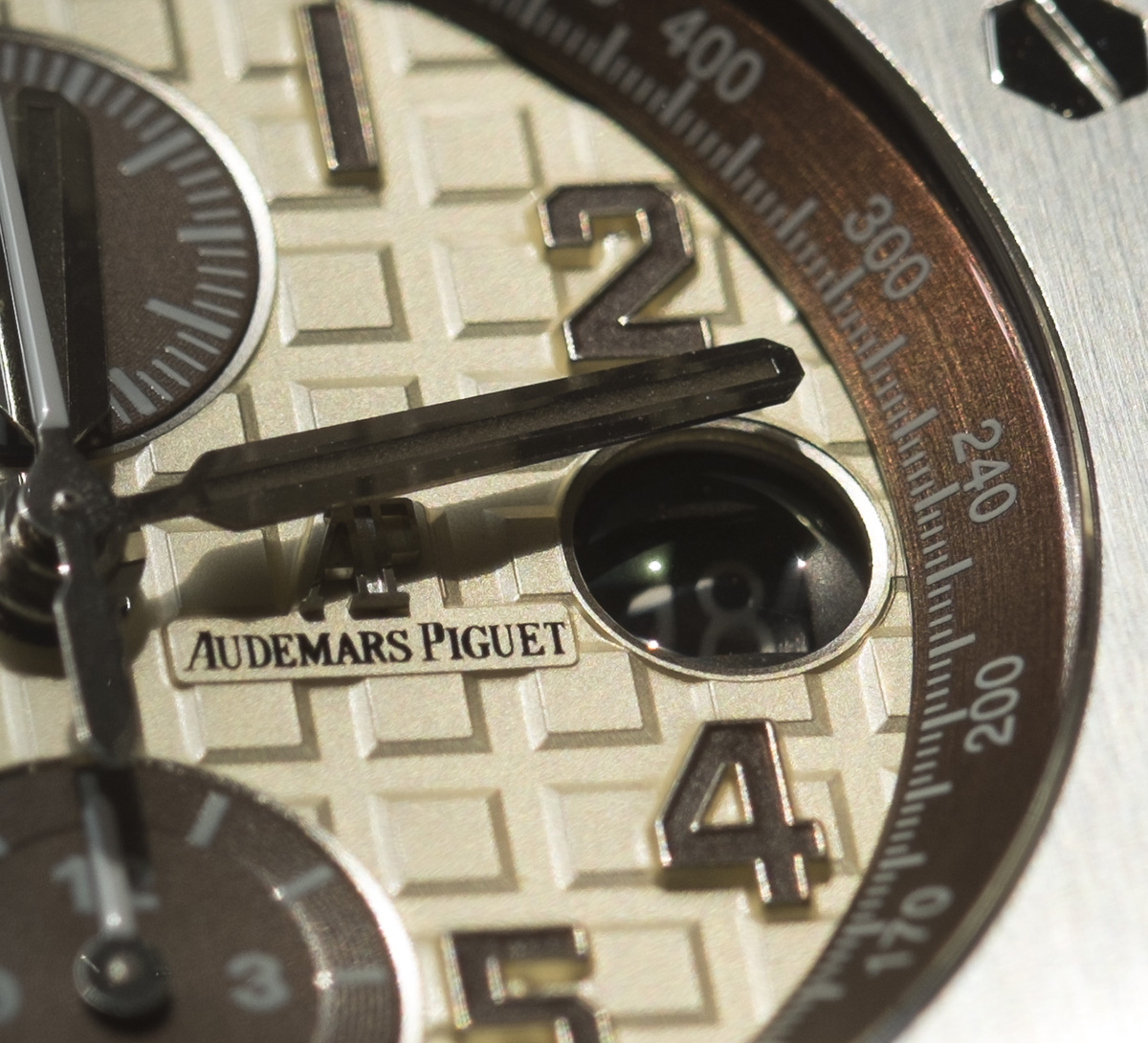 Dial details. Numeral hour markers are 3D and filled with chocolate luminescence. However, the lume effect is not very obvious. Chronograph subdials have drawing-processed circles with brushed face. Safari and 15703 have checkered dial, but the grids on Safari's dial does not have fiber patterns. Second-chronograph hand is plated with glaze.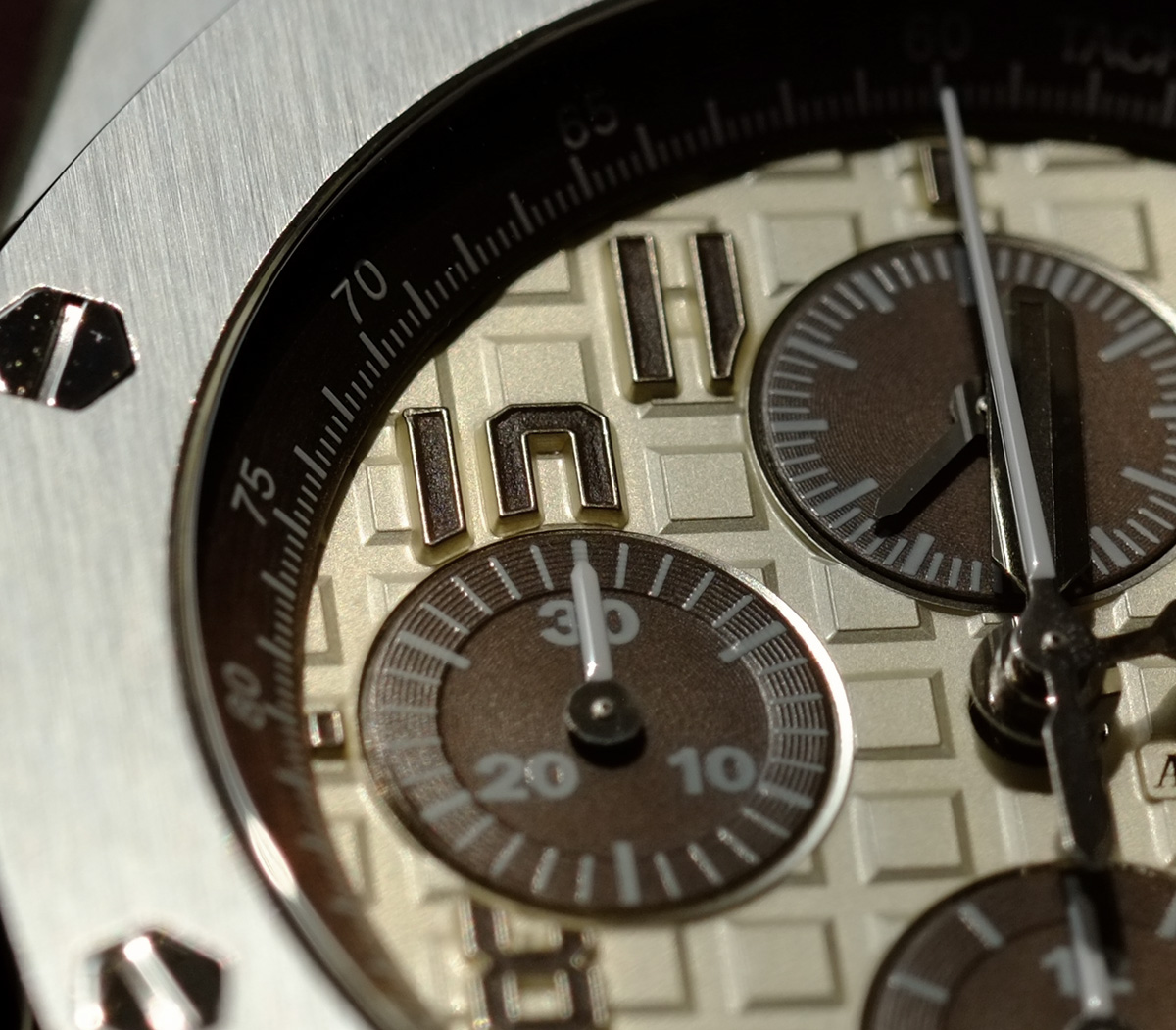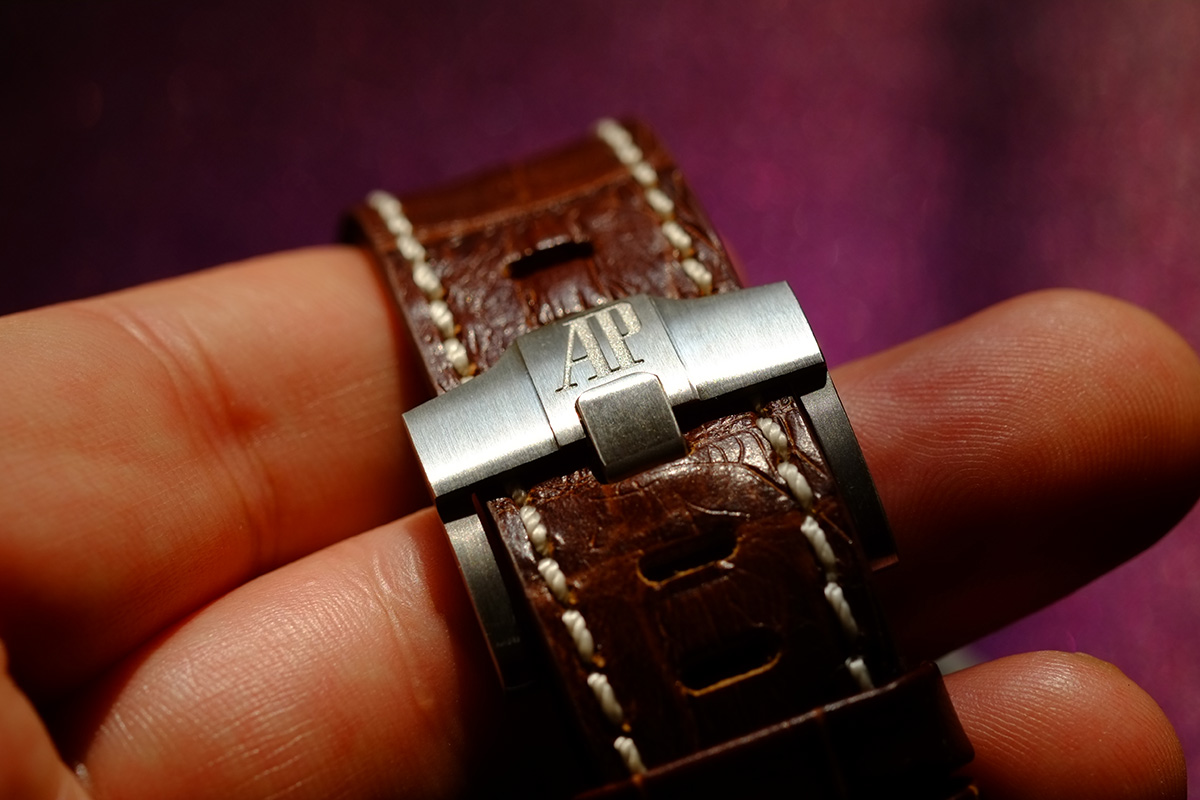 Band uses embossed leather with crocodile patterns, it is thick and hard. There is raised crocodile coccyx on each strap. White hand stitching brings impact visual effect, and is also full of retro atmosphere.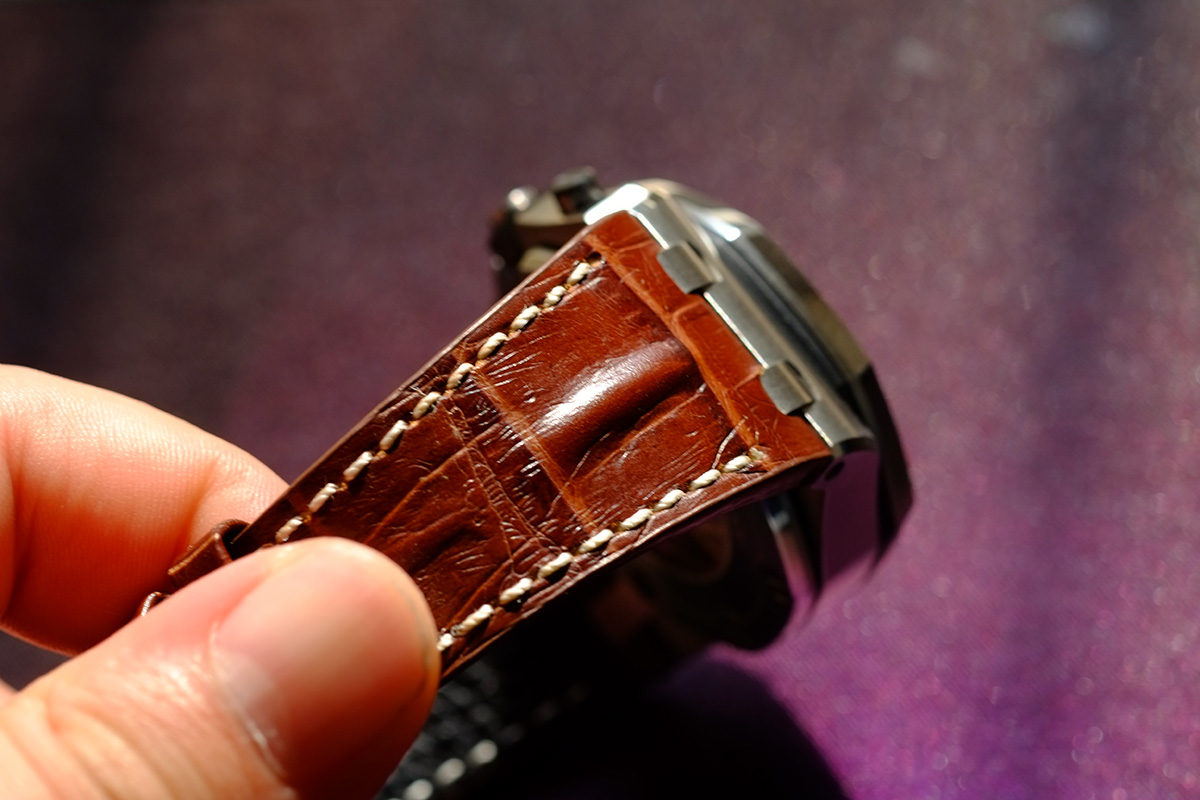 The inside of the bank is litchi pattern embossed cow leather, very soft and comfortable.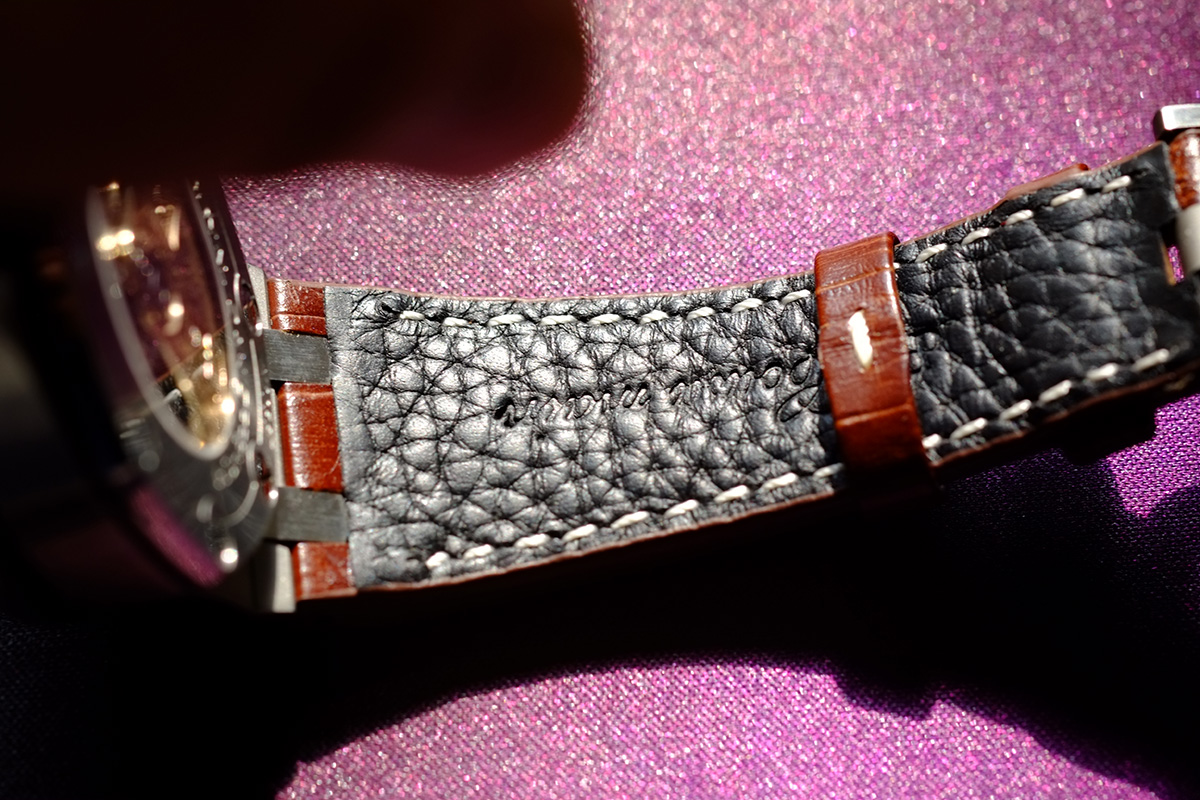 The design of AP is really perfect, bent lugs could fit your wrist in a very comfortable way.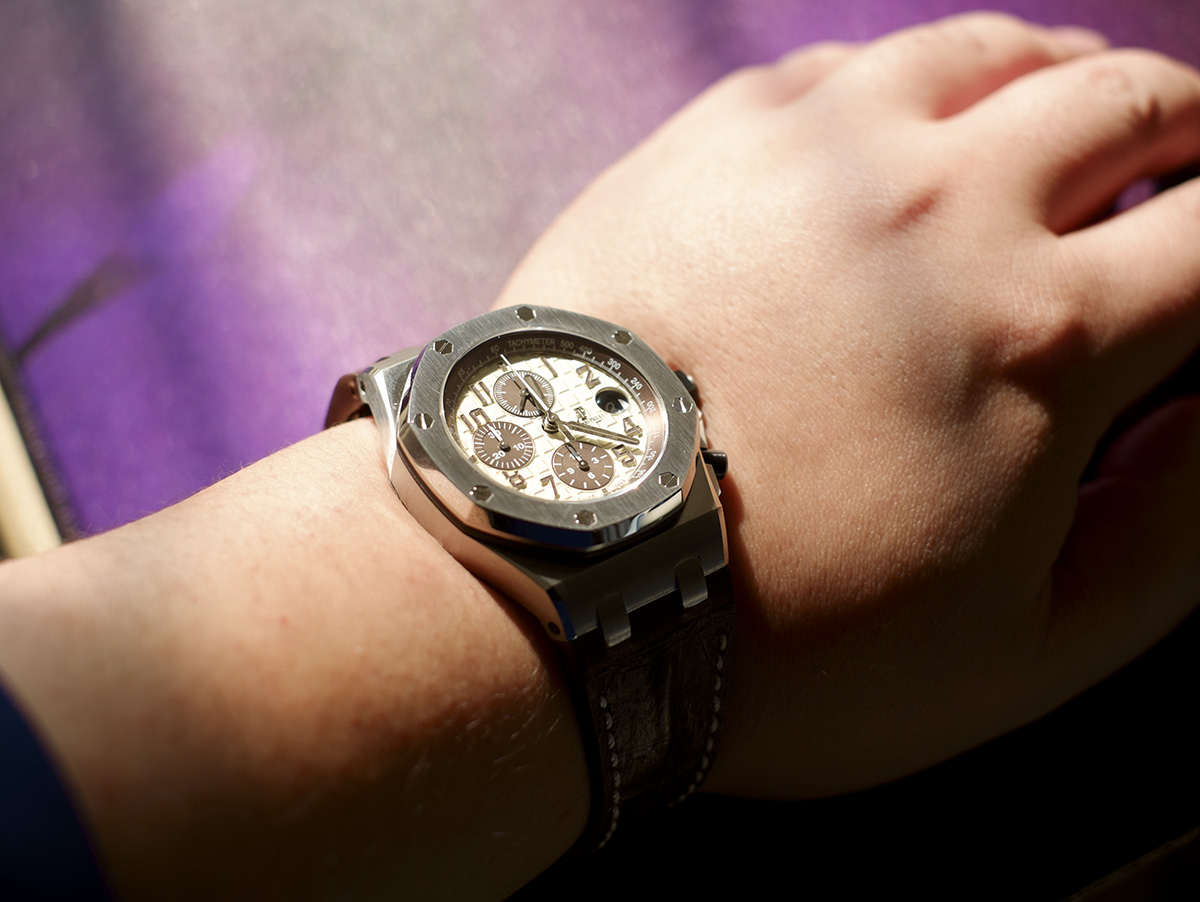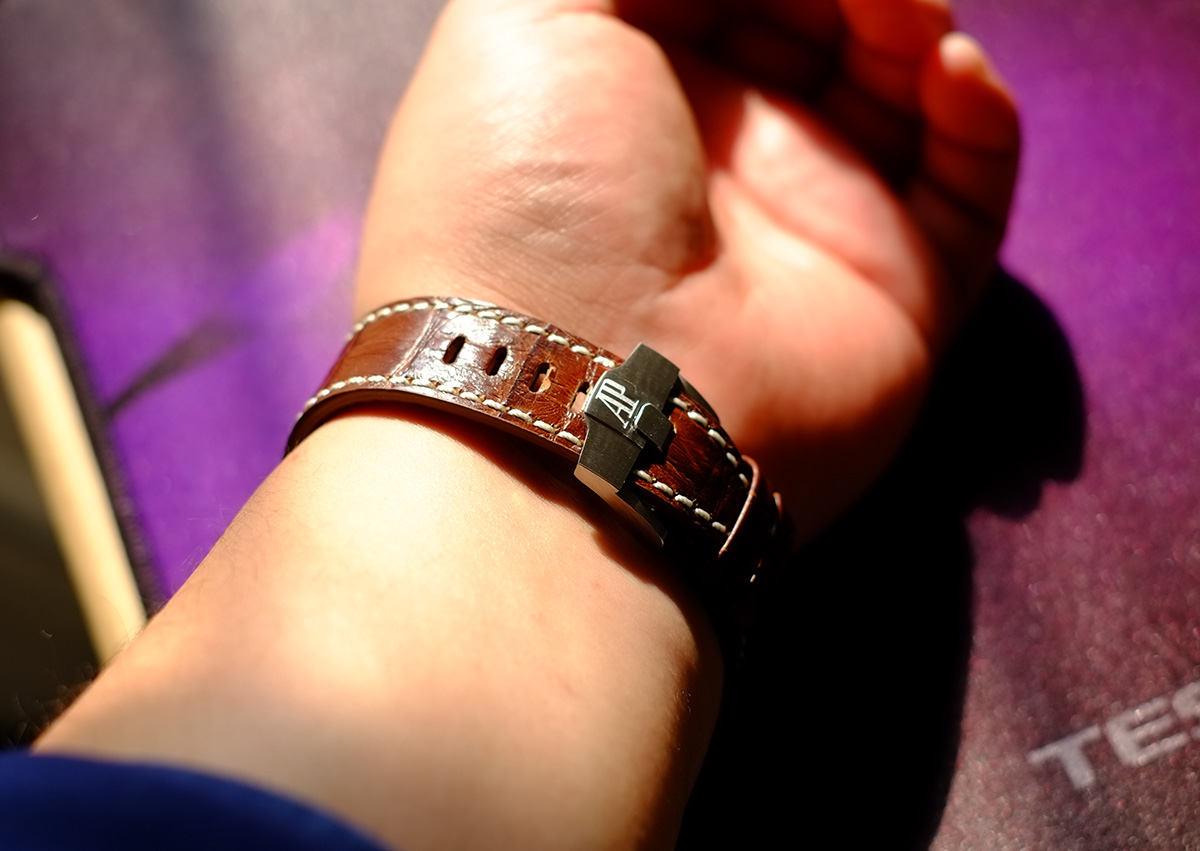 Brown leather band is just matching the chocolate subdials and tachymeter bezel.
J12 made a great effort on polishing their Audemars Piguet replica watches, like this one. The bezel of Safari is thicker than that of 15703.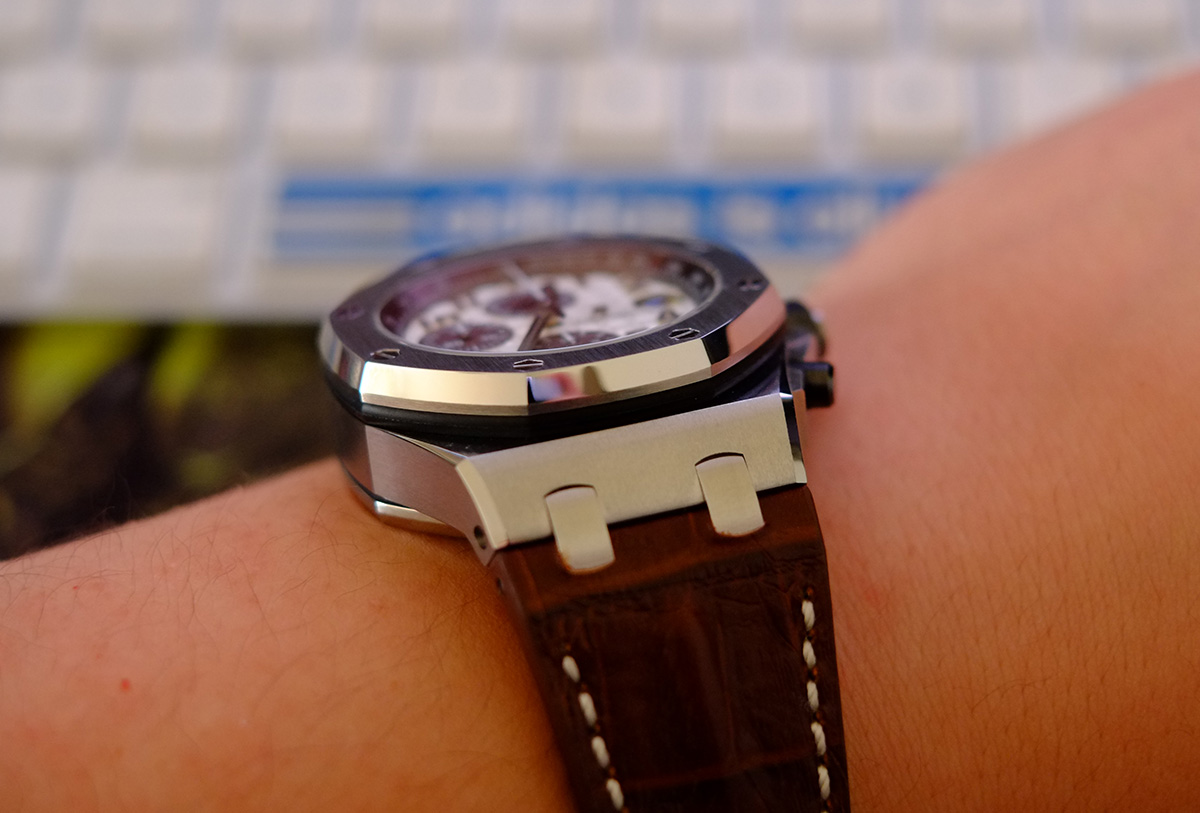 Conclusion: AP Safari Chocolate replica is a great watch with refined craftmanship, it should belong to the high-end replica in our market. This replica has a better finish than 15703 and closer to genuine. The AP Safari replica I am talking here is equipped with an Asian 7750 movement, not the latest Clone 3126 movement made by J12 factory. However, J12 has upgraded all Audemars Piguet replica watches with 3126 movement, and the price is not very high.