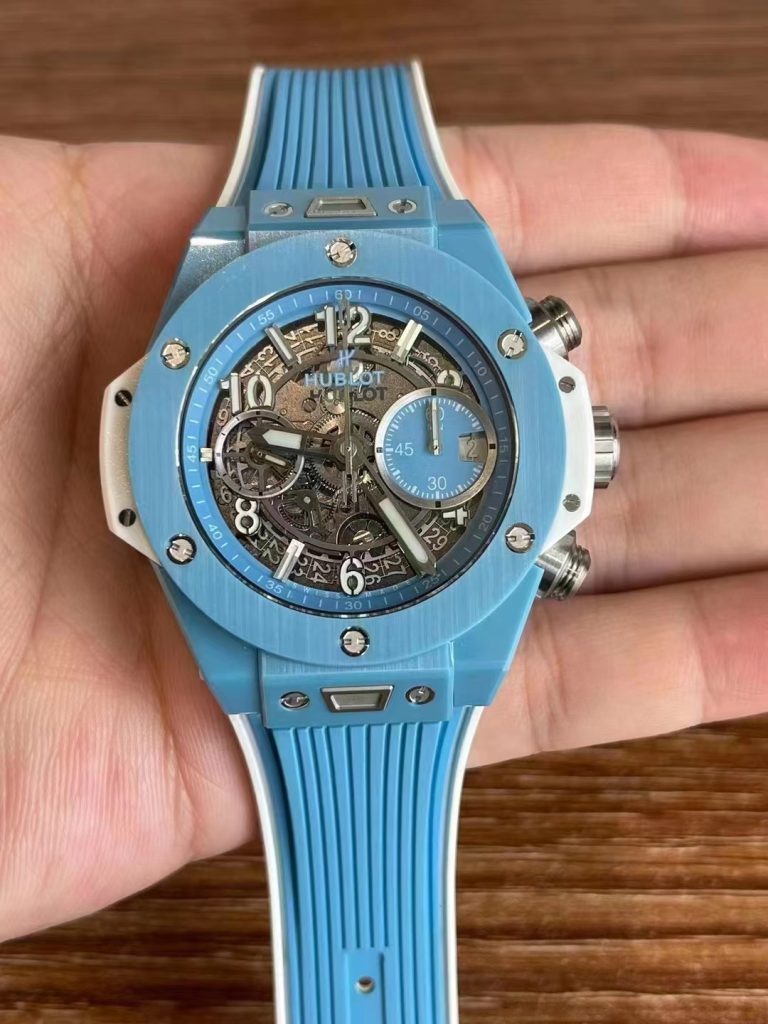 Last time, I introduced a Hublot Square Bang replica watch on my blog, today, I want to bring you another good watch from BB factory, it is a big Hublot Unico replica watch, in the past, BB factory published several models of this Hublot Unico and sold them under factory name ZF, now, in the promotion of this sky blue Hublot replica watch, I did not find ZF name, perhaps customers have recognized the quality of the Hublot Unico replica watches from BB factory, without the promotion help of ZF, BB factory can sell them independently. For this replica Hublot Unico watch made with ceramic material, BB factory published five models before, including red, yellow, white, blue and black, the new model I am going to show you is a new color, which is sky blue, looks amazing.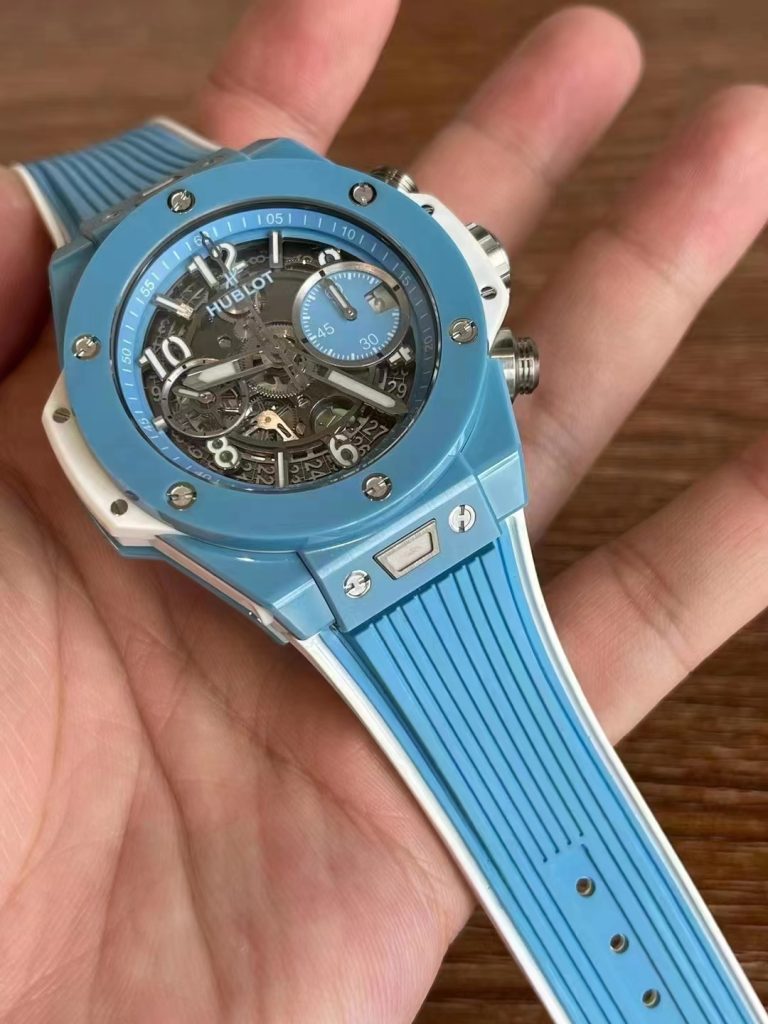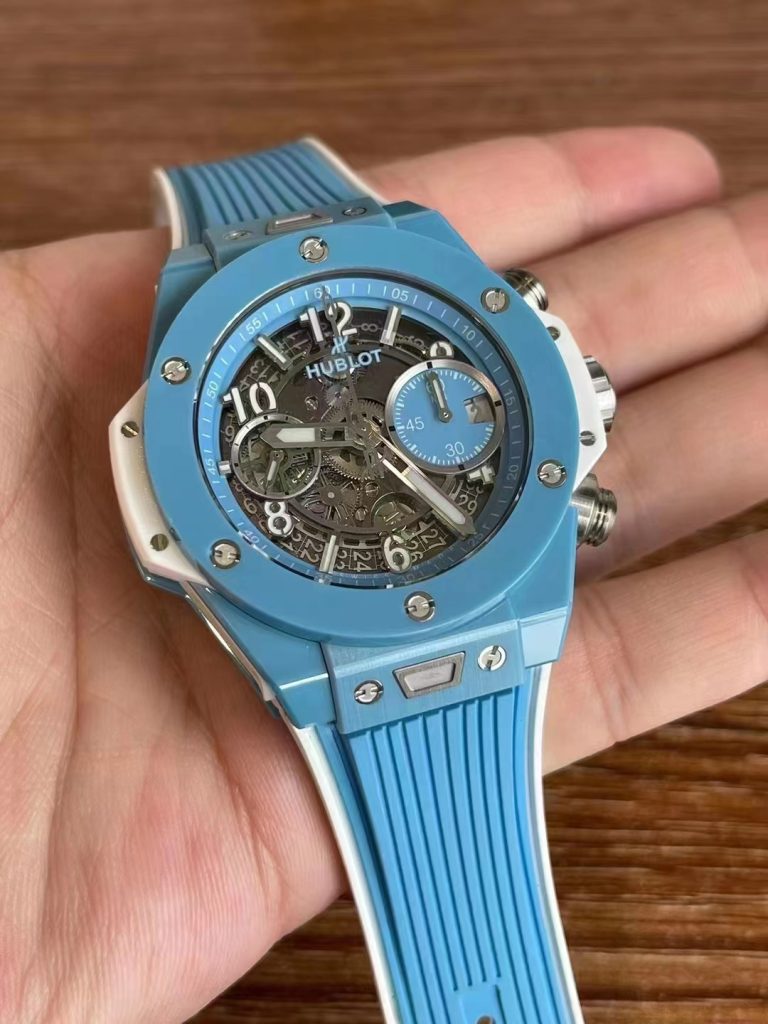 The replica is sold at a high price by BB factory because its case is made with sky blue ceramic. The case is 44mm in diameter and 17mm in thickness, a very big and thick watch, for such a replica watch equipped with an Asia Valjoux 7750 movement, its case thickness is hard to be reduced. Its case construction is sandwiched, this is also a difficulty when the factory wants to make the replica watch because genuine watch must have a good water resistance under such a case, while on the replica watch, I do not suggest you wear it when swimming. The genuine watch is very expensive, so no need to worry if the case of the replica has the same construction, not many people own the genuine watch, even not a lot of people have seen it, so, you won't be caught wearing a replica in the street.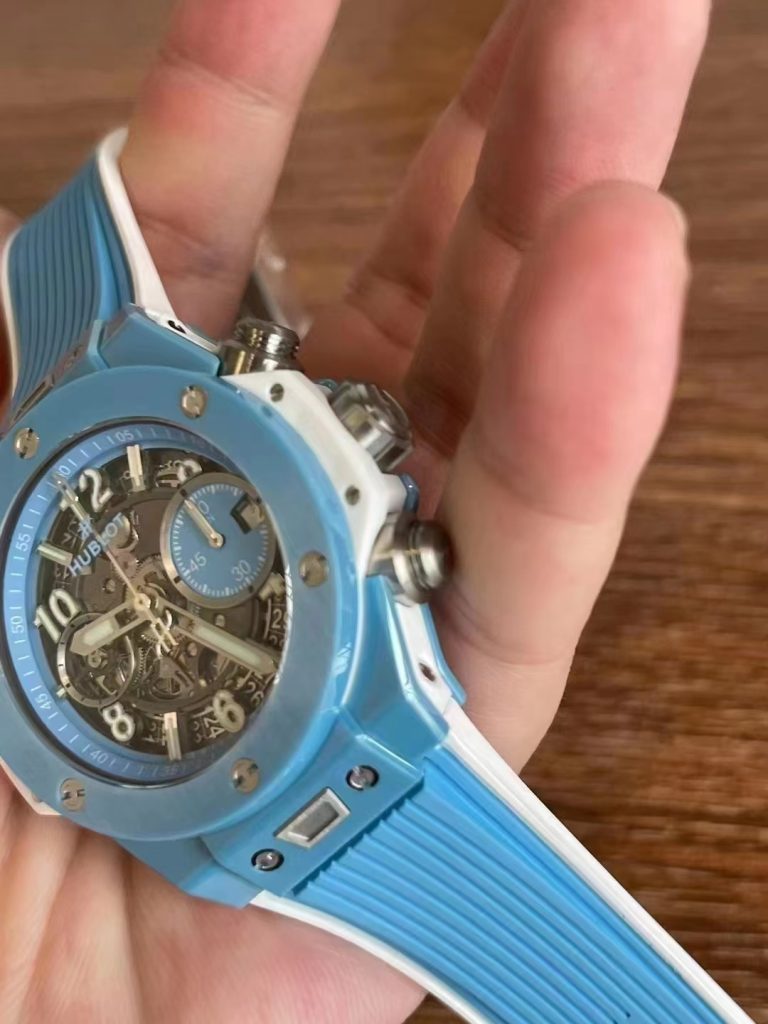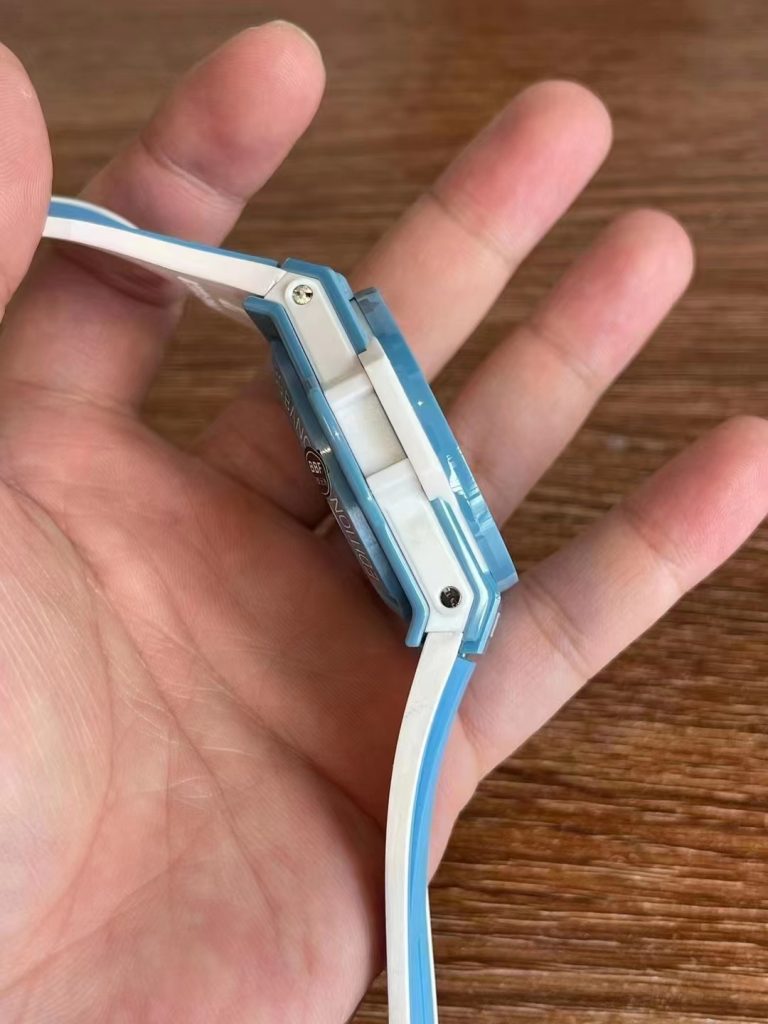 Under the protection of the sapphire crystal, there is a skeleton dial, where you can see a lot of machine parts of the movement. The small dial at 3 o'clock also has a background in sky blue color, which is exactly in line with the case color. People who are pursuing a super clone whose dial does not have flaws and should look exactly the same as genuine, then this replica is not the one, even though it is a super clone, but with such a dial, you can easily find the difference when comparing it with a genuine in the boutique. The skeletonized dial construction does not add hardness for the wearer to read time, you can easily find hours, minutes and even the small seconds(at 9 o'clock). The sky blue subdial at 3 o'clock also has a real function, which acts as a 60-minute chrono counter. This is a replica with working chronograph function, but I do not suggest you operate the chrono buttons too often.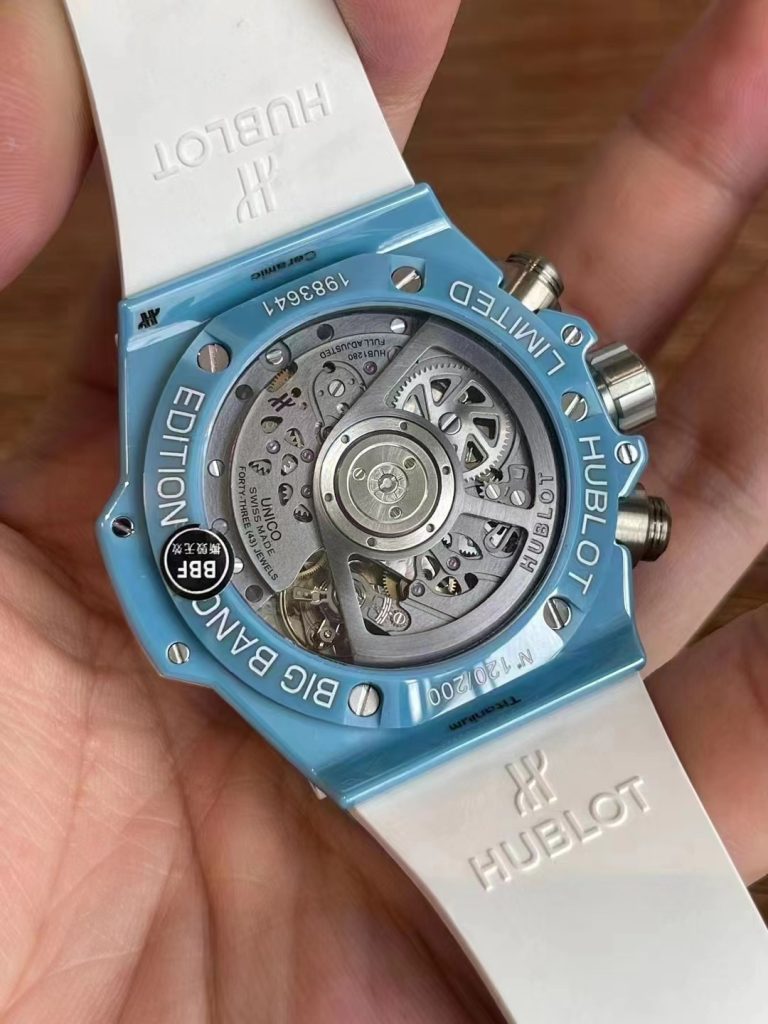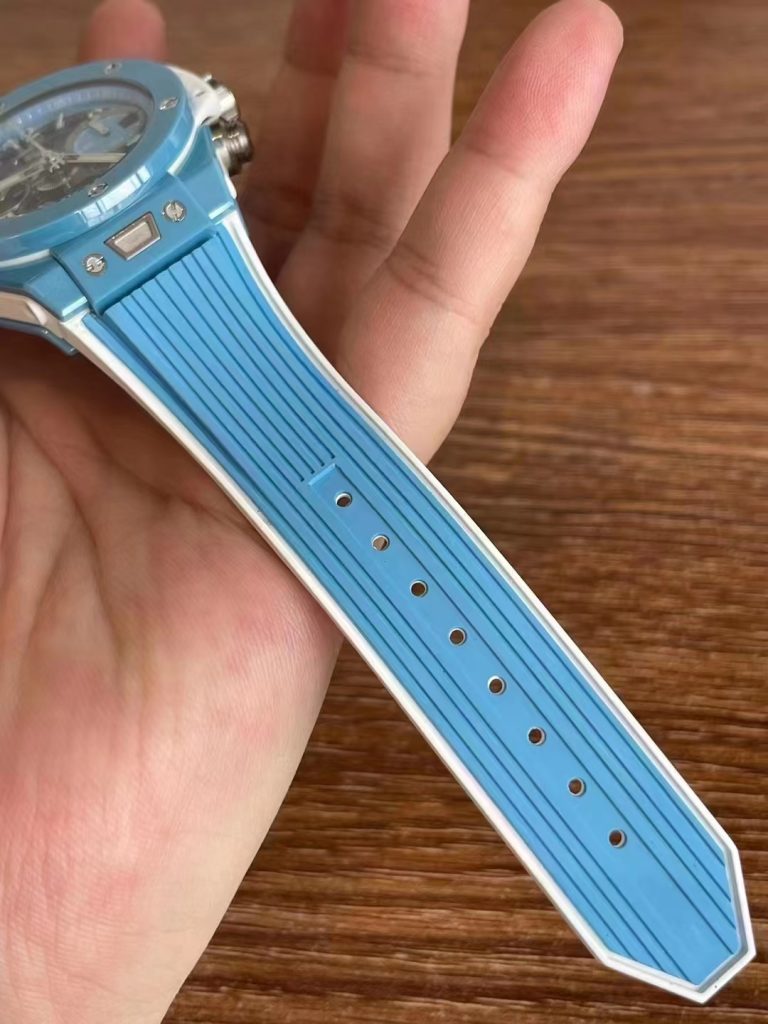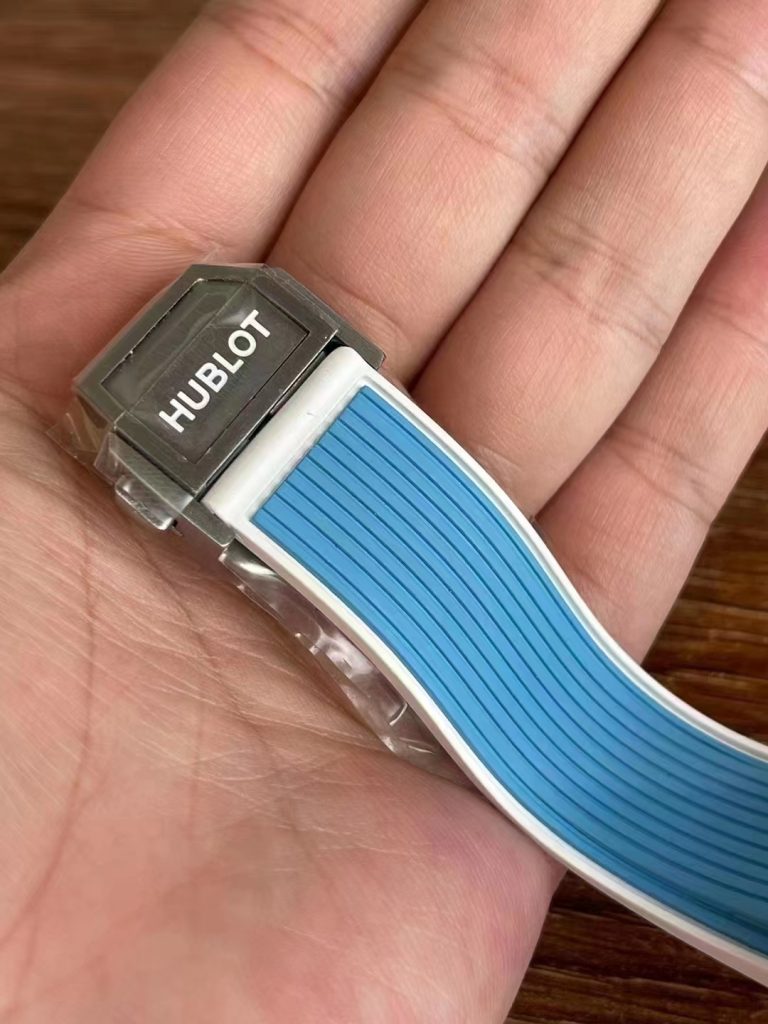 The movement displayed through the crystal back is a Chinese chronograph movement, we can clearly see the decorated auto rotor, there is also one plate with Hublot decorations on top of the base movement. Because of the added movement plate, the entire watch thickness increases. At last, the rubber band on the replica watch has a very high quality, usually you need to pay a lot if buy one rubber band, it does not any bad smell, the rubber feels very soft but is durable.