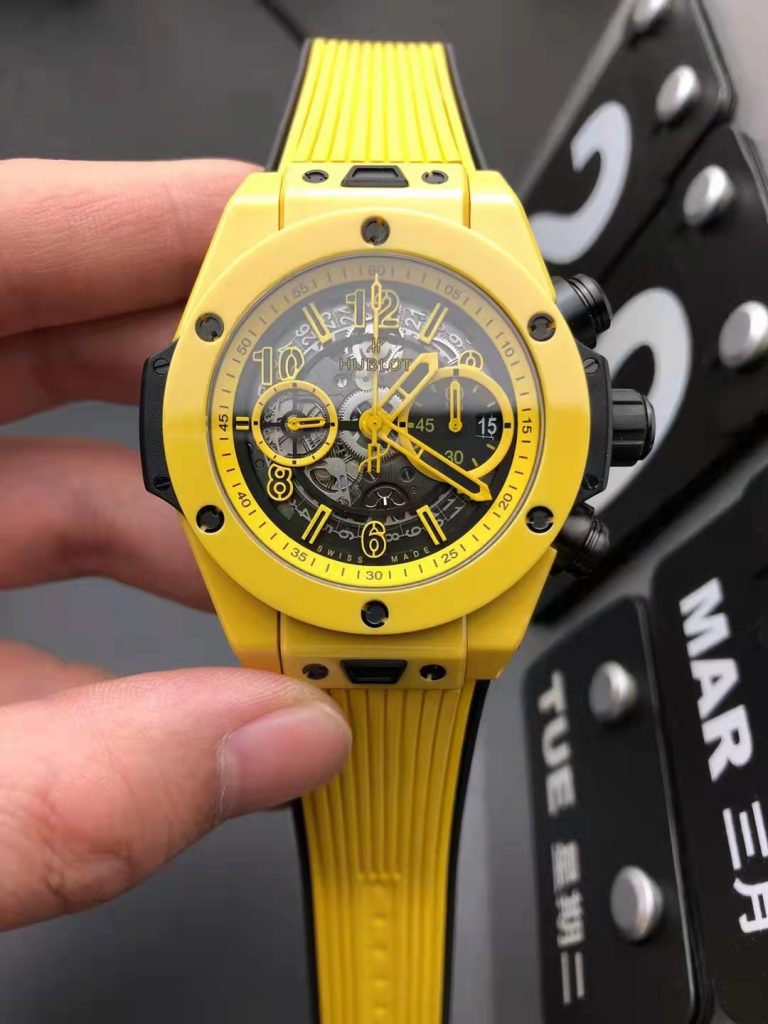 I like this watch, it has an amazing color.
About two weeks ago, ZF published several new Hublot Big Bang Unico watches, this yellow model is one of them. I did not like Hublot Unico before, because it is too big and the case is too thick, the entire watch feels very heavy, but when I saw this yellow watch several days ago, I made a decision, I must save money now and to get one in future. I do not have a real ceramic watch, the only watch with a ceramic bezel the black sub 116610LN which I bought from VS several years ago. A stainless steel watch, a full ceramic watch and a forged carbon watch, these three watches are my dream watches, now I have a stainless steel Submariner. I always wanted to buy a full ceramic Hublot from V6 before, but many of my friends have the same watch and I was looking for an unique one for a while, til I saw this yellow ceramic Big Bang Unico, I set my target.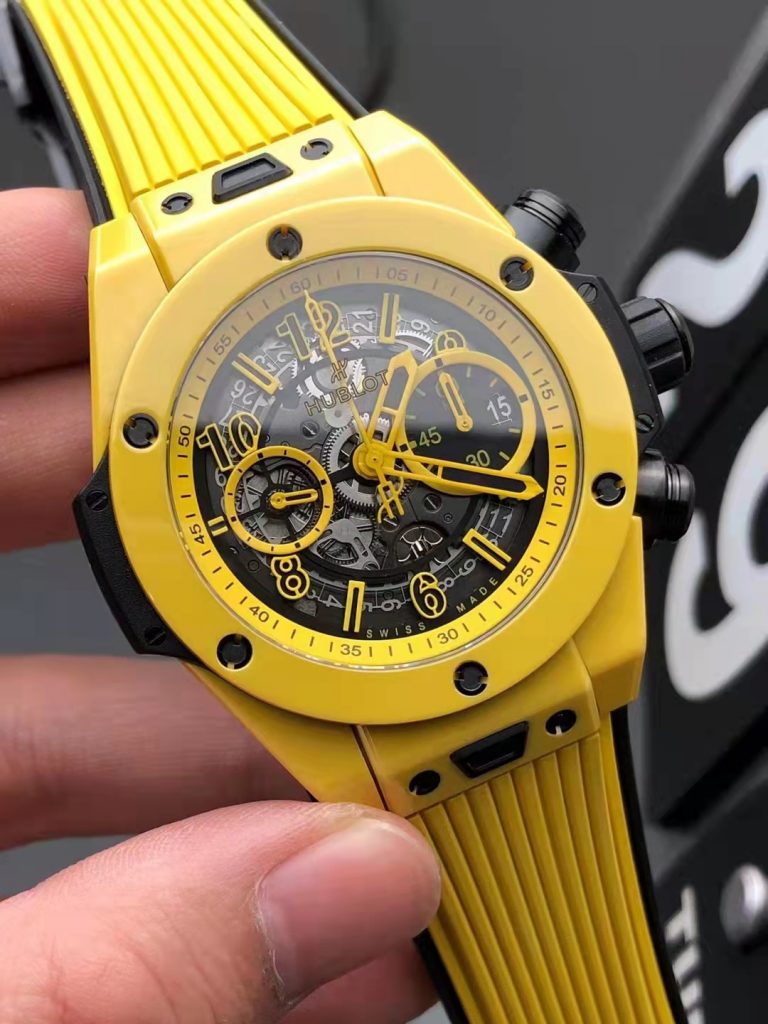 The Hublot Unico is the first watch I saw uses a colored ceramic case, which has a case diameter of 44mm and is measured to be 17mm in thickness. Both case and bezel of the watch uses real yellow ceramic, the screws on the case are matte blackened. Check the watch from its two sides, ZF was very focused on the finish of the case construction to guarantee a good water resistance and manufacture an exact 1:1 case from original. The layered case structure uses different types of materials, each piece is integrated into one entire case. Til now, ZF only makes replicas of Hublot Unico models, the case finish of every one is really good, hope they can make other Hublot Big Bang watches in future.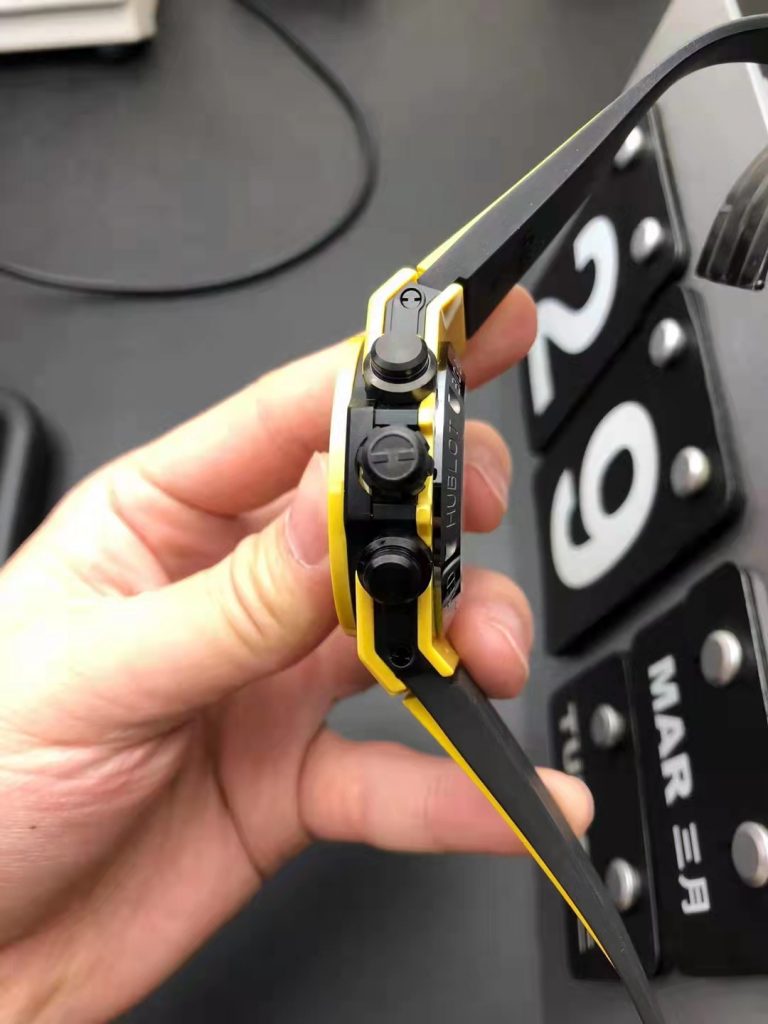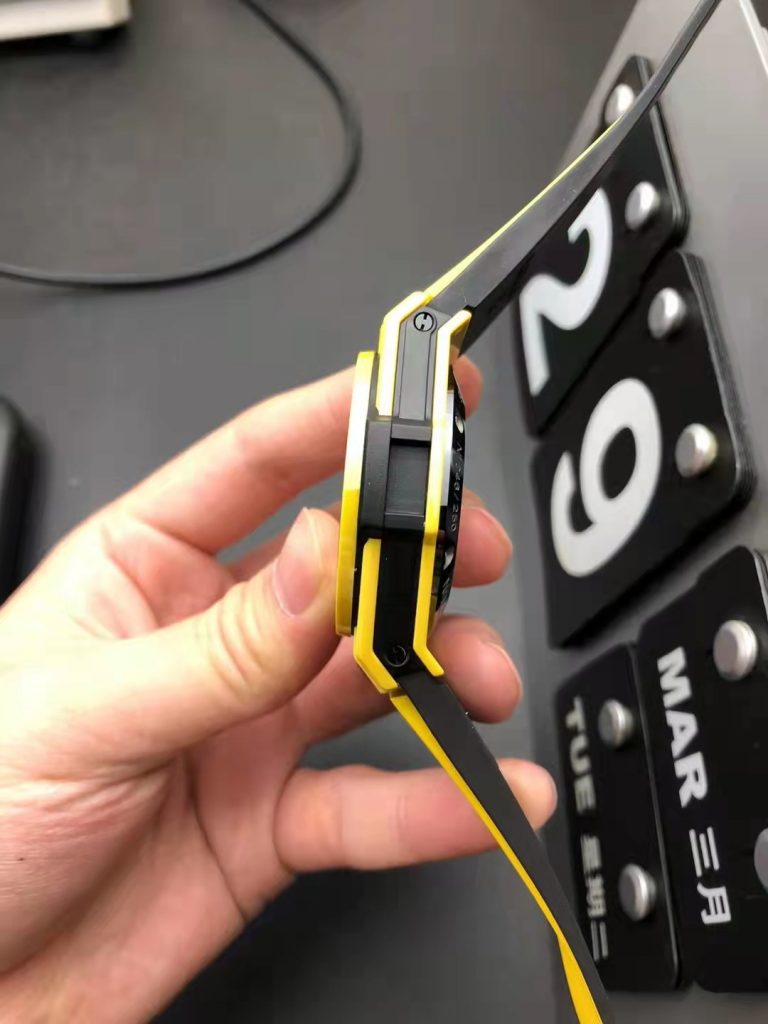 The skeleton dial looks amazing, first, it is a quality replica dial of the original watch, you can see machine parts and the silver date wheel on the front, the inner yellow bezel and two small dials show multi-layer structure of the dial. The yellow color used on the dial perfectly matches the color of yellow ceramic case. Two small dials have real functions, the smaller one at 9 o'clock is for small seconds, the right one is bigger, which is used for minute-chronograph display.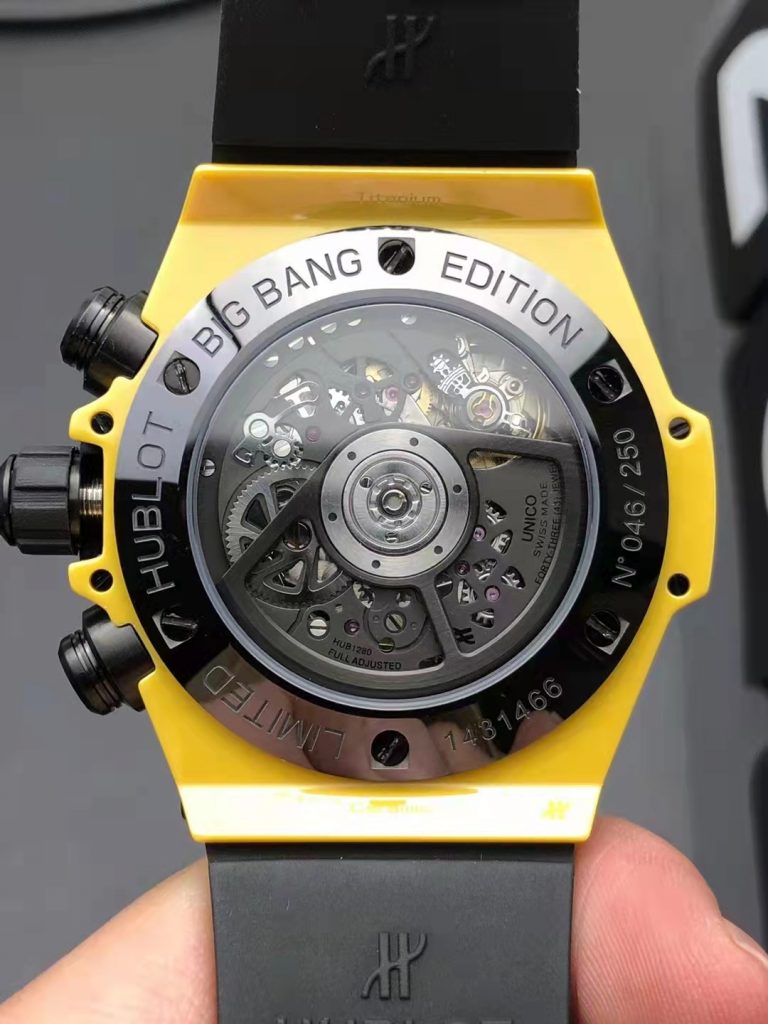 The case back has a glossy black metal rim that is not ceramic made, the case back center is a see-through crystal that allows you to view the movement completely. The movement is cloned according to the look of genuine HUB1280, the decoration o movement plates is very beautiful, it is the best clone Unico movement I have ever seen. I see a lot of components, do not shake the movement vigorously. Now only those big watch factories are willing to spend money and time to modify the movements, the first look on the movement through the crystal back is very important, if you want the best-looking clone movement with correct functions, please be sure to buy from big factories, certainly their prices are expensive.